Business
Looking for recent business news? Here you'll find all of the breaking and daily business news articles.
Updated 2 weeks ago
Bruce Flock, owner of the historic Home Bar in Troy, shut down the tavern the day before Gov. Steve Bullock's or...
Updated 4 days, 13 hours ago
The company that purchased 630,000 acres of Weyerhaeuser timberlands in Montana said it fully intends to keep the property in the state's block management program, which allows hunting and other access to the pub...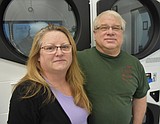 Updated 2 months ago
Jay Moody washed and dried the towels dropped off by a local restaurant. The towels lingered in a dryer at Moody's Dirty Laundry for a couple of hours.
Updated 2 months ago
Libby native Dhana Tevebaugh Nelson emphasized that she is pro-mining and her new business in Libby will encourage people to buy gold and silver as an invest...
---