Libby asks commissioners to pursue 3 percent tax on recreational cannabis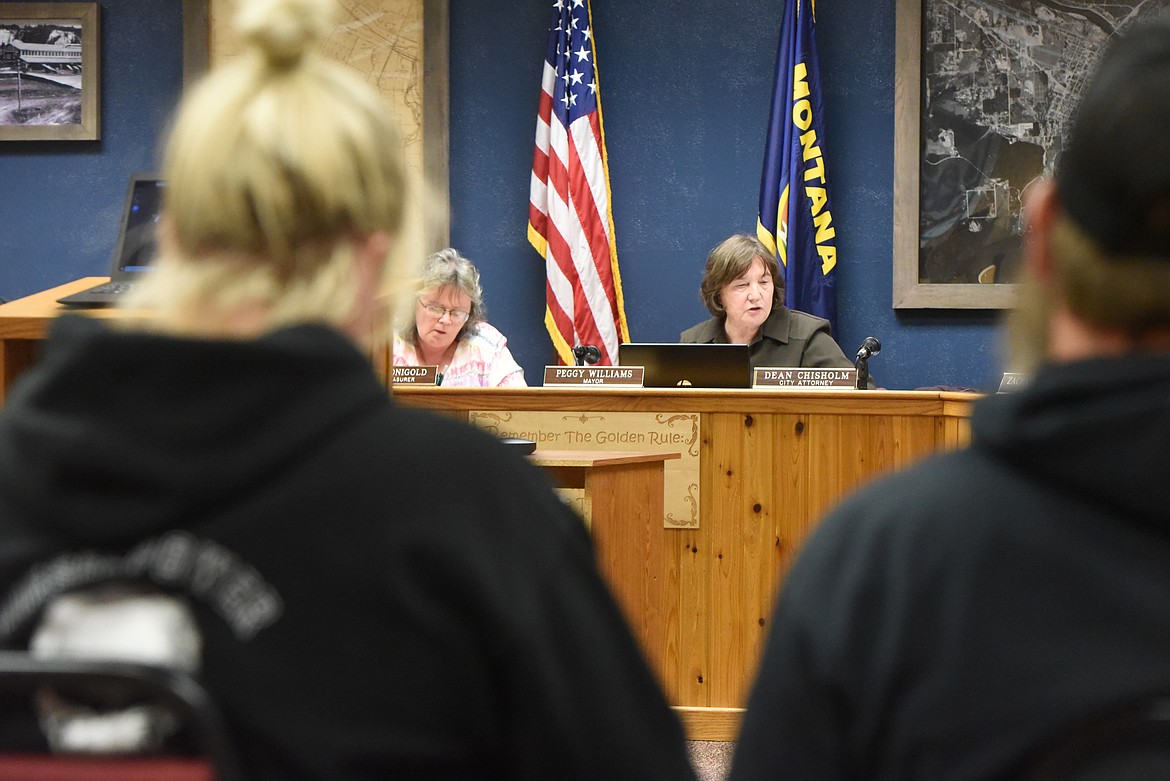 Mayor Peggy Williams oversaw a muted debate among city councilors on March 7 over whether to ask the county to pursue a local tax on retail recreational cannabis sales. (Derrick Perkins/The Western News)
by
DERRICK PERKINS
Daily Inter Lake
|
March 11, 2022 7:00 AM
Libby city councilors this week formally petitioned the Lincoln County Board of Commissioners to pursue an additional 3 percent local tax on recreational marijuana sales.
The unanimous March 7 vote to send the request followed muted debate among city councilors. County commissioners now must decide whether to put the extra tax before voters in an upcoming election.
Mayor Peggy Williams said that the money collected through the additional tax — the state already taxes recreational marijuana sales at 20 percent — could help offset any repercussions of retail cannabis in Libby. When state lawmakers crafted the rules around the legalization of the industry, which voters embraced in 2020, they made sure most of the revenue generated went back to the Helena, she said.
Discussion of how to handle the local effects of legalized sales dominated a recent conference of mayors and city administrators, Williams said.
"While we don't get any money, we will be getting repercussions," she said. "Everybody is bracing for some effects of it that we wouldn't get any reimbursement for."
Were commissioners to place the question before voters, and residents to approve it, revenue generated by the local tax would go back to county coffers. According to Williams, the county would keep half before dispersing the rest to the municipalities. Money received by Libby would go into the city's general fund, she said.
"I don't think we will get enough from 3 percent to offset the repercussions, but we will get a little bit," she said.
City Councilor Kristin Smith, who seconded colleague Zach McNew's motion to send the letter, described securing a new source of revenue for municipal coffers as a rare occurrence.
"I think this is really important; we don't get a lot of opportunities to raise revenue for the city," she said. "I realize it's a new business — or industry — for the state and I think we need to be able to have some opportunities to address the issues that will come out of it."
While city councilors had few questions about the proposal, resident and business owner Alexis Kuehn wondered about the restrictions for retail outlets under consideration by the city's zoning commission.
The legalization of recreational marijuana in Montana has sparked a raft of changes to various areas of city code. In addition to crafting overarching rules for the industry, the city has made changes to its business license system (which previously excluded entrepreneurs engaged in an activity deemed illegal under federal law) and is reviewing zoning rules in its two commercial districts.
Although the proposed zoning changes remain in draft form and under discussion, officials are considering restricting marijuana outlets from putting up any obvious signs of security, including bars or screens, out of aesthetic consideration.
Kuehn worried that the lack of visible precautions would embolden criminals.

"… It is 99 percent a cash business," she said. "If you are going to let [shops open] back-to-back, the potential for robbery is higher and probably crime as well."
City councilors on the ordinance committee briefly considered proximity restrictions between future retail outlets during talks late last year, but shelved the idea, preferring to see a free market sort it out.
Kuehn also objected to a specific tax on marijuana retailers, arguing that the city should also tax bars and liquor stores extra to keep it fair. Williams, though, said additional taxes on purveyors of alcohol and on gaming machines already existed; those dollars just get rerouted through the state. On top of that, the city possessed only the ability to add the extra tax on marijuana outlets, she said.
"We don't have the ability," she said. "It's specific to the marijuana industry."
County commissioners have thus far said little about whether they would support an additional local tax on marijuana sales. Although the board has discussed the issue twice in recent months, the only action thus far taken by commissioners has been to restrict dispensaries from relocating or opening locations in Lincoln County.
Under state law, only pre-existing medical marijuana outlets can sell recreational cannabis until July 2023. But an industry representative warned commissioners in January that in-state dispensaries could seek locations in Lincoln County.
---