Libby City Council takes up retail cannabis rules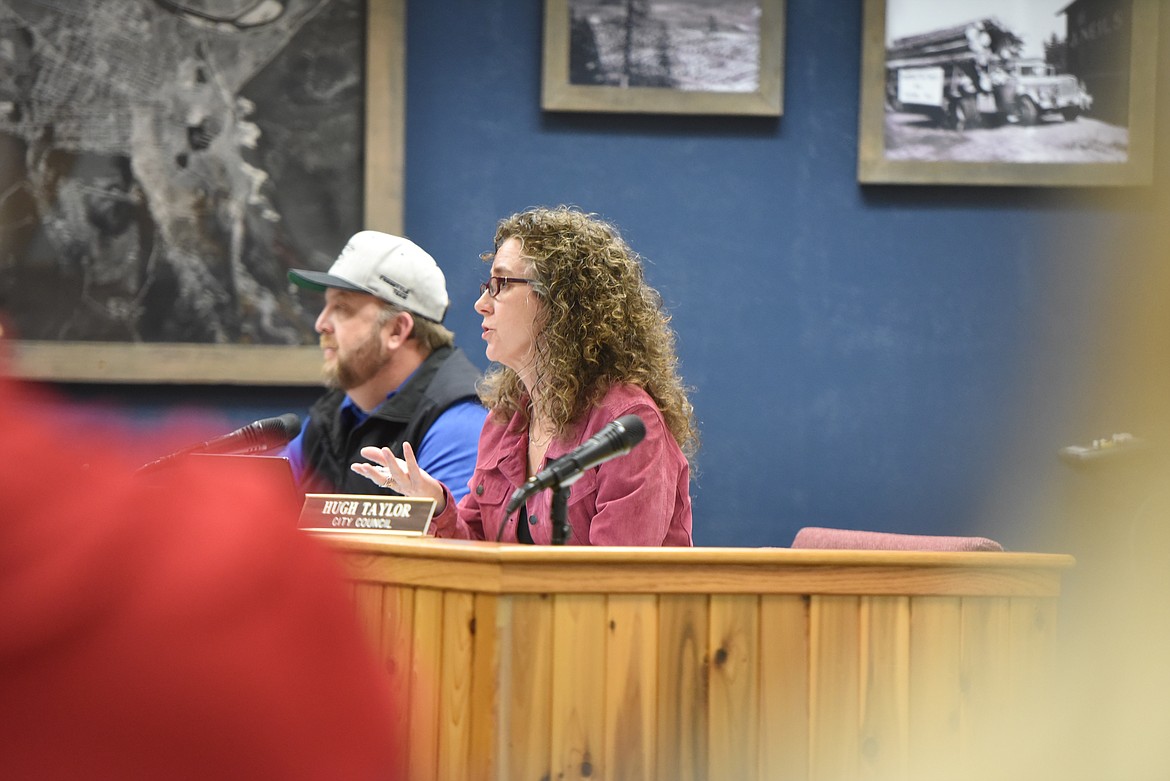 Kristin Smith, a member of the ordinance committee, introduces proposed rules for retail recreational marijuana sales to her colleagues on Libby City Council on Feb. 7. (Derrick Perkins/The Western News)
Libby City Council took its first look at a proposed retail recreational marijuana ordinance on Feb. 7.
Crafted by the city's ordinance committee, the local framework largely defers to the state's exhaustive regulations for the newly legalized and burgeoning industry. Committee members also presented their colleagues with a letter that formally asks the Lincoln County Board of Commissioners to put a three percent local tax on retail sales before voters.
"The City of Libby voted 63 percent in favor of [a ballot initiative] to legalize it, so we are obligated to allow the use within the city limits and we can put up additional sidebars," said Kristin Smith, a city councilor and a member of the ordinance committee. "The committee, after much discussion, thought the robustness of the statute at the state level was sufficient for moving forward."
Debate over the document was limited. Although committee members spent several meetings weighing proximity restrictions between retail outlets, they ultimately dropped the requirement. City Councilor Gary Beach worried the lack of a restriction could lead to an influx of marijuana shops in the downtown or U.S. Highway 2 corridor area.
"The only reason I'm in favor of that is if you go over to Kalispell, there is a section called the 'Green Mile,'" he said. "I would hate to see that in any neighborhood. No matter where it goes."
The committee initially toyed with the idea of requiring shops to maintain a 1,000-foot buffer between one another, worried about a sudden flood of retail outlets. The state, though, already restricts cannabis shops' proximity to churches and schools. Committee members, two of them small business owners, eventually opted against attempting to regulate how many shops could open.
City Councilor Zach McNew, a member of the committee, argued at the time that the municipality did not place similar restrictions on consignment shops or roadside casinos. Smith, who initially favored the distance restriction, said that unless there was a mass exodus of existing businesses, such an influx would be unlikely.
Market forces would dictate how many shops could make it in Libby, she said at the time.
At Monday's meeting, Smith told Beach she was open to edits to the document.
"That's not to say the council can't make amendments," she said.
The only public comment on the rules came from Kathleen Sheffield, a substance abuse specialist. While welcoming the city council's efforts to get regulations in place, she worried retail cannabis outlets would dampen the downtown area's "family friendly atmosphere."
She worried incoming recreational marijuana outlets would end up functioning like wineries, sparking a growth in visitors to the area looking for cannabis.
Sheffield supported city council's request for a three percent local tax, but said that money likely would best end up bolstering law enforcement budgets or going toward substance abuse efforts.

And while marijuana was now legal in Libby, and would soon be sold out of city storefronts, officials need to keep the municipality's children on their minds, she said.
"We just want to make sure that kids in Lincoln County [know that] just because we're promoting it or opening stores, it's still federally illegal," she said. "We need to kind of go by that and make sure that our youth and children in this community realize the consequences of marijuana."
Proximity restrictions aside, the ordinance — as proposed by the committee — is straightforward. It requires incoming shops to adopt facades similar to those already present in the city's commercial districts and boasts guidelines for window signs and security measures. Shops must ensure the health and safety of workers and residents and must secure byproducts or leftover goods.
Additionally, all forthcoming shops must secure a conditional use permit from City Hall under the ordinance as written. That means prospective entrepreneurs must appear before city council.
Both the ordinance and letter become action items on the city council's next agenda.
---