Libby Vendors Market announces new location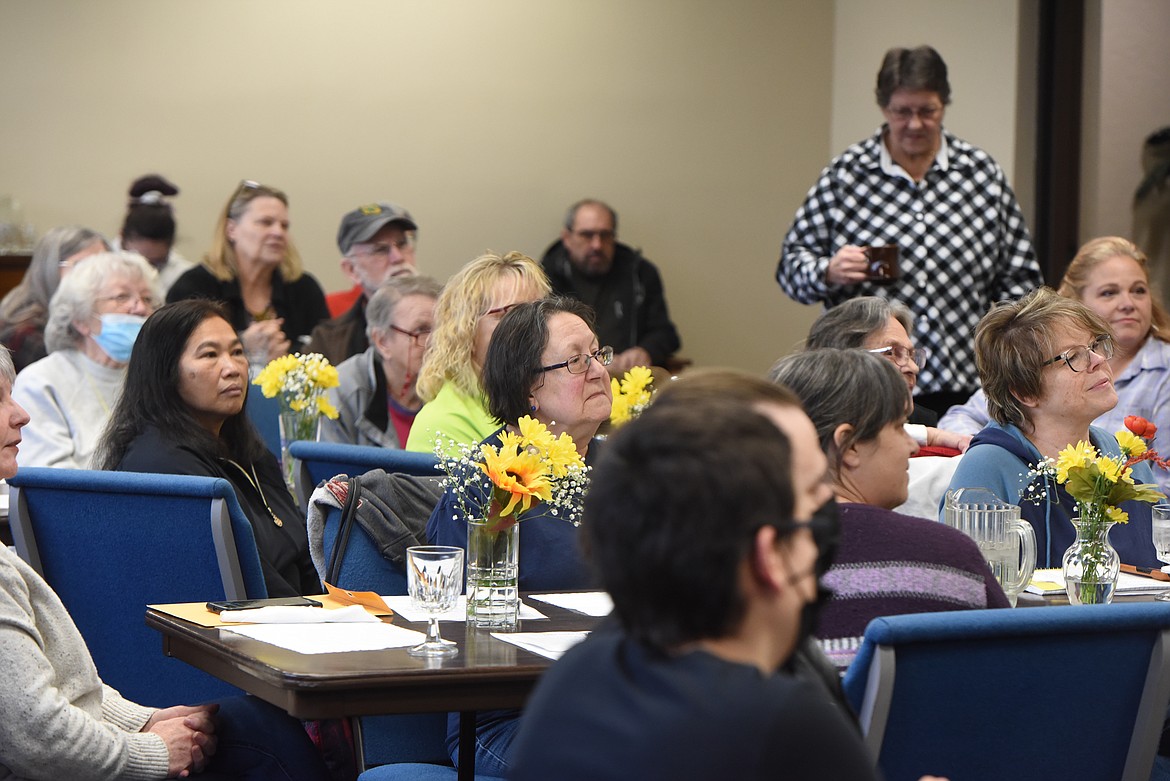 Members of the Libby Vendors Market listen as Co-President Sheryl Neal announces changes to the outdoor bazaar at a Jan. 25 meeting at the Venture Inn. (Derrick Perkins/The Western News)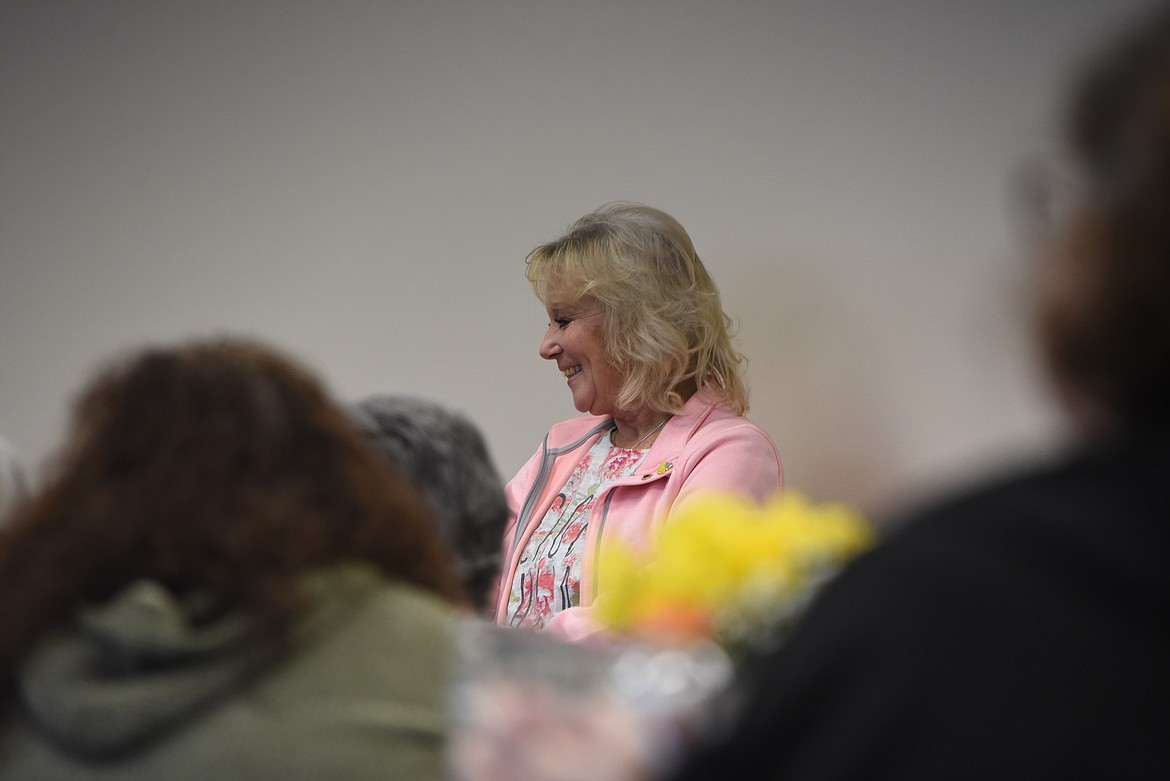 Sheryl Neal, co-president of the Libby Vendors Market, at a meeting of the organization on Jan. 25. (Derrick Perkins/The Western News)
Previous
Next
by
DERRICK PERKINS
Daily Inter Lake
|
February 1, 2022 7:00 AM
The Libby Vendors Market will take up shop around the former high school after a roiling turf war complicated last year's selling season at Fireman Park.
Sheryl Neal, co-president of the merchant group, made the announcement to raucous applause — and more than a few cheers and whoops — at the organization's Jan. 25 meeting in the belly of the Venture Inn.
"… Our market is going to grow beyond belief because of where we are," Neal told an assembled crowd of about three dozen prospective or returning vendors.
The market partnered with Scott Curry of Libby Lofts, which owns the former schoolhouse, for the new location. Vendors will be allowed access to the building's parking lot and adjacent park to sell their wares, Neal said. They also plan to adorn the brick structure with banners to advertise the weekly outdoor bazaar.
"We will have banners made that will drape off of the building on the front and back that say 'Libby Vendors Market supported by Loft LLC,' so that it is visual from everywhere," Neal said. "So we're very jazzed about that news."
Organizers expect to host up to three food trucks for market days and set up do-it-yourself stations for children interested in learning about the various vendors' crafts and products. Neal said at least one group has expressed interest in performing live music on and off throughout the season, but they are looking for additional acts.
Additionally, the market will work to host fundraisers for various community projects. As an example, Neal highlighted the ongoing effort to replace the roof at the historic Hotel Libby on California Avenue. She invited assembled vendors to either contribute or consider organizing an auction for campaign.
Curry, on hand to explain his role in the new location, said he looked forward to the market enlivening the defunct school property and possibly giving redevelopment there a kick start.
"… [We're] moving forward with the energy partly you all are putting back on the site," he said. "We are really pleased to see Libby Vendors Market there, it is such a great cross section of businesses. It's going to grow, and anything we can do to help you do that, we're here."
The new home for the vendors market likely will clear up challenges associated with its previous spot at Fireman Park, including tensions with the Libby Chamber of Commerce, which boiled over into public last year.
Representatives of the chamber, which sponsors the Farmers Market at Libby, asked city officials for a role in the use of nearby public spaces. At the time, the Libby Vendors Market used the Fireman Park parking lot while the farmers market set up in the chamber's adjacent parking area, though the two were held on separate days.
Chamber officials worried visitors might, out of confusion, associate the vendor market with the business organization. They feared damage to the farmers market's branding, but also cited the harassment of their staff by vendor market patrons and requests to use the organization's bathrooms.
One board member suggested the vendors market, by adopting a similar location, using similar fonts in promotional materials and referring to their spot as the chamber parking lot in marketing pamphlets, had crossed into trademark infringement.
"It's meant to look like our exact market for the purpose of fooling people because our market has established so much goodwill," said Megan Rayome at a Libby City Council meeting.
When the chamber asked for veto over nearby events — City Hall had given the farmers market's rival permission to set up there — vendor market supporters showed up in droves before Libby City Council.
At the time, city councilors appeared split as to how best handle the turf war. City Councilor Kristin Smith, who favored finding a new home for the vendors market, ultimately joined then Mayor Brent Teske in calling upon representatives of both bazaars to start a dialogue.
A few oblique references aside, no mention was made of last summer's dustup at City Hall during last week's vendors market meeting. Instead, Neal and Co-President Megan Sutherland focused on the organization's planned improvements for the year.
Vendors will have access to water at the site, Neal said, and organizers have arranged for portable bathrooms for market days. The event will boast a misting tent. Under the guidance of Sutherland, the market has launched new promotional materials.
Neal also stressed the variety of products available at the market. Asked about the mix of both handmade crafts and retail products, Neal said the group had fought for years to keep the event open to vendors of all types.
"The reason the vendors market was created was so that people had a place to come sell their goods and wares, so that businesses could come and advertize their business and sell their goods there," Neal said.
She pointed out the damage wreaked by the COVID-19 pandemic on small businesses. A lot of people saw business drop and more than a few lost their storefronts, she said.
"We are there to allow people to come in on a wide range of homemade and retail products to sell their products," she said. "This is a true vendors market. It is not a judge and jury that says, 'No, I'm sorry, it's not homemade' or 'We have several of these already so you can't join us.' No, that's not who we are."
The upcoming season for the vendors market launches on May 4. It runs through to October. Vendor applications are available on the group's Facebook page.
---