Friday, June 20
June 20, 2008 midnight
A $10,000 memorial gift in honor of the late Heidy Switzer was announced during Libby Volunteer Ambulance's ribbon cutting ceremony for its new barn Tuesday.

June 20, 2008 midnight
June's tennis sessions are under way at the Libby High School courts, with Corky Teska teaching youngsters and adults — just like he has so many summers past.
June 20, 2008 midnight
ASW Associates Inc., a Remediation firm that was contracted to cleanup asbestos-contaminated sites for the Libby Superfund project, has been told it will lose its contract if things don't improve.
June 20, 2008 midnight
The managers, heated pool and prices will stay the same when Libby's Super 8 Motel at 448 U.S. Highway 2W changes over to a Rodeway Inn on July 8.

June 20, 2008 midnight
Libby City Council unanimously approved the Streetscape project after members of Libby Main Street Program pressed council to decide whether or not the project should move forward.
June 20, 2008 midnight
Libby native Ken Baeth oversaw the construction of the old band shell back in the 1980s, so when it was torn down last week, it was only fitting that he pluck some of the handiwork from the structure to return it to those who made it possible.
June 20, 2008 midnight
Big Bucks, which is the Libby Loggers American Legion tournament, will be held Friday, June 20, through Sunday, June 22, at Lee Gehring Field.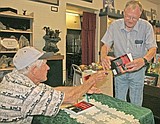 June 20, 2008 midnight
About 60 people showed at Cabinet Books and Music Store Tuesday night for Libby author Herb Neils book-signing of his latest novel, "The Greatest Trophy."
Friday, June 13
Friday, June 6