Troy Dispatch to discuss dissolution at Friday meeting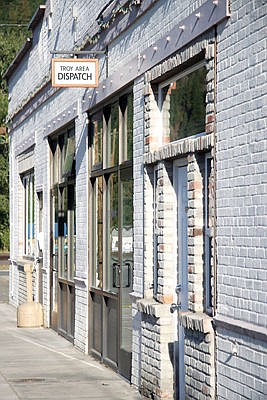 Troy Area Dispatch is located close to downtown Troy on Kootenai Avenue inside the Troy City Hall building. (FILE/The Western News)
A meeting is being held Friday evening in Troy to vote on the dissolution of the Troy Area Dispatch District.
The meeting will be held at 6 p.m. in city council chambers at 301 E. Kootenai Ave.
A flier announcing the meeting was posted on a bulletin board at the Lincoln County Courthouse Wednesday afternoon.
According to the agenda, a board chair and secretary/treasurer will be appointed, then a vote will be taken for dissolution.
The dispatch center stopped offering services on Monday, July 17, according to a July 19 post on the Troy Area Dispatch Facebook page. Emergency and non-emergency dispatch services for the Troy Area District were transferred to the Lincoln County Sheriff's Office Dispatch the same day.
The post cites "an ongoing staffing shortage" as the reason for the change. It also said the change would be "for an unknown duration."
At that time, callers were instructed to continue to dial 911 in the event of an emergency and for non-emergency calls, dial 406-293-4112.
Troy Dispatch, which has provided service since 1965 before 911 became available in 1968, has struggled to keep staff.
It began as an all-volunteer organization before transitioning to a paid operation in 1996 when the Troy Area Dispatch District was formed. Initial costs were nearly $41,000 and it was paid for with a 7-mill levy. In 2000, the levy was raised to 20 mills and provided about $97,000 for services.
In July, Lincoln County District 2 Commissioner Jim Hammons said most of the board's budget, a total of $325,000 including a reserve account, has been spent on overtime pay because there weren't enough dispatchers. He also said there were necessary equipment upgrades and the district doesn't have the money to pay for it.
At a Jan. 5 meeting in Troy, Troy Dispatch Board Chairman Jim Ward reported that Troy Dispatch had three full-time employees and one part-time employee. Ward also said at the meeting that another part-time employee was in training and the board was planning on interviewing another candidate.
But, according to Hammons, Ward was one of the members to resign this summer.
Many residents have been critical of the fact they pay a levy to the city for dispatch services and the county.
Advocates for dissolution of the dispatch center frequently cite it as well as delays when a call needing a law enforcement response from outside city limits is made to Troy and then rerouted to the sheriff's office in Libby.
The Lincoln County Sheriff's Office recently added a full-time dispatcher to help handle the increase in 911 calls to its center.
---