Richard "Dick" Moots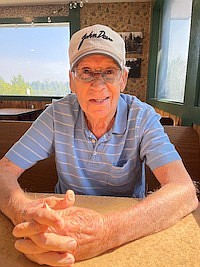 |
September 22, 2023 7:00 AM
Richard "Dick" Moots, born Nov. 3, 1933, in Lamberton, Minnesota, peacefully passed away on Sept. 11, 2023 in Moyie Springs, Idaho.
On Sept. 26, 1950, Dick embarked on a lifelong marriage with his beloved LullaBelle "Dudie" Barker. Together, they nurtured a close-knit, loving family where family always reigned supreme.
Despite losing his father at four, Dick became a loving father to Arlyn, Robbin, Debbie, Dawn, Reid, Brent and Holly, all becoming exemplary individuals.
Dick's dedication as a husband, father, and grandfather to his 11 grandchildren and 20 great-grandchildren filled him with pride and joy.
In 1965, the family embarked on a vacation, driving from Minnesota to
Oregon in their cherished 1956 Oldsmobile with six kids. What was meant to be a temporary journey became a lifelong move to the West Coast.
Until his 1996 retirement, Dick owned Dick's Auto Repair in Molalla, Oregon. Afterward, he and Dudie made a serene move to Montana.
Deeply rooted in his faith, Dick served as a dedicated deacon in the Seventh-day Adventist Church, uplifting his community and strengthening his spiritual bonds.
Dick possessed a gift for connecting with people. His conversations with strangers were effortless and his laughter infectious. His warm and welcoming spirit left a mark on everyone he encountered.
His simple pleasures included Sabbath afternoon drives, laughing at the Three Stooges and hearty home-cooked meals. Dick had a profound love for hunting, a tradition he passed down to his sons and grandsons.
The memories formed at family gatherings attests to the love and laughter he infused into their lives. Memories will shine brightly in their hearts for generations to come.
Dick will be remembered for his love, laughter and the enduring impact he had on his family.
A memorial service to celebrate Dick's life will be held at 11 a.m. Friday, Sept. 29, 2023, at Bonners Ferry SDA church.
All who knew and loved him are welcome to join in honoring his memory.
Dick's family wishes to extend their heartfelt gratitude to all who provided care and love during this difficult time.
To leave a message or memory for the family go to www.bonnersferryfuneralhome.com.
Bonners Ferry Funeral Home is caring for the family.
---