New police officer joins City of Libby force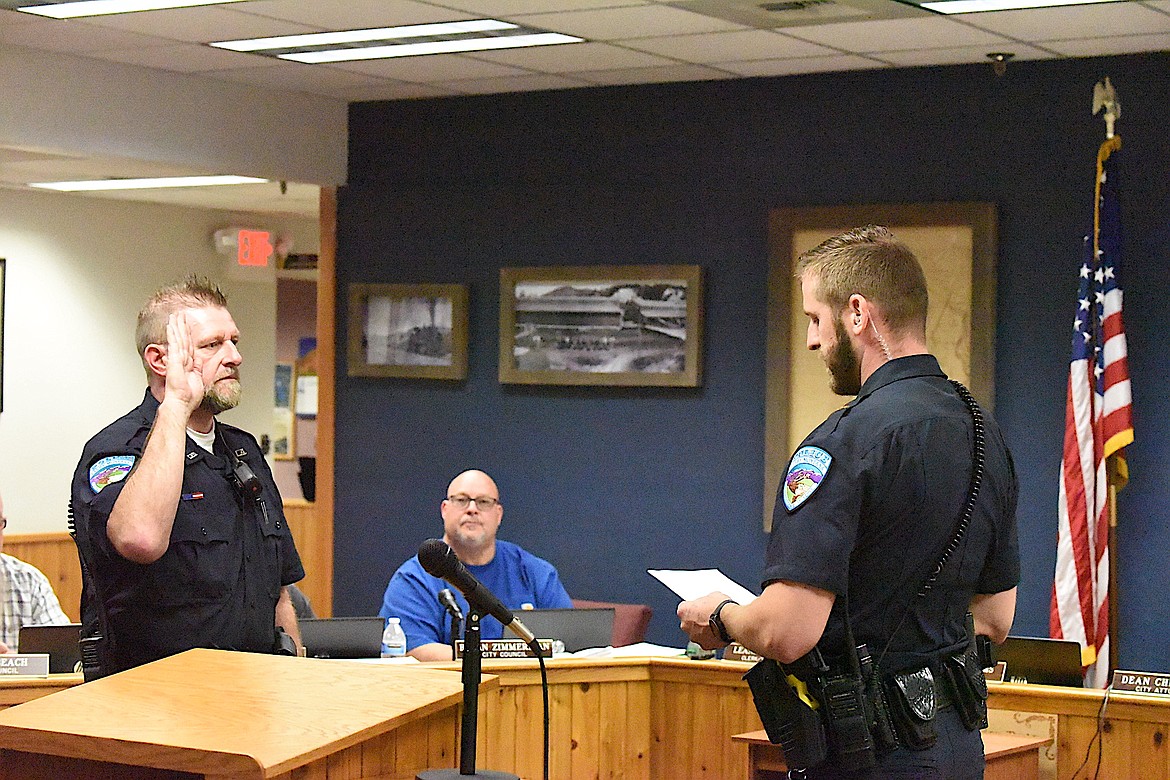 Libby Police Chief Cody Ercanbrack swears in new officer Donald Luthey at the city council meeting on Monday, Sept. 18. (Scott Shindledecker/The Western News)
The City of Libby has hired a new police officer.
Continuing its efforts to rebuild the city police force, Don Luthey was sworn in by Chief Cody Ercanbrack at Monday's city council meeting.
Luthey retired from the Ripon Police Department in October 2020 after a 26-year career. Ripon is a small town located between Modesto and Stockton in California.
Chief Ercanbrack was hired in late April to replace former Chief Scott Kessel, who parted ways with the city in the early part of the month after both sides approved a separation agreement.
Kessel came under fire after three officers, Sgt. Chris Pape and officers Ian Smith and Cody DeWitt, quit the force on Nov. 21. Then former officer Joshua Brabo left the force this spring, leaving Sgt. Ron Buckner as the lone officer on the force.
Luthey, also a U.S. Navy veteran, becomes the fourth member of the force. On July 5, new officer Caleb Thomas was sworn in. He is currently enrolled at the Montana Law Enforcement Academy in Helena and Ercanbrack said he is expected to graduate at the beginning of December.
According to Ercanbrack, Luthey held several sworn-officer job designations with the department in his 26 years in Ripon. They included positions as a Senior Patrol Supervisor, Policy, Detective Sgt., Administrative Sgt., Hazardous Material Technician, Training Coordinator, CED (Taser) Instructor, Detention facility administrator, Adaptive leadership Training, Field Training Supervisor and the K9 Supervisor.
In 1999, Luthey was awarded "Officer of the Year" for stopping an armed robbery after a foot pursuit. In 2007, he was awarded the "Officer of the Year" for working with all the business and community through community relations and community policing.
"Officer Luthey's POST certification is recognized by Montana and he will be attending the Montana Equivalency Course with me in the beginning of 2024," Ercanbrack said.
The chief said he is ecstatic to have Officer Luthey join the team.
"He is a wealth of knowledge and experience that will not only help him on the road here but will also help him mentor our new officers and help them serve the public in a more professional and safe manner," Ercanbrack said. "Having experience in a larger more dangerous community has given Officer Luthey a different perspective when it comes to officer safety. The experiences he has had leaves him cool, calm and collect. He has a great way in connecting with people and is very personable and motivated to serve the community. Officer Luthey has fallen in love with our home and is committed to helping those around him. He has dedicated his life to service and was drawn straight back to it once he came to Libby."
Ercanbrack said he hopes to hire one more officer by the end of the year and their plan is to be back to a six-officer team.
"We are fortunate to have some very motivated and qualified applicants," Ercanbrack said. "The Libby Police Department is being staffed by new officers with phenomenal potential. I couldn't be happier with community members who have stepped up and answered the call of service.
"We are grateful for Libby's patience in this time of rebuilding. We are grateful for Sheriff (Darren) Short and his steadfast deputies who have sacrificed hundreds of hours with their families to fill over time shifts in the city. We have come a long way fast and we have no intention of slowing down. Libby deserves professional, passionate service from hardworking, dedicated officers. That is my expectation for my officers and what the community should expect from all of us."
---