A Libby native's journey to success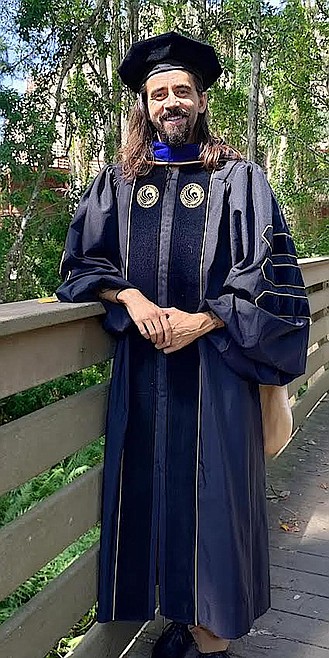 Libby native Jacob Bridger Lennard proudly poses after earning his PhD in Accounting from Central Florida University. (Photo courtesy Scott Lennard)
Editor's note: Libby resident and proud parents Scott and Patti Lennard shared the story of his son Jacob earning his PhD. The Western News is pleased to share it with our readers.
Libby native and 2008 Libby High School graduate Jacob Bridger Lennard recently received his PhD in Accounting from the University of Central Florida.
Jacob had an interesting path en route to his PhD. At first he didn't have any interest in attending college after graduating high school. Instead being the avid reader and lover of books that he was, he decided to work and help manage his mother's "Cabinet Books" book store on Mineral Avenue. The job was a good fit.
After a couple years he decided to move to Missoula and worked a retail job with JCPenney. After enduring a few more "despised" Montana winters and without knowing a soul in Nevada, Jacob decided to move to warm and sunny Las Vegas. He continued to work for JCPenney along with venturing out and doing a stint at the Chihuly Art Gallery, selling world famous Dale Chihuly blown glass art creations.
After a few years, his parents received a call saying that he was tired of being "poor" and didn't want to be poor the rest of his life. So at age 23, decided he was switching gears and going back to school. Since he was already in Las Vegas, the University of Nevada Las Vegas was his obvious choice.
Jacob started out pursuing a degree in marketing but after excelling in an accounting class, he was encouraged by his professor to redirect his studies into an accounting career. Jacob graduated with honors in both a Bachelor's degree in 2017 and his Master's degree in 2018.
Nearing the end of his Master's program he was becoming passionate about teaching accounting at a college level. He applied at several colleges and was accepted into the PhD program at UCF. The university has the second largest attendance of any college in the U.S. Jacob was the first accounting student from UNLV to be accepted into a PhD program in the first year of application.
Jacob went from being a young man that had no interest in attending college, to a student that excelled, with honors and 10 years later to receiving his PhD. This was all accomplished while working full time, which is quite a monumental feat.
Jacob is the first in the Lennard family to receive a Doctorate degree. His parents Scott and Patti Lennard are so proud of his accomplishments and amazed at his independence and work ethic.
Jacob just recently took a job as an accounting professor at Butler University in Indianapolis, Indiana, and is currently teaching classes there.
---