Libby native Heinert achieves career military milestone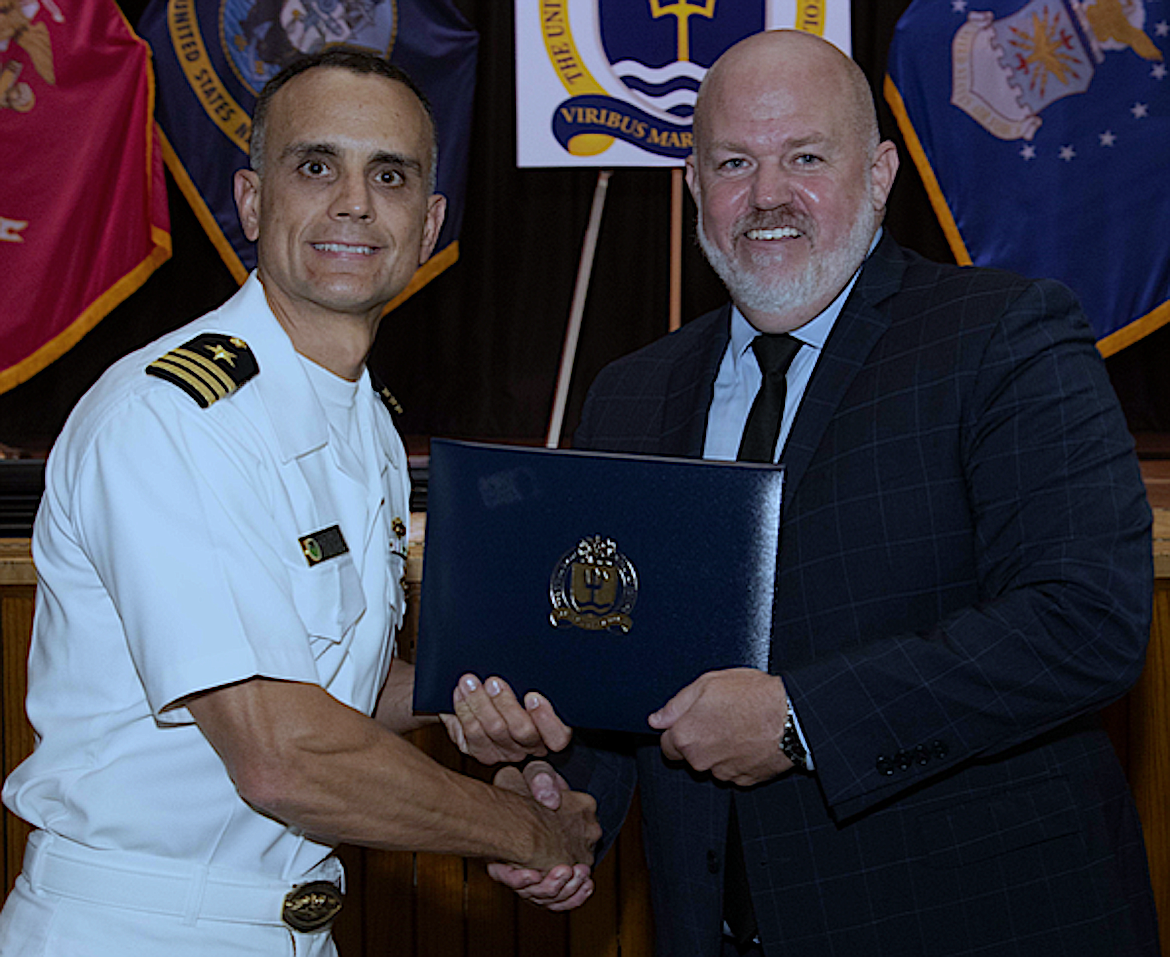 Libby native Trevor Heinert recently earned his diploma in Joint Professional Military Education from the United States Naval War College. (Courtesy photo)
On Sept. 14, 2023, a former Libby Logger achieved a military career milestone while being mobilized back to Active-Duty Naval Service as a Project Manager.
Commander Trevor Heinert earned his diploma in Joint Professional Military Education from the United States Naval War College. Heinert graduated from Libby Senior High School in 1996 and entered Naval Service following completion of his Mechanical and Control Systems Engineering degrees at Montana Tech in Butte, Montana.
His U.S. Naval service began one year before the Sept. 11, 2001, attacks occurred on United States soil, where he started to face the military challenges and diverse experiences that would unfold from those tragic events.
Heinert served eight years as a Submarine Officer before transitioning to Special Operations and Joint Service Branch assignments that have taken him far from his roots of Libby.
He has had opportunities to serve with multiple coalition foreign country military organizations as well as U.S. Service Branches, including the 101st Airborne and 1st Infantry Division headquarters in Iraq, Naval Special Warfare in Afghanistan and Japanese Navy/South Korean Navy in both of those countries.
When asked if he was looking forward to retiring soon from his military service he quickly responded, "I have truly enjoyed a very rewarding but often challenging military career choice and I am not quite ready to permanently hang up the uniform. I can honestly say that looking back 30 years ago as a young kid enjoying the outdoors of the Libby area, I could never have dreamt of all the experiences and opportunities that this career path would afford me.
"None of these milestones would have been possible for me without the tremendous community support from Libby and this dedicated
commitment to teaching our youth about how hard work can and often does open doors. Most importantly, I could never have accomplished a fraction of my achievements without the continual assistance, encouragement and overwhelming support of my close family and friends throughout my years growing up in Libby as well as throughout my entire Naval career. I am very grateful and blessed to have had a community like Libby to call home."
This past week, we all often reflected on what that day meant to us and how it forever changed our nation's path moving forward. It is a reminder how Cmdr. Heinert is just one example of the many Lincoln County service members that take great pride having served or continue serving in the defense of our nation against adversaries that look to do harm to the United States.
Our fellow Lincoln County military members are proud examples of dedicated service, and our community remains grateful to have these individuals willing to step forward and answer the call to defend freedom.
Sept. 11, 2001, is a date eternally etched in the annals of our nation's history, a day when acts of terror forever changed our world and heroes emerged to protect the principles that lie at the heart of our nation's foundation.
On this anniversary of the Sept. 11 attacks, we paused to remember the lives lost, the families forever impacted and the countless acts of bravery and sacrifice that occurred in the face of unimaginable adversity. 
We recognize the first responders who charged into danger, the servicemen and women who defended our nation, and the unity that brought our country together in the aftermath of the attacks. This unity must continue to live on and the events of 9/11 showcased humanity's resolve, courage and strength when confronted with the gravest of challenges.
---