Kayla D'Lynn Fox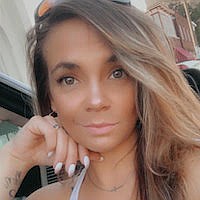 |
September 22, 2023 7:00 AM
Kayla D'Lynn Fox, 32, unexpectedly passed away on Saturday, Sept. 16, 2023.
Kayla was born Sept. 14, 1991, in Libby, Montana, to parents Kim Fox and Rob Fox.
Kayla attended Libby schools and was very talented at gymnastics, cheerleading, basketball and showing horses. Kayla worked various jobs throughout her life, but her favorite was being a bartender. She loved the energy, connecting with people, and sometimes as bartenders do, being a therapist.
She loved her home, the mountains in Montana, and had found her home away from home by the ocean, in Portsmouth, Virginia for eight years. She made many close friends while in Virginia and loved them deeply.
Kayla was kind, fearless and loved to laugh. Her laugh was contagious and she had the most beautiful smile. She saw only the good in people and was accepting of everyone no matter what.
No one was a stranger to Kayla, she made friends everywhere she went. She made such a large impact on people without realizing it. People gravitated toward her pure heart.
Kayla leaves behind her 13-year-old son, Hayden Matthew Roberts, who was her heart and soul. Hayden shares his mother's deep, loving brown eyes.
Kayla is preceded in death by her cousins, Hannah Chandler and Jordan Chandler, great-grandmother Billie Itzen and grandfather Bob Fox.
Kayla is survived by her son Hayden Matthew Roberts, her parents Kim Fox and Rob Fox, sister Kelsi Duve (Austin), niece Kinslee Duve, who called her auntie Kayla "TT"; brother Eric Tomsha (Tiffany), niece Paisley Tomsha, grandmothers Kathy Carper and Sherry Fox as well as many aunts, uncles, cousins and close friends.
Kayla will forever be remembered as a loving mother, daughter, granddaughter, sister and aunt.
She insisted on living wild and free.
In lieu of flowers, donations may be made to an account at Glacier Bank that has been opened to support Kayla's son, Hayden Roberts. Any donations are greatly appreciated by the family.
Funeral services will be held privately for the family.
A celebration of life will be announced at a later date and will be held at Happy's Inn. Everyone is welcome to attend and share their memories of Kayla at that time.
Arrangements are under the care of the Schnackenberg Funeral Home of Libby.
Memories and condolences may be shared by visiting www.schnackenbergfh.com.
---