Jim (James) R. Hicks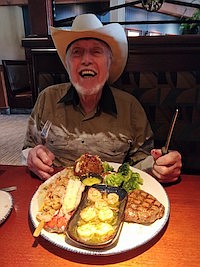 |
September 22, 2023 7:00 AM
Jim (James) R. Hicks was born on Aug. 4, 1937, to Lester and Marian Hicks in Hickson, North Dakota. He passed away on Aug. 27, 2023, in Libby, Montana from complications of a stroke.
Jim grew up on a farm near Buffalo, North Dakota and attended school at District No. 81 and Buffalo High School, graduating in 1955.
He enlisted in the U.S. Air Force and served as a radio intercept operator in Japan and Scotland. Jim was very proud of his military service and his work translating Russian military communications from Morse Code during the height of the cold war. He was also proud of his more than 50-year membership in American Legion Post No. 10.
When he returned home, Jim worked at several jobs, including Truck Stop operations in Tower City, North Dakota, and later in Lolo, Montana.
In 1968, he enrolled at the University of Montana and graduated in 1973 with a BA degree in Economics. He also completed numerous Russian language courses.
Jim was offered a position in the banking industry, but chose to spend the rest of his working years doing road construction in Montana, Idaho, Washington and Oregon. He was a true free spirit and a good friend to everyone he met.
He was preceded in death by his parents and brothers Robert and Richard.
He is survived by his loving wife of 37 years, Laurie, his sister Lillian (Bunny), brother William (Gus), six nephews and nieces and lifelong friend Calvin Stenseth of Missoula.
Jim will be interned in the Veteran's Cemetery in Missoula, Montana, at a later date.
---