Billie Diane Pullman Foote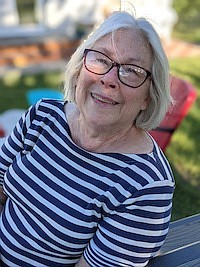 |
September 22, 2023 7:00 AM
Billie Diane Pullman Foote passed away peacefully at Hospice House in Spokane, Washington, on Sunday, Sept. 17, 2023, at the age of 74.
She was an only child.
She is survived by her husband of 53 years, Rev. Robert Howe Foote, and her children Kevin Patrick Foote (Melissa), Laura Elizabeth Wright (Patrick), Eileen Pullman Mager (Justin) and BillieAnne Kennedy (Jason).
She is also survived by her 16 grandchildren: Matthew, Andrew, Nathaniel, Gregory, Abbey, Michael, Catherine and Philip (Kevin); Brennan, Blaine and Braeden (Laura); Kai and Emma (Eileen); Leland, Byron and Antoinette (BillieAnne) and numerous extended family members.
She is preceded in death by her parents COL Billie Fralick Pullman and Elizabeth Bailey Goodrum Pullman.
Diane was born on Sept. 7, 1949, in Nashville, Tennessee. The daughter of an Army officer, she lived in many places, including Japan; Garmisch, Germany; Fort Hood, Texas; Fairfax, Virginia, and graduated from high school in Honolulu, Hawaii.
She married the love of her life Robert Foote in Nashville, Tennessee, on Sept. 25, 1971, and resided there for 12 years until they entered the ministry together in 1983.
Wanting to raise their four children "Out West," Diane and Bob moved their family to Montana in 1986, where they served in ministry in many locations until entering their retirement years in 2013.
After traveling a few years in retirement, they finally settled near family in Cheney, Washington.
Diane was full of life and truly never met a stranger. She gave the best hugs and willingly distributed them wherever she went. Diane dedicated her life to helping others and making the world a better place. When she wasn't busy helping her children in all of their activities, or fulfilling her ministry duties, Diane volunteered with numerous community organizations including: Order of the Eastern Star, Rainbow for Girls, Mary Kay, Lincoln County Domestic Violence, Walk to Emmaus, and the Montana State Legislature to name a few.
She empowered women, advocated for victims and was a civil servant. She blessed the world with her beautiful quilt art and handy sewing projects. She was loved by many and will be missed.
Gifts in memory of Diane can be made to the following organizations that she held dear to her heart: United Methodist Committee on Relief and/or Cheney United Methodist Church.
A memorial service and reception will be held at 3:30 p.m. Sunday, Sept. 24, 2023, at Cheney United Methodist Church, 204 4th Street, Cheney, Washington, 99004.
---