Libby cross country hosts Wilderness Run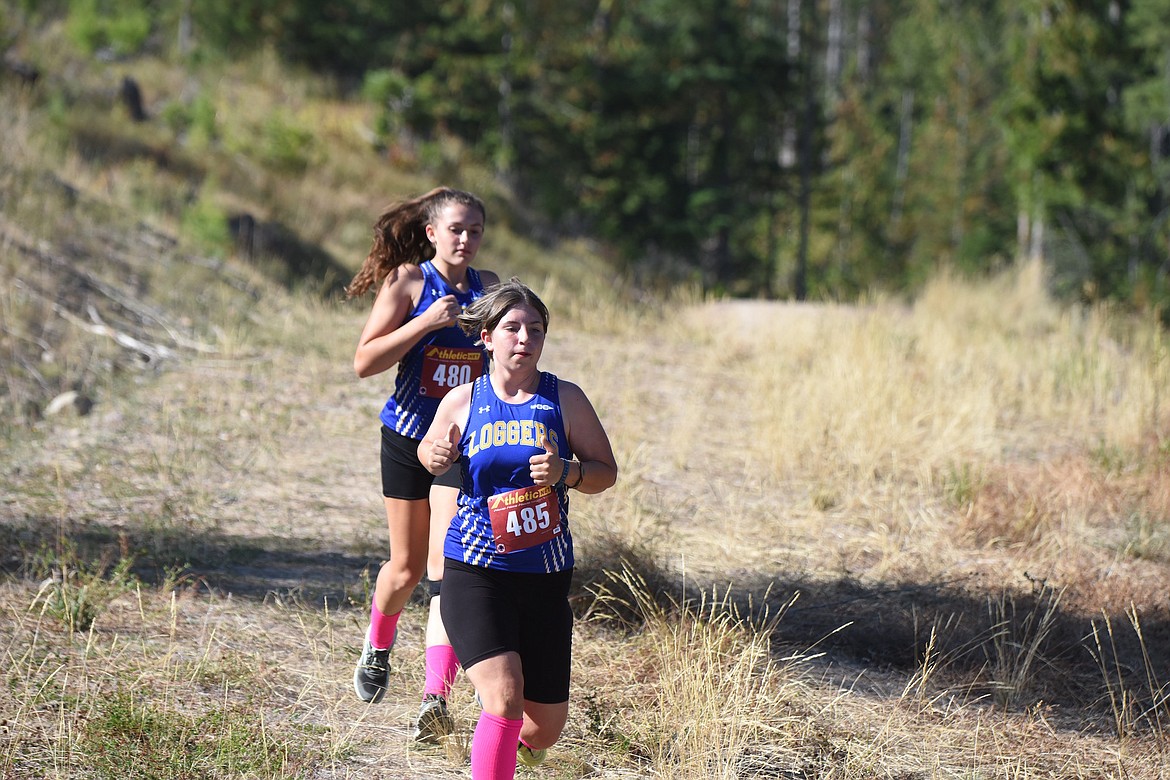 Libby cross country runners Julianna Shumate and Taryn Greene compete in the Libby Wilderness Run on Saturday, Sept. 16, at the Flower Creek Cross Country Ski Area. (Scott Shindledecker/The Western News)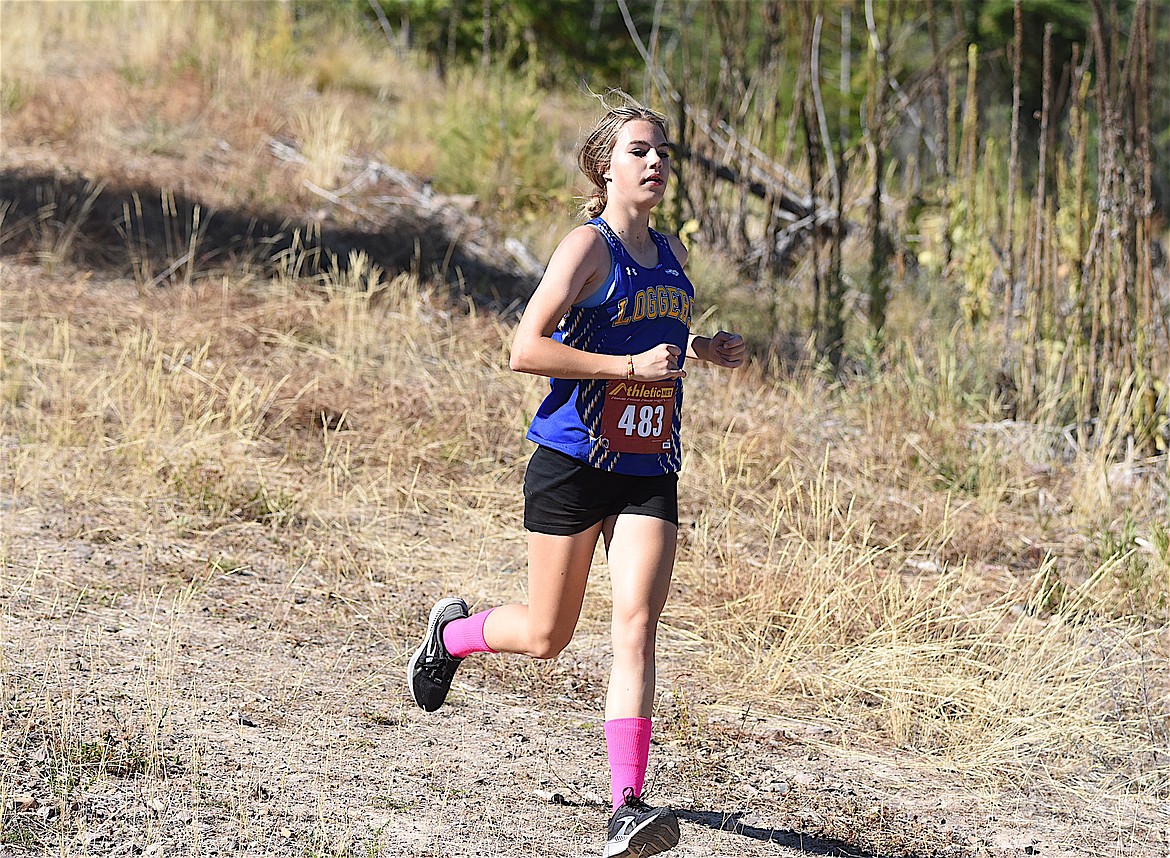 Libby cross country runner Carmen Kohler competes in the finish line at the Libby Wilderness Run on Saturday, Sept. 16, at the Flower Creek Cross Country Ski Area. (Scott Shindledecker/The Western News)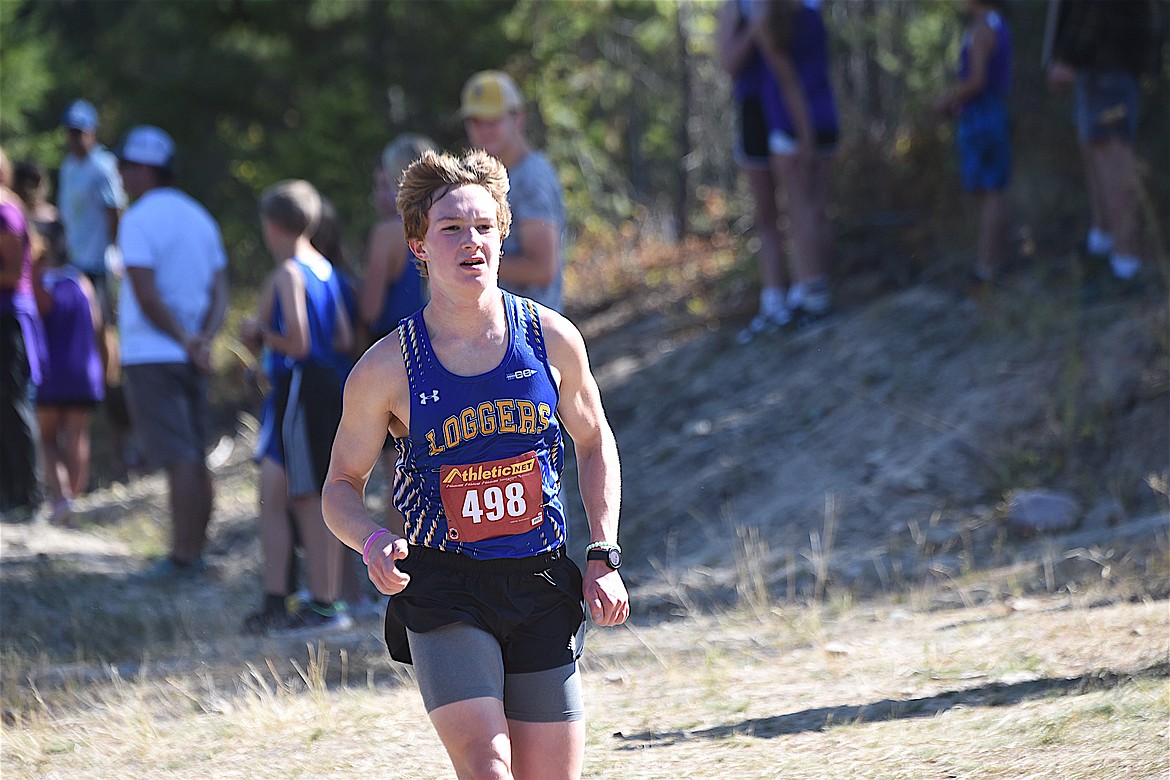 Libby cross country runner Rowen Sherbo comes to the finish line at the Libby Wilderness Run on Saturday, Sept. 16, at the Flower Creek Cross Country Ski Area. (Scott Shindledecker/The Western News)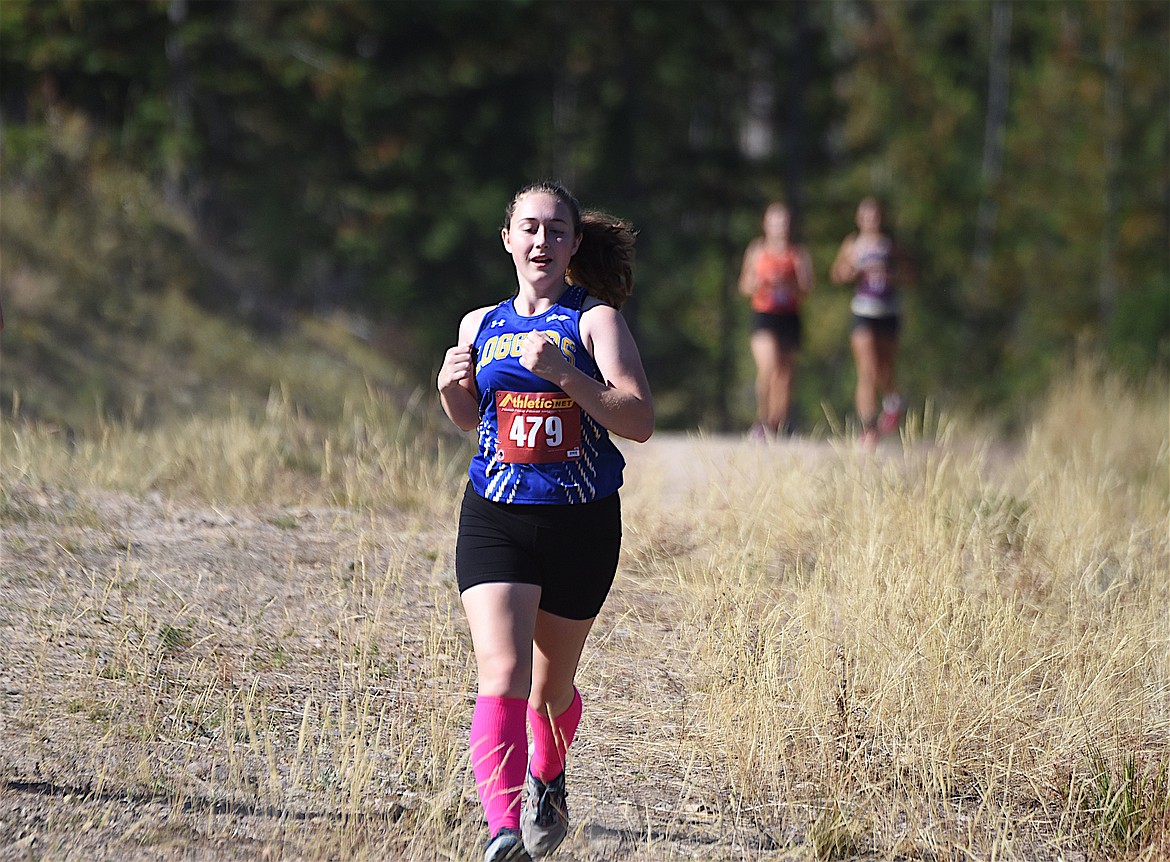 Libby cross country runner Annika Benner comepetes in the Libby Wilderness Run on Saturday, Sept. 16, at the Flower Creek Cross Country Ski Area. (Scott Shindledecker/The Western News)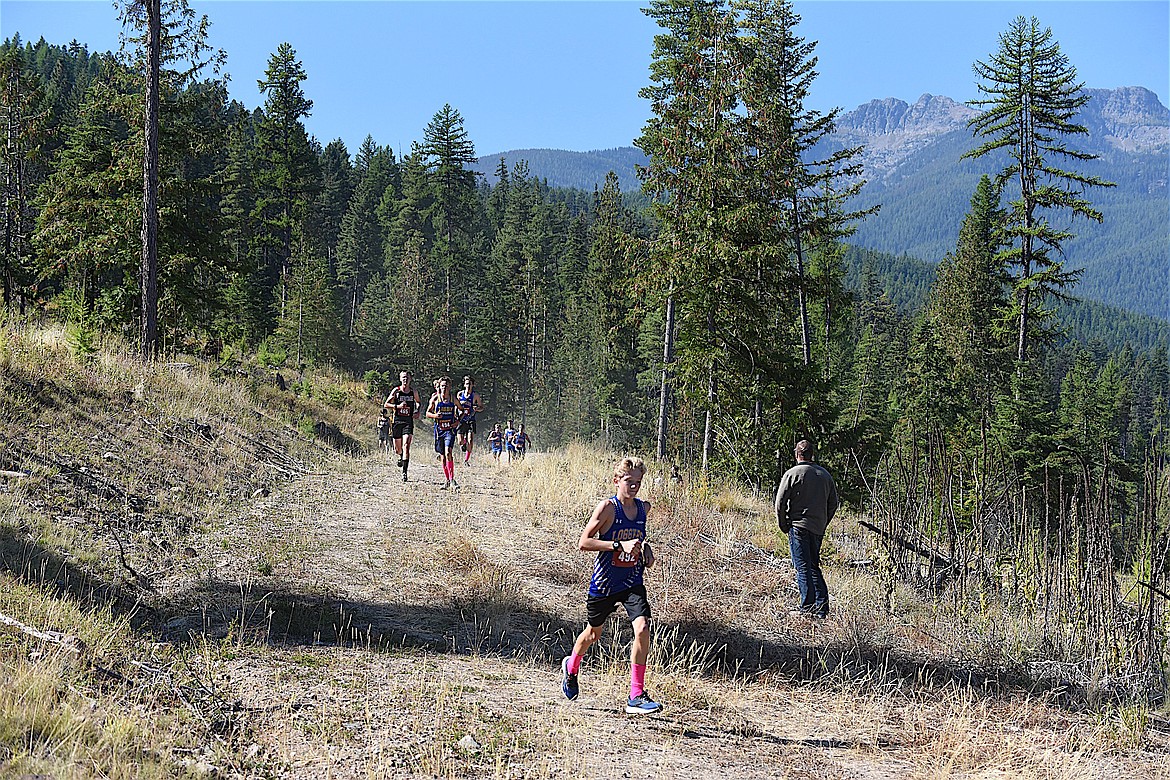 The Cabinet Mountains provide a scenic backdrop at the Libby Wilderness Run on Saturday, Sept. 16, at the Flower Creek Cross Country Ski Area. (Scott Shindledecker/The Western News)
Previous
Next
by
SCOTT SHINDLEDECKER
The Western News
|
September 19, 2023 7:00 AM
Libby's Wilderness Run at the Flower Creek Cross Country Ski Trails always provides runners with a scenic and challenging course that isn't often found many places.
The event, with the Cabinet Mountains as the backdrop, last Saturday proved to be the same and top five finishers also received hand-made medals courtesy of the shop program at Libby Middle High School.
John Love's students made laser-engraved medals made of pine.
"Mr. Love coordinated the process and we loved how they turned out," Libby cross country coach Brittany Katzer said. "We're also extremely appreciative of the community support we received. We had a lot of parents volunteer to help and we had community members and businesses donate items for the goody bags that were given to participants in the kids races."
Katzer explained that two kids races were in place of Runnerfell, which went away after the Nordicfest was no longer held.
"We just want to keep it going for the kids and make it fun and exciting and keep the kids interested in running," Katzer said.
Varsity runners senior Casey Rusdal and junior Matteo Gibbs volunteered to lead the races. A one-half mile event was held for boys and girls four years old through second grade. A three-quarter mile run was held for girls and boys in third through fifth grades.
Following races for middle school students, the varsity races were held.
In the girls race, Polson had the top three finishers and won the team title with 17 points. Lady Pirates freshman Morgan Delaney won it in 20:42.1.
Libby freshman Carmen Kohler placed fifth for the Lady Loggers in 23:43.45. Libby placed second as a team.
Senior Annika Benner followed in 15th place with a time of 29:19.91, junior Taryn Greene was 17th in 30:27.89, junior Julianna Shumate was 18th, junior Taylor Greene was 21st and freshman Adriana Ruhter was 23rd.
In the boys race, Polson also claimed the team title with the top three finishers. Freshman Jackson Bontadelli won it 17:27.51.
Libby was second in the team standings. Loggers junior Rowen Sherbo was Libby's top runner, placing fifth in 18:10.89. Freshman Colter Anderson was sixth in 18:27.67 and senior Greysen Thompson was ninth in 18:40.8.
Senior James Redifer was 16th, Rusdal was 17th, senior Johnny Shao was 20th, sophomore Brodie Walton was 28th, freshman Bridger Moe was 29th, senior Eli Moore was 33rd and Gibbs was 35th.
In the girls middle school race, Libby had three in the top 10. Eighth-grader Alli Clemons was fourth, classmate Vivian Cole was fifth and sixth-grader Ellory Anderson was eighth.
In the boys middle school race, Libby seventh-grader Barrett Moe was fifth and sixth-grader Micah Peterson was 18th.
Libby runs Tuesday at Thompson Falls and Saturday at the Mountain West meet in Missoula.
---