Troy man accused of multiple felonies sentenced for burglary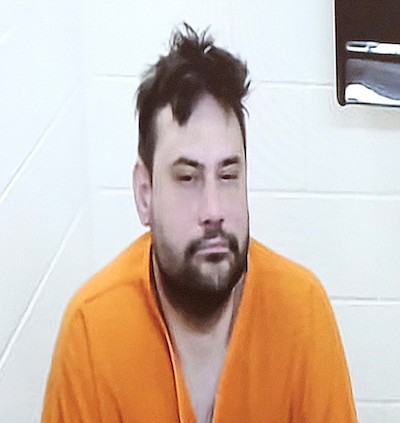 by
SCOTT SHINDLEDECKER
The Western News
|
September 12, 2023 7:00 AM
A Troy man accused of multiple felonies in the last few years is staying behind bars.
Jonathan Joseph Peterson, 33, is currently lodged in the Lincoln County Detention Center. His next stop will be a state Department of Public Health and Human Services treatment facility for a five-year term after District Judge Matt Cuffe sentenced him on Aug. 28.
Cuffe referenced a sealed report from doctors at the Montana State Hospital in Warm Springs that indicated Peterson had a mental health disorder.
On July 11, Peterson pleaded no contest to burglary in district court in relation to incidents that occurred in March. Charges of criminal trespass and criminal mischief were dismissed as part of a plea deal.
Peterson also had charges dismissed in relation to a January 2022 incident in which he was charged of assault on a peace officer, disorderly conduct, intimidation, resisting arrest and obstructing a peace officer following a police pursuit. He allegedly injured Troy Police Chief Katie Davis during an incident where officers attempted several times to bring Peterson down using Tasers with little success, according to court documents.
Peterson's attorney at the time in the 2022 case, Keenan Gallagher, sought and received a mental health evaluation at the Montana State Hospital. Doctors reported Peterson was fit to proceed and Cuffe issued an order to his fitness in December 2022.
Missoula County District Judge Leslie Halligan, who took over the case, issued an order of release for Peterson on Dec. 6, 2022.
Halligan wrote in her order that, "Specific conditions of release can be imposed to reduce the risk he may pose to the public and his history does not demonstrate any significant risk that he'd flee or be unavailable for court proceedings."
But in March 2023, court documents indicate Troy Police Officer Travis Miller was called to a South First Street residence at 8:35 p.m. on March 15. The alleged victim said her brother, Peterson, broke into her house, went into her bedroom and took her gun while she was across the street at a restaurant.
She reported getting the gun out of his possession and chasing him out of the house with a 2x4 board. The woman's daughter told Miller she saw Peterson walk up the driveway, enter the home, get the gun and go out on the steps to load it. The young girl cried while telling the officer she was afraid Peterson would return to the home.
The alleged victim said Peterson also kicked in the door of a neighbor and kicked her car. During law enforcement's attempts to find Peterson they learned he allegedly tried to start a fight with one of the store employees.
Peterson's 2022 case began on Jan. 2, when police officers in Troy began looking for Peterson after a resident complained he was pounding on their door, according to court documents. In an affidavit, Troy Police officer Michael Miller recounted the ensuing pursuit, which led authorities along First Street, through a home, a backyard and onto Riverside Avenue.
As they attempted to corral Peterson, he allegedly charged Davis and grappled with her. Miller wrote that he struck Peterson, believing he was reaching for an item on Davis' belt. The confrontation left Davis with a swollen and bleeding lip, court documents said.
When they called for an ambulance crew to check on Peterson, he declined to go to a local medical center. According to Miller's account, Peterson said the last time he had gone to the facility "a surgeon cut his throat and placed purple circles on his chest."
Cuffe took little time in agreeing to Gallagher's request. In his commitment order, issued the same day, he directed the sheriff's office to transport Peterson to the mental health facility as soon as a bed opened up.
He also passed along Gallagher's requests to the staff of the state hospital.
"At the defendant's request, the report shall include 'an opinion as to the capacity of the defendant to have a particular state of mind that is an element of the offense charged' and 'an opinion as to the capacity of the defendant, because of a mental disease or disorder or developmental disability, to appreciate the criminality of the defendant's behavior …" Cuffe wrote in the order.
Held in the Lincoln County Detention Center on a $100,000 bond at the time, he made a brief appearance in court via videoconferencing software before Cuffe announced the case's continuation.
During his time on camera, Peterson referenced again his story of receiving purple circles when he was last in a medical setting.
---