Virgil Byron Rockstad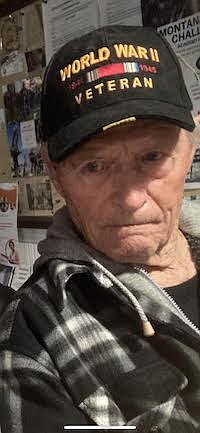 |
September 8, 2023 7:00 AM
Virgil Byron Rockstad, 100, passed away in the loving arms of his son and best friend, "Little Byron" on July 24, 2023, in Libby, Montana.
Byron, who was born in Walcott, North Dakota, on Sept. 23, 1922, was a member of the Greatest Generation, witnessing Pearl Harbor and fighting battles in the South Pacific theatre during World War II.
Like many in his generation, Byron was a self-made man, leaving school in the seventh grade in order to help support his family. Years later he established his own successful construction company primarily located in the Tacoma, Washington area.
After retirement, Byron's primary residence was in Libby, Montana, although he spent part of most years in Soldotna, Alaska and Quartzsite, Arizona.
After the war, Byron met the love of his life, Arlene, and they were married for 54 years prior to Arlene's passing in 2004. Arlene was an integral part of Byron's construction company.
During Arlene's long illness, Byron took loving care and was a beacon of light until her passing.
Byron was a unique individual who lived life to the fullest and the way he wanted. His passion, in addition to his family, was hunting with his son and friends. His hunting experiences took him to his beloved outdoors, in a variety of states, including Alaska, Montana, Utah and others.
Byron is survived by his daughters, Diane Falkenstein and Judy Dirstine; as well as his son Byron; four grandchildren and numerous great-grandchildren.
His son, Byron, provided significant care and companionship in the years prior to his father's passing. Arrangements were under the care of the Schnackenberg Funeral Home of Libby.
Memories and condolences may be shared online by visiting www.schnackenbergfh.com.
---