Tre Monroe Shelly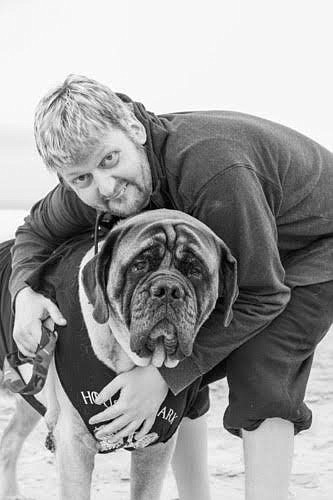 |
September 8, 2023 7:00 AM
Tre Monroe Shelly came into this world on Aug. 9, 1992, three weeks earlier than his due date. He left this world on Aug. 17, 2023, decades earlier than any of us wanted him to.
Tre's life wasn't easy. He fought cancer for most of his 31 years. He didn't get to do the things that most young adults get to do such as have a career, get married and start a family.
But his life was still full and filled with love and meaning. He was smart, compassionate, wickedly funny, and had a quiet strength and resilience that inspired all those who knew him and his story. He was also highly competitive and extremely stubborn, which served him well during all his years battling cancer.
He loved his family, friends and just about every dog he met, especially Groot. He was instrumental in helping his parents start Snarky Cancer and Mutant Printing and was the inspiration behind the business and bringing their vision of port shirts to life. He loved screen printing and would go to the shop whenever he felt well enough.
He was an avid gamer of all kinds - video games, board games and sports. He loved the Sounders and saw quite a few live matches. He was also a Seahawks fan and a Fantasy Football champion. But most of all, he loved to be with the people he loved, sharing food and laughter.
Snarky Cancer was what he was most proud of, but the biggest lesson of his life was realizing, after cancer No. 4 in 2016, that living a life of anger and regret was not how he wanted to live so he got help. And that help led him to live his remaining years able to find joy in his life, during his treatment and even during his final days here.
Tre did not lose any battle. He won every day. Every day that he chose to show up in love. Tre moved on in love and will continue to live on in love in our hearts and continue to inspire people through Snarky.
Tre leaves behind a family who already misses him beyond measure. His mom, Trishia Shelly-Stephens and his step (or second) dad Michael Stephens, his dad Travis Romeo, his sister Courtney Parks and her family, his brother Adam Stephens and his family, his grandparents Rhonda and Dennie Shelly, grandfather Dan Stephens, his Aunt Mandi Shelly, cousins Alexis Rice and Madison Agli and their families, his Uncle Alex Almeida and all of his friends and extended family who have loved and supported him throughout all these years, including his mutant family of people with Li-Fraumeni Syndrome.
Tre did not want a funeral, but he did love raising money for cancer charities and casual gatherings of friends and family. Tre's family invites anyone who is able to join them at the Northwest Sarcoma Foundation's Walk in Spokane, Washington on Sunday, Sept. 17, to register and attend. A casual get-together to share stories, love, laugher will take place after.
More info can be found at https://give.classy.org/slaywithtre.
In lieu of flowers, please send donations to Living LFS, Inc. 637 W. Highway 50, #195 O'Fallon, Illinois 62269-1956 or donate online at www.LivingLFS.org/donate.
---