Jerry W. Snyder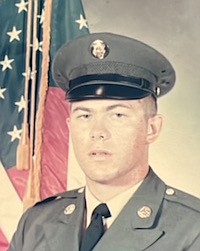 |
September 5, 2023 7:00 AM
Jerry W. Snyder, 64, a long time Libby resident, passed away on Aug. 17, in Council Bluffs, Iowa at Mercy Hospital.
Jerry was born in Wallace, Idaho, Oct. 24, 1950. He attended Libby schools and served our beautiful country during the Vietnam War.
Jerry lived and worked in Libby at the J. Neils Lumber Company as a saw filer until it closed. He then was offered a saw filing job in Council Bluff where he and his wife Linda, resided until he passed.
Jerry was survived by his loving wife, Linda, a son, David (Elishia), a daughter, Deanna Snyder, four grandchildren and one great-grandson. Also, two sisters, JoAnne Nelson and Marge Snyder, three brothers, Steve (Sue), Ron (Cory), Rick Snyder and many relatives and friends.
Jerry will join his parents, Bud and Mia Snyder, as well as his brothers Larry and Butch, a brother-in-law, Richard, and a stepson Christopher Drake.
Jerry was always good for a laugh by everyone and he was loved by all. He will be missed.
---