Libby hosts season-opening cross country invitational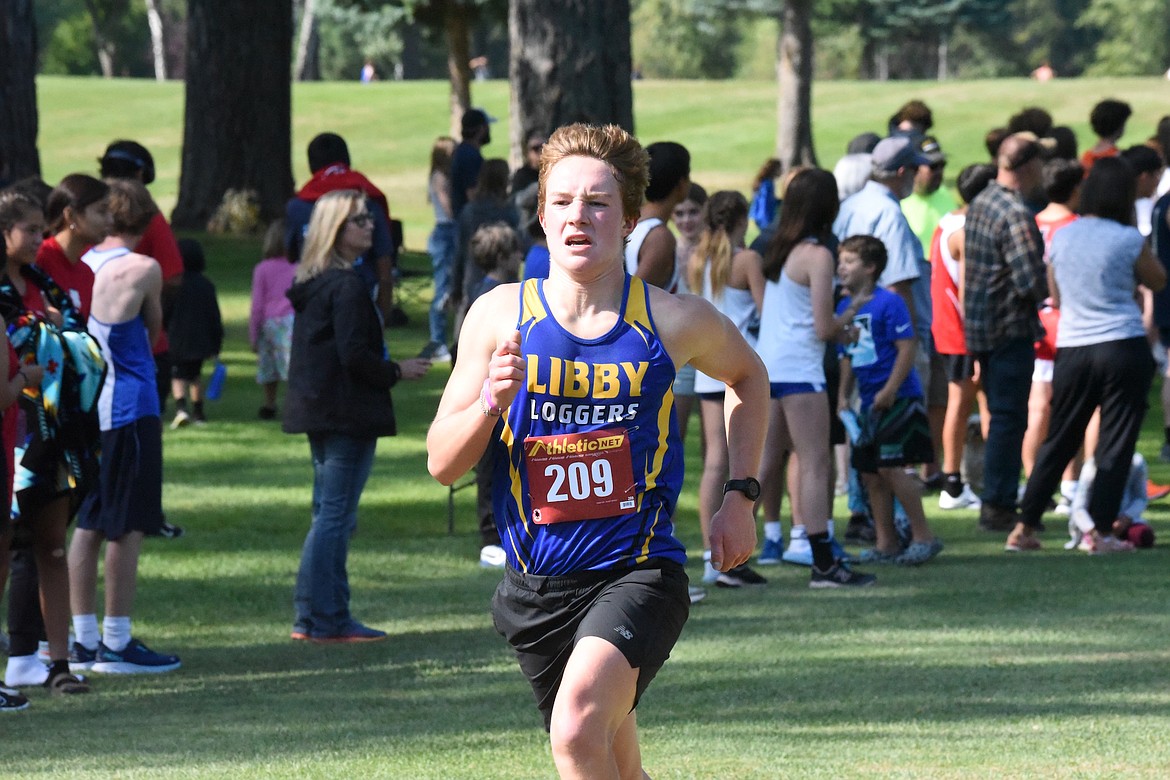 Libby High School cross country runner Rowen Sherbo competes in the Libby Invitational on Aug. 25. (Scott Shindledecker/The Western News)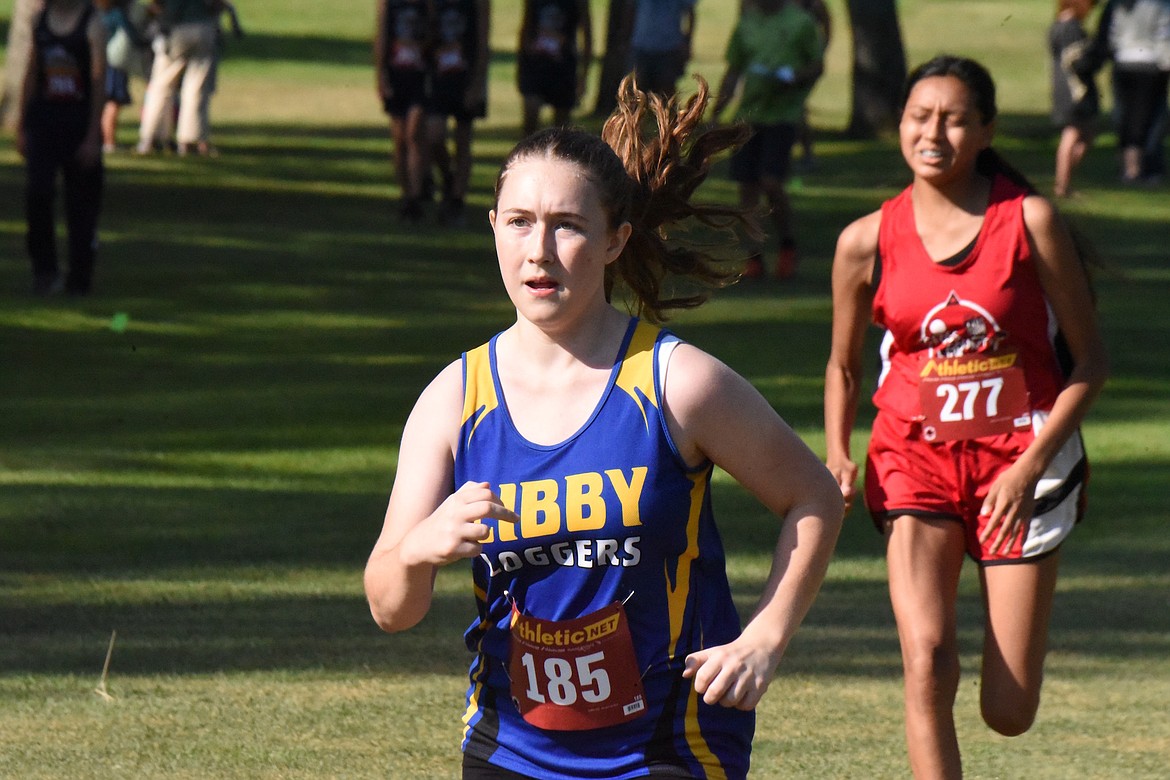 Libby High School cross country runner Annika Benner comes to the finish line at the Libby Invitational on Aug. 25. (Scott Shindledecker/The Western News)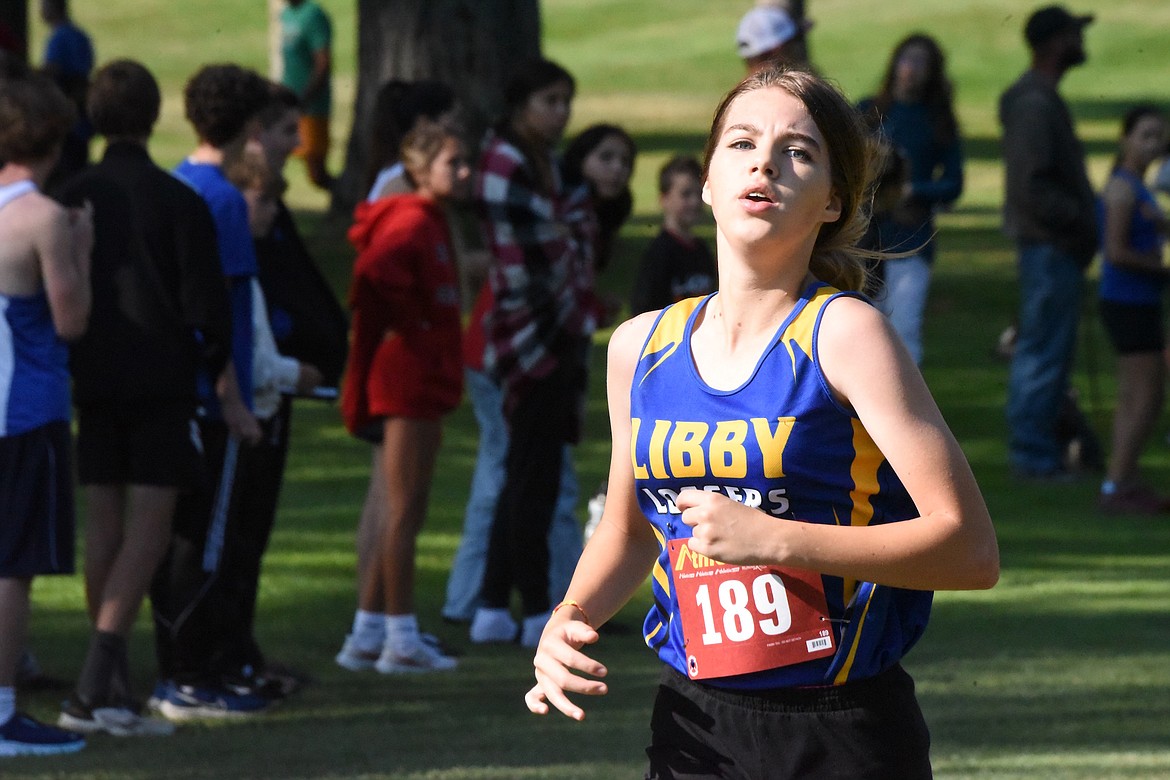 Libby High School cross country runner Carmen Kohler comes to the finish line at the Libby Invitational on Aug. 25. (Scott Shindledecker/The Western News)
Previous
Next
by
The Western News
|
September 1, 2023 7:00 AM
Cross country teams and their runners from northwest Montana and northern Idaho kicked off the 2023 season at the Libby Invitational on Aug. 25.
Sunny skies and pleasant temperatures greeted the hundreds of runners who competed from the middle school level to high school varsity.
In the boys varsity race with 73 runners, Coeur d'Alene junior Maximus Cervi-Skinner edged senior teammate Jacob King with a time of 15:31.3. King was second in 15:31.57. CDA was a runaway winner for the team title with the first five finishers and six of the top seven. The Vikings outpointed runnerup Flathead High 15-61.
Browning was third with 106, Timberlake fourth with 107 and Columbia Falls fifth with 144. Whitefish was sixth, Bigfork seventh, Libby eighth and Eureka ninth.
Flathead junior Robbie Nuila was the top Montana runner with a sixth-place finish in 16:11.36.
Junior Rowen Sherbo led the Loggers with a 24th in 17:43.73. Freshman Colter Anderson was 33rd in 18:36.28. Senior Casey Rusdal was 50th, senior Johnny Shao was 65th, senior James Redifer was 66th, freshman Bridger Moe was 67th and junior Matteo Gibbs was 70th.
In the girls varsity race, Coeur d'Alene sophomore Olivia May was an easy winner while finishing in 19:16.79, nearly 29 seconds ahead of Flathead senior Lilli Rumsey Eash.
But Flathead scored team honors with five runners in the top 11. The Bravettes had 25 points, followed by CDA with 55. Columbia Falls was third with 58, Browning fourth with 85 and Libby was fifth with 145.
Lady Loggers freshman Carmen Kohler led Libby with a 30th place finish in 25:20.05. Senior Annika Benner was 39th in 27:07.38. Katelyn Huff was 41st, Julianna Shumate was 43rd followed by Taryn Greene, Taylor Greene and Adriana Ruhter.
In the junior varsity races, the Libby boys had one finisher in sophomore Caleb Krizan who placed 55th.
In the middle school boys 2-mile race, sixth-grader Micah Peterson was fifth for the Loggers. Eighth-grader Ashton Rehl was eighth and seventh-grader Barrett Moe was 10th.
For the Lady Loggers, eighth-grader Alli Clemons was third, classmate Vivian Cole was seventh and sixth-grader Ellory Anderson was 11th.
Libby returns to competition Sept. 8 at Rebecca Farms in the Flathead Valley.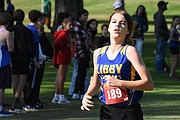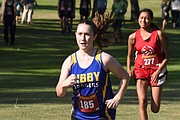 ---