Libby cross country runners gearing up for state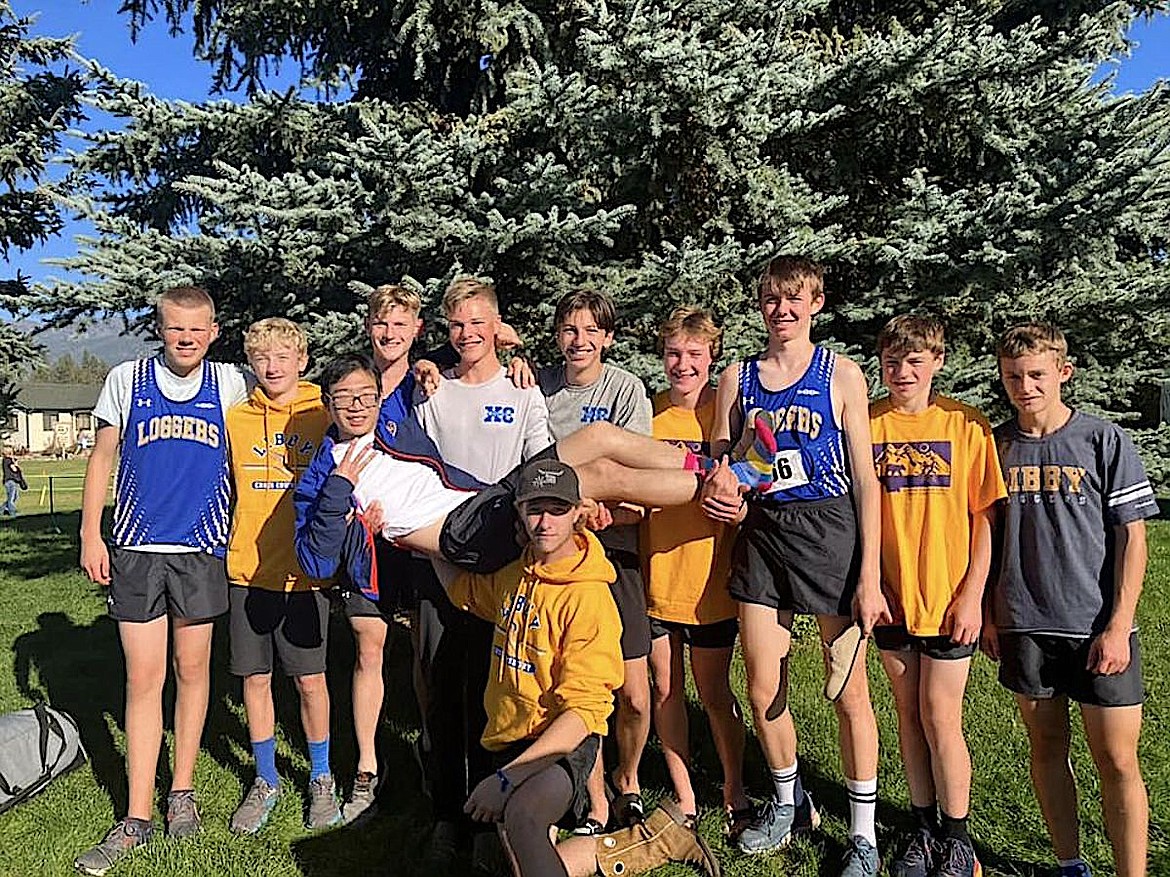 The Libby boys cross country team was third overall at the Mission Shadow meet in Pablo on Oct. 7. Rowen Sherbo was fourth with a time of 17:17 and Cody Watson was eighth with a time of 17:41. (Photo courtesy Brittany Katzer)
The Libby boys varsity cross country team is picking up steam as the postseason gets closer.
At the Mission Shadow Duels at the Silver Fox Golf Course in Pablo on Saturday, Oct. 7, the Loggers were third among 13 schools and had two runners in the top 10.
Rowen Sherbo was fourth with a time of 17:17 and Cody Watson was eighth with a time of 17:41. Coach Brittany Katzer reported there were also seven runners who achieved their personal bests, including Matteo Gibbs, Eli Moore, Silas Moore, Greysen Thompson, James Redifer, Katelyn Huff and Julianna Shumate.
Freshman Colter Anderson was 16th in 18:08 and senior Greysen Thompson gave the Loggers four runners in the top 20. His time of 18:25 placed him 19th among 86 runners. Casey Rusdal was Libby's fifth runner, placing 36th in 19:13.
For the Lady Loggers, freshman Carmen Kohler led the way with an 11th place finish in 22:46.
Senior Annika Benner was 32nd in 25:41, Katelyn Huff was 38th, Julianna Shumate was 44th and Taryn Greene was 49th.
The Lady Loggers were seventh as a team.
Libby also competed at the Mountain West in Missoula on Sept. 23 and at Whitefish on Sept. 26.
At the Mountain West meet, Watson was Libby's top runner. He ran a 17:39.3 and placed 117th out of 456 runners. Sherbo was 135th in 17:48.5. As a team, the Loggers placed 29th out of 64 teams.
For the Lady Loggers, Kohler ran a 22:57 and placed 208th out of 371 runners. Libby was 47th out of 48 teams.
At the Whitefish Invitational, Sherbo claimed top honors for the Loggers while placing 11th in 17:13.97. Watson was 12th in 17:15.33. The Loggers were fourth as a team.
For the girls team, Kohler was 23rd in 21:51.74 and Benner was 41st in 25:56.36. The Lady Loggers were sixth as a team.
Libby will run Saturday at the Fall Classic in Frenchtown and then at the Class A state event at Rebecca Farms in Kalispell on Oct. 21.
---