Cabinet Peaks tabs May to lead Emergency Department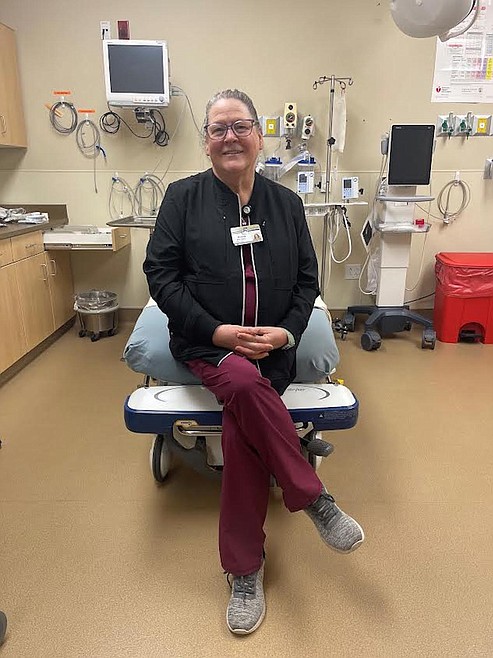 Brenda May has been named the new Emergency Department Manager at Cabinet Peaks Medical Center in Libby. (Cabinet Peaks Medical Center photo)
Cabinet Peaks Medical Center is delighted to announce the appointment of Brenda May, RN, MSN, as the new Emergency Department Manager. 
With an impressive 44-year career in healthcare and a wealth of experience, May is well-prepared to take the helm of our Emergency Department and guide our team as we continue to serve the evolving needs of our community.
May brings a deep well of expertise to her role as Emergency Department Manager, having dedicated her life to the nursing profession. Her educational background includes a Master of Science in Nursing with a specialty in Nursing Education from the University of Phoenix. 
With this advanced degree, May is equipped with the knowledge and skills needed to lead and educate the team under her supervision effectively.
Throughout her extensive career, Brenda has honed her skills in various healthcare settings, including the Intensive Care Unit (ICU) and Emergency Department (ED) at St. Mary's in Walla Walla, Washington. She also served as a Chief Flight Nurse in Pendleton, Oregon, and as a Trauma Support Nurse. Her expertise is not limited to clinical practice; Brenda spent 15 years as a dedicated nursing instructor at Walla Walla Community College, shaping the next generation of healthcare professionals.
Over the past three years, May has been an integral part of Cabinet Peaks Medical Center, working tirelessly in the Emergency Department. Her commitment to providing high-quality care and her deep knowledge of emergency medicine have already made a significant impact on our institution.
As our community continues to grow, May's primary focus as Emergency Department Manager is to collaborate with ED providers and staff to ensure they are fully prepared to meet our community's evolving emergency needs. Her dedication to improving patient care and safety is a driving force that will help us enhance the quality of emergency medical services in our region.
Chief Nursing Officer Tonya Teegardin stated, "I am thrilled to welcome Brenda May as our new Emergency Department Manager. With her wealth of experience and commitment to excellence, Brenda will undoubtedly enhance the quality of care we provide to our community. We look forward to working together to ensure our Emergency Department continues to be a trusted resource for those we serve."
Beyond her professional achievements, May is a valued member of the Libby community, where she resides with her husband and four German Shepherds. With three grown children and four grandchildren, May's commitment to the well-being of her family extends to the community she serves. 
"We are blessed as a rural community to have a critical access hospital with so many capabilities," May said.
---