Wintry conditions hamper travel in Libby area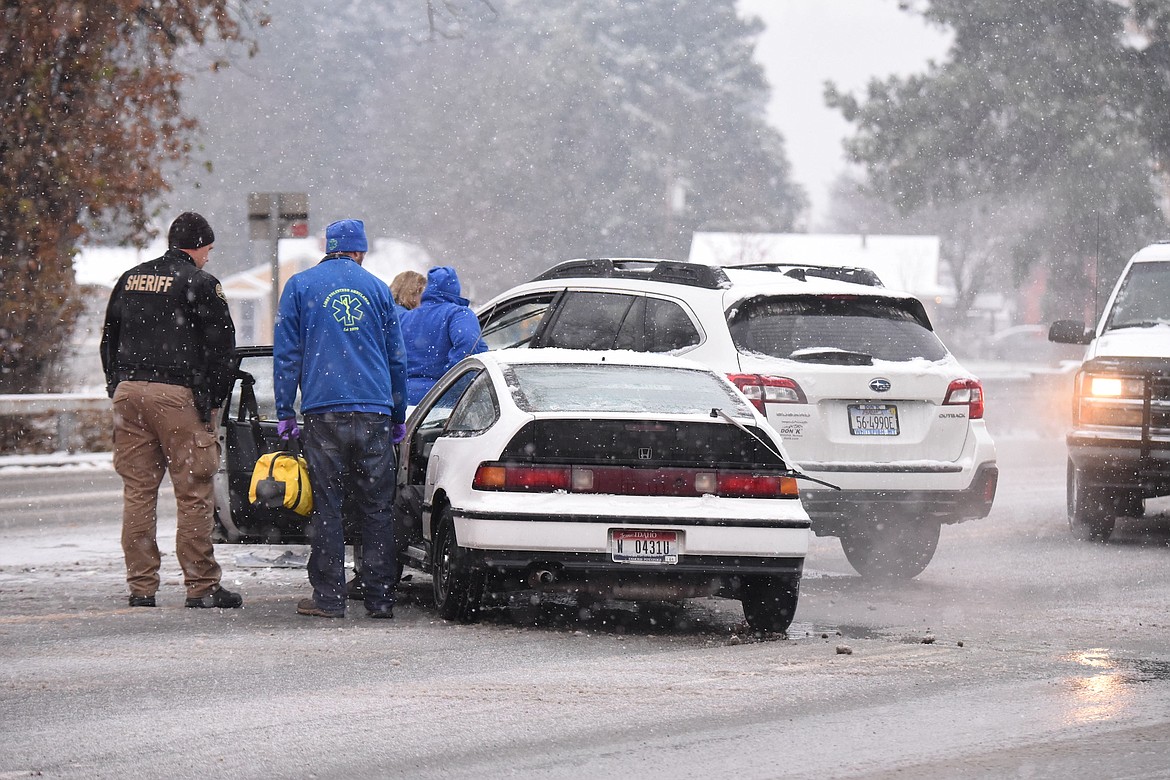 First responders from Libby Volunteer Ambulance and the Lincoln County Sheriff's Office responded to a 2-vehicle traffic accident Wednesday afternoon in Libby. (Scott Shindledecker/The Western News)
Wednesday's forecast by the National Weather Service didn't include accumulating snow in south Lincoln County, but by the time it stopped a few inches had fallen.
The forecast included rain and snow showers Wednesday morning with the precipitation becoming all rain in the afternoon.
While some sleet and freezing rain fell at times, temperatures remained in the low 30s and snow accumulated on sidewalks and side streets during the afternoon and early evening.
There were multiple accidents on U.S. 2.
One was in the heart of Libby in front of Rosauers Market around mid-afternoon while Montana Highway Patrol incident logs indicated another wreck occurred at about 4:36 p.m. near Snowy View Drive while another was at mile marker 24 at about 4 p.m. 
Two Libby Volunteer ambulances responded and tended to those involved while an officer from the Lincoln County Sheriff's Office investigated.
Another occurred on U.S. 2 near the McKillop Road while one was on the Shaugnessy Road near U.S. 2. Another traffic mishap occurred on Jennings Haul Road. There was also one on U.S. 2 near Bowkers Street.
The accident near Rosauers appeared to involve possible injuries. Fortunately, the other reported accidents did not have injuries.
Power outages were also reported, but according to outage maps for Flathead Electric, NorthWestern Energy and Northern Lights, none existed Thursday.
The forecast for Friday and Saturday includes fog in the morning before conditions become mostly sunny in the afternoon with high temperatures in the low to mid 40s.
Sunday, rain and snow is called for in the morning with conditions becoming variable in the afternoon.
---