Libby woman in standoff pleads guilty to witness tampering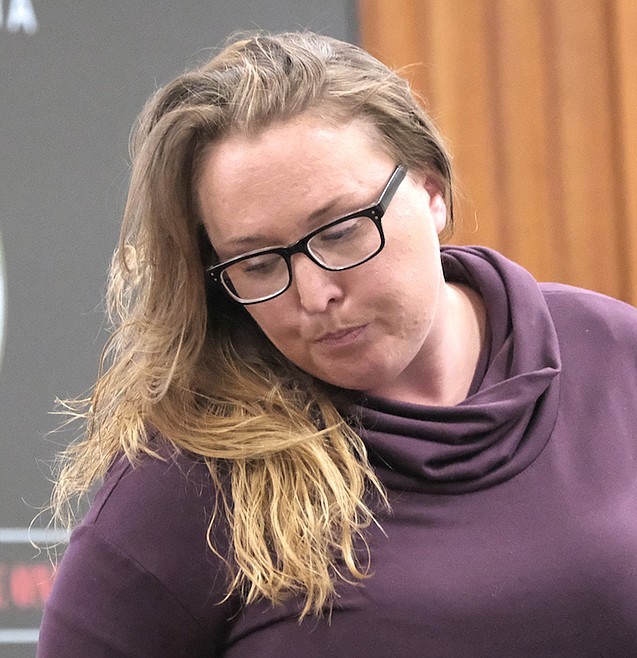 Katherine Margaret Dedrick
A Libby woman involved in a standoff with law enforcement earlier this year and charged with witness tampering pleaded guilty on Nov. 14 in Lincoln County District Court.
Katherine Margaret Dedrick, 35, was charged with two felony counts of tampering with witnesses and informants. She appeared in Lincoln County District Court on Sept. 25 with her attorney Charles Sprinkle and entered not guilty pleas.
Dedrick, who is free after posting $50,000 bail, pleaded guilty to one felony count of witness tampering. Her sentencing is scheduled for Jan. 8. She said she would be able to pay restitution in the matter
According to charging documents, Lincoln County Sheriff's Office Deputy Anthony Jenson learned Dedrick had submitted letters from some juvenile witnesses that had been at the incident earlier this year involving 36-year-old Chase Austin Butala.
Butala is being held in the Lincoln County Detention Center on $100,000 bail. He is accused of assault with a weapon and two counts of partner or family member assault, causing bodily injury.
Dedrick is described as one of the victims in the May 21 incident where she and Butala remained inside a Washington Avenue residence for several hours without communicating before a Flathead County SWAT team forced its way into the residence and arrested Butala.
According to Jenson's report, the submitted letters were suspiciously similar. They described the incident as a big misunderstanding and wanted the charges to be dropped. A few witnesses reported Dedrick contacted them through social media and asked them to write a letter to get the charges dropped against Butala.
One juvenile said Dedrick had been crying to some of the witnesses that she didn't have a boyfriend or something to that effect, according to the charging document.
One of the witnesses agreed and stopped by Dedrick's residence where she allegedly asked him to write the letter and stood next to him telling him what to write.
Another witness reported that she had been at Dedrick's residence a couple of weeks prior with friends when the defendant came out of her room and asked to speak with the girls who had been involved in the incident. The witness said that she had been pointed out by a few of the other girls who were there with her and in the end she reportedly felt pressured by Dedrick into writing a letter.
Jenson's report indicated a third witness had someone else help him write his letter because his handwriting was not great. When questioned as to why he wrote the letter he had stated that he heard Butala was facing a 55-year sentence and he thought it was too harsh of a punishment.
Jenson wrote that, "Based on my conversations with the juveniles, it appeared to me that Katherine Dedrick is attempting to influence witnesses in this case."
A conviction for witness tampering may result in a maximum sentence of 10 years in the Montana State Prison.
---