End of an era for Loggers football as Coach Fuller retires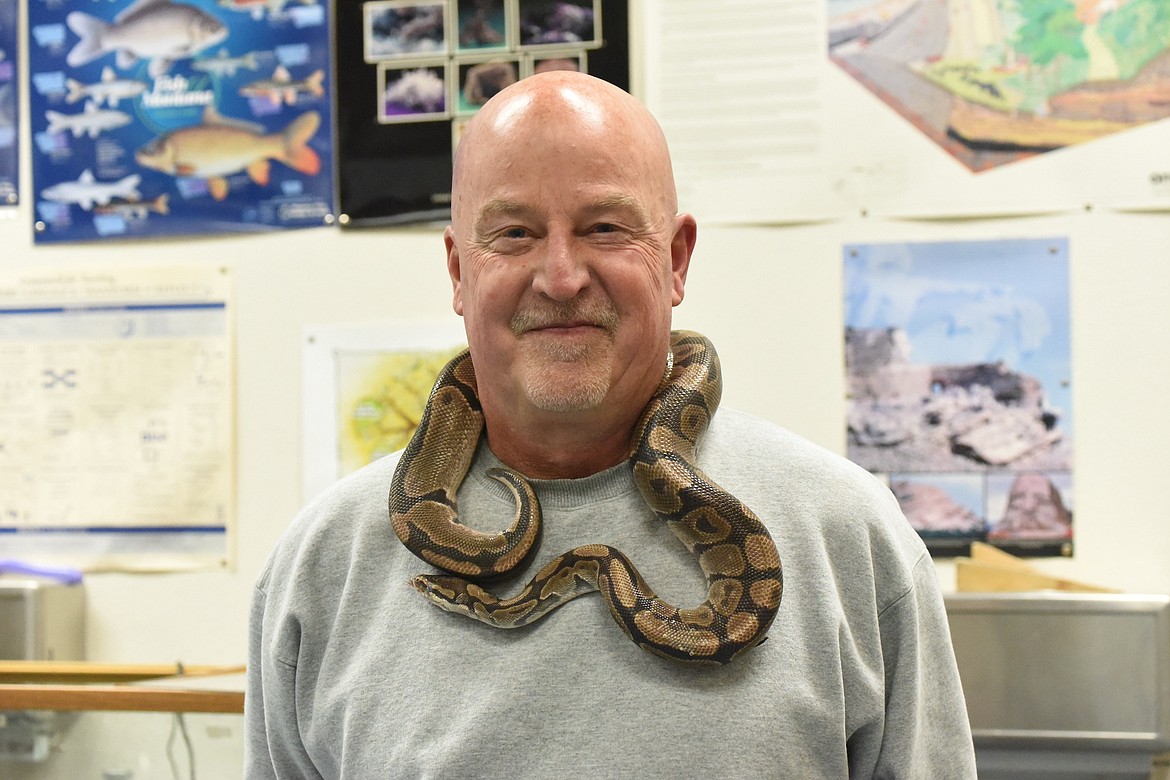 Longtime Libby Loggers head football coach Neil Fuller is retiring from coaching scholastic sports. Fuller and his python buddy, Sam, took a minute for a photo inside his classroom at Libby High School. (Scott Shindledecker/The Western News)
It's the end of an era for Libby football with head coach Neil Fuller retiring after 21 seasons of leading the Loggers.
Fuller formally announced his resignation to the school in a letter dated Oct. 21. But those closest to the program knew it was his last year before the season kicked off.
"I'm at peace with it, no changing my mind," Fuller said. "We really had a beautiful fall and with all the work of coaching, breaking down tape on the weekends, I didn't get out much and that really hit me. I love to be in the outdoors, hunting and fishing, and now I'll have more time to do those things.
Fuller has coached scholastic sports since 1985, but the bulk of his time has been in Libby with the Loggers. He said he won't make up his mind about retiring from teaching until after returning from Christmas break.
"I would like to thank the administration and school board for allowing me to teach and coach in Libby for the past 21 years," Fuller wrote in the letter. "Through all the ups and downs, ins and outs, I have been truly blessed and am thankful that I've had the opportunity to work in this district."
Fuller's career record is 96-106 with 11 playoff appearances. In his first five seasons, there were three semifinal appearances and two in the quarterfinals.
"It's been a rich experience in Libby," Fuller said. "I've seen it when it couldn't be any better and when it seemed like it couldn't be worse. But I'm thankful for all the different experiences."
Fuller reflected on this season and those of years past.
"I had a great group of seniors this year," Fuller said. "They were a great bunch of kids to hang out with, a truly special group and a lot of fun.
"I've also been very fortunate to have coached with so many great coaches," he said. "The support of the parents and my fellow coaches means a great deal to me."
Those who get to spend time around Fuller have a great appreciation for the type of man he is, as well as his coaching abilities.
"Coach Fuller has been outstanding for Logger Football," Libby Activities Director Nik Rewerts said. "I have loved the fact that the only time I hear him raise his voice toward kids in games is when something happens and sportsmanship is at question. He values sportsmanship and he has produced a handful of outstanding teams in his time here with his leadership."
Rewerts said he has enjoyed watching Fuller coach, whether the team was successful or not.
"I have enjoyed watching him with his successful teams, as well as with the teams that struggled more in his time at Libby. His leadership style did not change," Rewerts said. "He is about making better men in the process of making them better football players. That is a trait that is desperately needed in high school athletics. We at Libby High School have coaches that believe this and it is exciting as an athletic program to see, he is just one great example of it in our programs."
Rewerts remarked about Fuller's teams making 11 Class A playoff appearances in his 21 years as head coach. 
"That is impressive," Rewerts said. "Even in his down years he was so proud of his team," Rewerts said. "That is something I will not forget about coach Fuller. He was always proud of the Loggers."
Fuller, a Shelby native began his coaching and teaching careers in 1985 in Lodge Grass on the Crow Indian Reservation in southeastern Montana.
He spent four years there before taking a position at Roseburg, Oregon, where he coached football and track and field at the middle school.
Not surprisingly, Fuller missed his native state and he returned to coach basketball and track on the Fort Belknap Indian Reservation in northern Montana.
But when a high school in Douglas County, Oregon, received what Fuller called a "huge grant" to build a new science center, the lure was too hard to pass up.
"The school and the area was about the same size as Libby, so being able to live in a small community has always been important to me," Fuller said.
Fuller, who taught and coached at Douglas High School from 1995 to 2003, was in his first year there when pro football Hall of Famer Troy Polamalu was a freshman.
A falling out at Douglas after the school board didn't want to pay Fuller's assistant coaches proved to be good fortune for Libby.
"This job came open and when I went for the interview, the weather was lousy and I wondered a little bit about what I was doing," Fuller said. "But I moved here with my two sons, Jordan and Joel, in June 2003 and it's just a great community."
After leading the Loggers to two semifinal appearances in the state football playoffs, Joel was a two-time All-Big Sky safety for the Montana State Bobcats.
Fuller has fond memories of his first year at Libby in 2003.
"We didn't get the coaching staff filled until the first week of practice and Keevin Burleson was our only returning lineman and just one of four returning seniors out of the five we had on the team," Fuller said. "I told Keevin 'You're gonna be a fullback.'"
That Loggers wasn't very big, but the kids were tough. "We had Ryan Rios, Cole Spencer, Justin Winn, Travis Hjort and Brandon Vincent playing on the offensive and defensive lines," Fuller said. "We won the league and lost in the state quarters to Havre."
In 2004, the Loggers made it to the state semifinals.
In 2018, the Loggers were second in the conference and beat Whitefish, but lost out on a playoff spot to the Bulldogs on a tiebreaker. 
Fuller's memories of beating Whitefish, but missing the playoffs on the tiebreaker included the gamut of emotions he's experienced.
"It was really aggravating to miss the playoffs to a team we'd beat, but it was still a great year after what we'd been through.
"JJ Davis was originally from Kalispell whose family moved here and he started as a freshman when we were getting torched," Fuller said. "But after beating Whitefish, I'll never forget the look on his face. He had a big smile on his face enjoying that feeling of being on top."
The 2019 squad started 6-0 and reached the quarterfinals of the state playoffs before falling to Laurel. 
That team held special memories for Fuller because it was the first group of Loggers to play sixth-grade football in pads.
"Those senior really got things turned around," he said.
Fuller said he'd like to see more advancements that he believes would help both male and female athletes at Libby.
"I'd like to see our board and administration approve multiple conditioning classes for the physical education requirement," Fuller said. "Polson, Columbia Falls, East Helena, a lot of schools do it and it'd put us on equal footing for our boys and girls athletes.
"We have a small nucleus who are in the weight room regularly, but we need more and hopefully the administration will do it," Fuller said.
In 2021-22, the Loggers made the state playoffs and lost in the first round each year.
From the beginning to now, Fuller said, "It feels like it was a different life. But, I know I won't miss the stress!"
---