William Robert Pittsley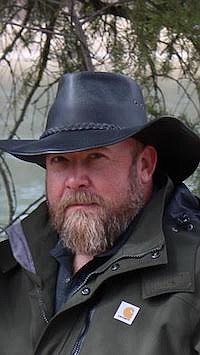 |
November 14, 2023 7:00 AM
William Robert "Bill" Pittsley passed away Nov. 1, 2023. He was born in Missoula, Montana in 1971 and was raised in Polson, Montana. 
Bill grew up spending all his time outdoors and he loved anything that involved being outside in the mountains. He loved football and wrestling in high school. He loved to hunt, fish, cut wood, shoot and build guns and ride in his side by side. He was a masterful mechanic with a talent for fixing things, operating equipment, building and had an encyclopedic knowledge of machinery. 
Bill had many entertaining stories of wildlife encounters and stories about him and his brother, Brian, going hunting and having misadventures. He was a wonderful, loving husband to his wife, Celeste, and was actively working on building her a home in Libby, Montana. He gave her some wonderful memories and adventures to keep in her heart.
Bill was most proud of his combat service in the Army, in the 101st as a Flight Engineer, working on the CH-47s and would sometimes say that he wished he'd spent longer in the Army. He felt it was one of the most meaningful things he'd done in his life. 
Service to his country impacted every facet of his life and ethos. He had a profound respect for others who chose to serve.
After the Army, Bill did various jobs such as home building, working at the Troy mine, lead mechanic at Glacier International Airport and had his own business among other jobs he worked at.
Bill is survived by his wife, Celeste Pittsley; children, Michele Crocker, Hailey Pittsley, Rachel Pittsley, and Marshall (and Brooklyn) Morton; granddaughter, Lauren Steward; parents, Bill and Marilyn Pittsley; brother, Brian (and Mikey) Pittsley; nephews, Hunter (and Gracie), Sage and Ash Pittsley, and Chet Fields; nieces, Amelia (and Stephen) Clinkenbeard and their soon to be born daughter and last, but not least, Tatum Pittsley. Bill also had loving aunts and uncles and other extended family. He also leaves behind a short list of those he called friends.
Bill was never less than authentic. He was a good man. No better friend, no worse enemy.
Arrangements were under the care of Schnackenberg Funeral Home of Libby, Montana. Online condolences and memories may be shared by visiting www.schnackenbergfh.com.
---