Vietnam veteran Bill Lafrance leads program in Troy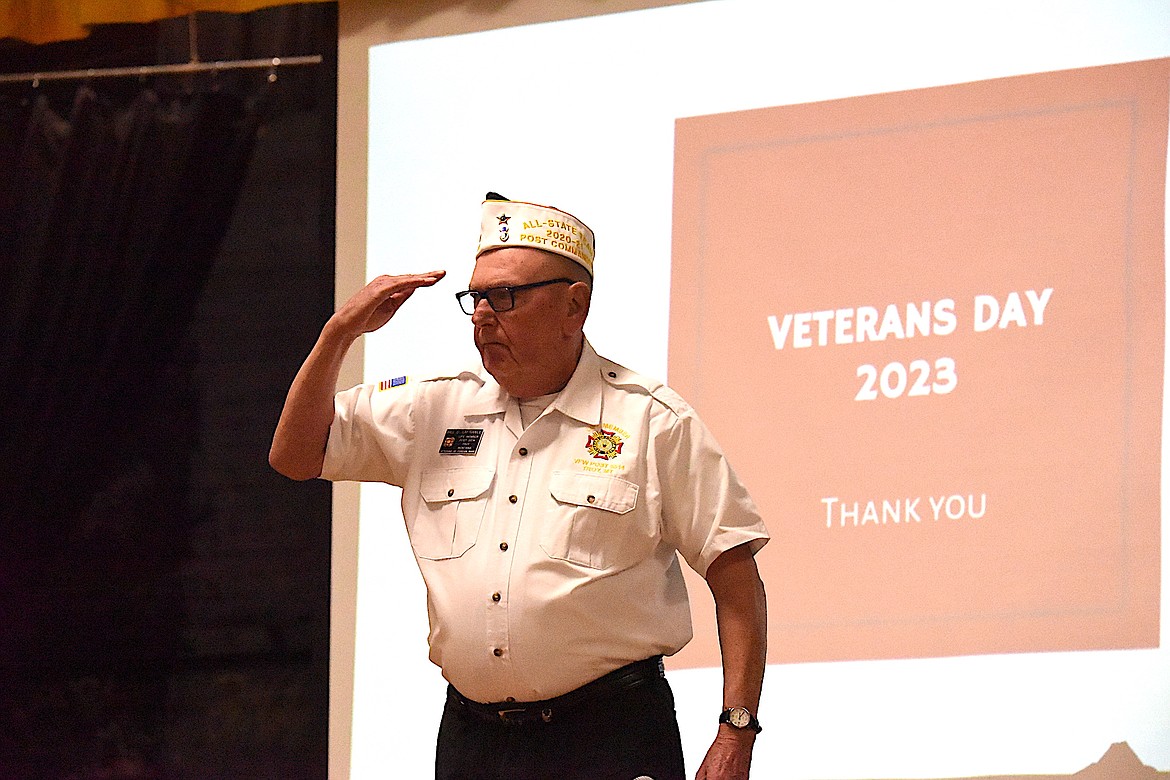 Marine Corps veteran Bill Lafrance, who served his country in the Vietnam War, was the featured speaker at Troy High School's Veterans Day program on Friday, Nov. 10. (Scott Shindledecker/The Western News)
Libby's Bill Lafrance saw more than his fair share of hairy moments while serving our country as a U.S. Marine in the Vietnam War.
Last Friday, the highly decorated soldier who still has a bullet lodged in his back from the war shared some of those stories with students at the Troy Junior Senior High School during its annual Veterans Day ceremony.
Lafrance joined 10 other members of the Troy Veterans of Foreign Wars Post 5514 at the event where they presented certificates and cash prizes for students who participated in the VFW's Voices of Democracy and Patriot's Pen essay competitions.
Lafrance, who earned the rank of Sgt., and received the Bronze Star and Purple Heart medals, among others, during his multiple tours in Vietnam, explained his journey into the Marine Corps and some of the more memorable times.
"I had just graduated high school in 1965, then enlisted in the Marine Corps as an Infantry Rifleman. I spoke German and that ability helped me pick up the language of the Vietnamese people, which was instrumental in what we were trying to do there," Lafrance said. 
After arriving in Vietnam, Lafrance volunteered to train South Vietnamese militia soldiers in a small village.
"Part of our effort was to gain their trust. There was a lot of trial and error because the Marines had only arrived about three weeks before I got there," he said. "Part of my duties included clearing buses. We were looking for Communist infiltrators and weapons. The buses transported civilians and there were also chickens and pigs, so it was pretty chaotic. We worked to be respectful to the Vietnamese people."
Lafrance learned various phrases and words that helped in communication with the native people. Some were as simple as, "Thank you" while other included how to tell women they were beautiful.
"I wasn't sharing that one because I knew I was on to something," Lafrance said with a smile that brought laughter from the students.
After building trust among the villagers, the soldiers would eat with them at times and it proved to be a welcome change from C-rations left over from the Korean War, which had ended more than a decade earlier.
"We ate dog and bat wings. The dog was pretty stringy, but you could get it down," Lafrance said. "Some of my buddies didn't want to know what they were eating, they were just happy with something different."
While there were many lighter moments, it was still a war where people died every day and Lafrance shared those stories, too.
"We got word that infiltrators were coming to the village and we set up an midnight ambush on a sandbar where the river was shallow," Lafrance said. "At 1:30, here they came, about 35 of them. We told the men to shoot low and knock 'em down. We could kill them tomorrow. The next morning we found 12 dead soldiers in the river and the rest were rescued by their fellow soldiers."
While the effort meant lives were taken, there was one remarkable occasion where Lafrance had the chance to bring a life into the world.
"We were on ambush patrol when a pregnant Vietnamese girl came up the trail and I ended up taking her to a hut where an old woman lived. 'She told the girl could lay down on the floor, but I protested about her laying on the dirt floor, so I took off my shirts so she had somewhere clean to lay.
"I delivered a baby girl while my unit remained on patrol. Later, when I spoke to my commander on the radio, he said, 'Congrats, Daddy.' I told him I'd rather face the boogeyman than do that again."
Another close call involved a trip wire strung across a trail with two grenades at each end.
"I was leading a patrol when I nearly tripped the wire. They used those to not only blow up whoever set if off, but it helped them find out where we were and gave them a chance to retreat," Lafrance said. "We set up an ambush there, waited and put five of them down when they returned to collect the wire and grenades so no native people were hurt."
One of the group that didn't make it out alive was a young woman who turned out to be a propaganda officer.
"In her pack was a hand-drawn map of our base that would've been used for an attack by North Vietnamese Army troops. That information proved to be very valuable," Lafrance said.
He also recalled an incident that although it happened more than 50 years ago, still caused him to be emotional.
"There was a Lance Cpl. from Costa Rica who was supposed to be in a mission that would be very dangerous," Lafrance said. "He was sending money to his 10 brothers and sisters back home. I tried to talk him out of it, but he told me if he volunteered for it he could get promoted sooner to corporal and be able to send more money home.
"A few weeks later, we got word that he had been killed," Lafrance said. "That still gets to me."
Before beginning a second tour of duty, Lafrance had the chance to come home. But he was a different person and old friends picked up on the changes soon after his return.
"It got to the point where I didn't associate with many of my old friends. I just didn't have anything in common with them anymore," he said.
The second tour included similar duties in a new village and getting shot in the chest during a battle in 1967. After successful rehabilitation, Lafrance returned to Vietnam in November 1968 and served until July 1969.
Lafrance shared his story of returning to Vietnam in an article (https://thewesternnews.com/news/2005/mar/22/marine-returns-to-vietnam-village-12/) published in 2005 in The Western News.
After LaFrance's return to the U.S. he attended and graduated college with an engineering degree. He later traveled throughout Southeast Asia with his wife, Nora.
Following Lafrance's presentation, fellow VFW Post 5514 member Jerry Erickson presented the awards to the winners of the Voices of Democracy and Patriot's Pen essay competitions.
Zekiah Meyer won $175 after placing first in the Voices of Democracy competition. He wasn't able to make the ceremony due to a scheduled college visit.
In the Patriot's Pen competition, Caleb Kreutzer received $150 for placing first. Kyleigh Johnson claimed $125 for second place and Luke Campbell won $100 for third place.
Students who competed also received certificates and $5.
---