Mabel Louise Goyen Beebe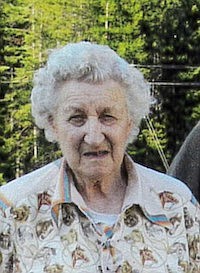 |
November 14, 2023 7:00 AM
Lifelong Libby resident, Mabel Louise Beebe, was born Sept. 5, 1930, the second child of seven born to Harry and Hazel (Cline) Goyen. She passed away Saturday, Nov. 4, 2023. 
She grew up along the banks of Libby Creek where her folks bought a place near what was known as Trainer Hill. Her father passed when she was 12 and the youngest was only a couple months old. 
In her teens, Mabel had multiple jobs working for neighboring families and even did some butchering to feed the fish at the fish hatchery, while finishing and graduating from high school.
Mabel married John L. Beebe in March of 1950 and moved to the property she would call home for the next 73 years. She could, and did, do any ranch job necessary to build the ranch and improve the quality of the Polled Herefords they raised. She was a 4-H leader, Superintendent of Livestock at the Junior Fair and after her children were grown, a Market Beef Judge at the Lincoln County Fair. 
She also served for many years as a Deputy Brand Inspector for south Lincoln County. If this wasn't enough to keep her busy, she was often called by friends, neighbors or anyone else that had a calving problem. Got a cow or animal in trouble? No vet available? Call Mabel! Over the years she saw the delivery of hundreds of calves, stitched up a would or two and dosed sick animals.
She was preceded in death by her husband of 63 years, John L. Beebe; two sons, Wayne and Ronald; and two brothers, Earl and Dan. She is survived by daughters Joan Evans, Beaver, Washington, Juanita Rose, Charlotte Morain (Mark) and son Harry (Teri) Beebe, all of Libby; special daughter Laura Cunningham of Butte; 12 grandchildren; five great-grandchildren; and three great-great-grandchildren. She is also survived by sisters Margaret Neu of Sandoint, Idaho, Eunice Boeve and June Garritson, both of Phillipsburg, Kansas; brother Larry Goyen (Pat) of Torrington, Wyoming and numerous nieces and nephews.
Services for Mabel will be 2 p.m. Tuesday, Nov. 14, 2023, at Schnackenberg Funeral Home Chapel in Libby, Montana. 
Arrangements are under the care of Schnackenberg Funeral Home. Online condolences and memories may be shared by visiting www.schnackenbergfh.com.
---