Libby's DeShazer gears up for wrestling season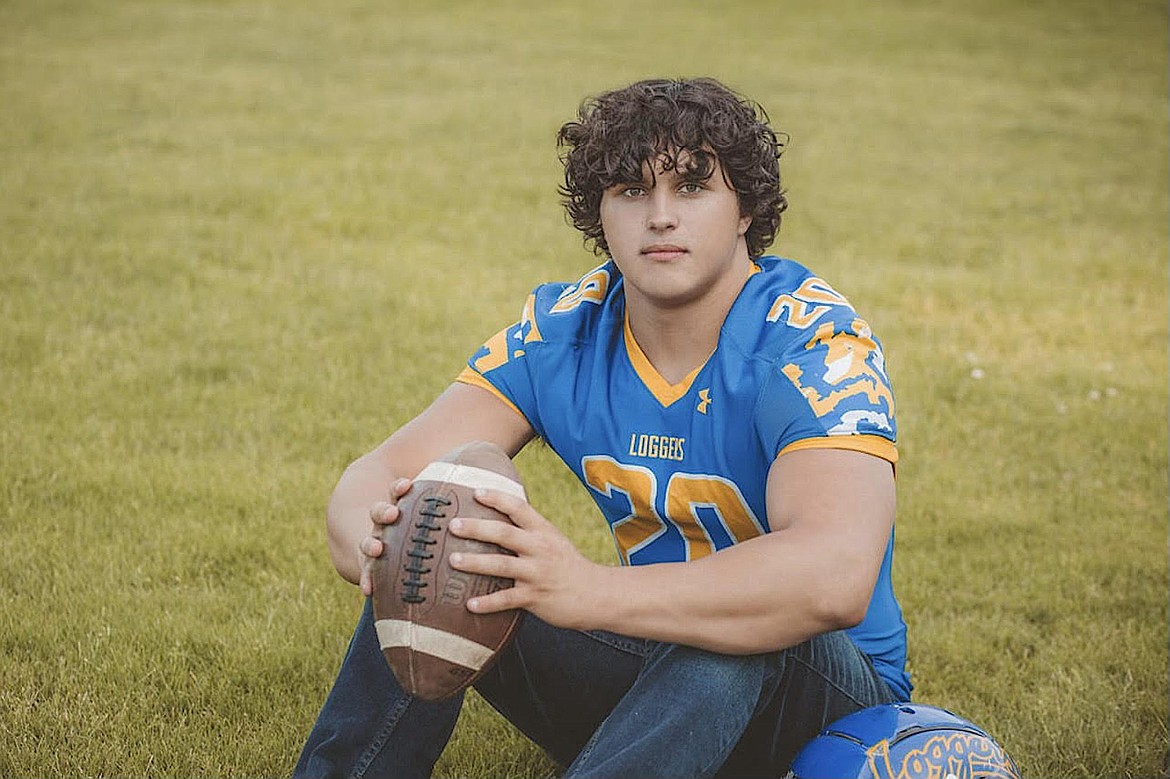 Libby's Jace DeShazer is getting ready for the 2023-24 wrestling season after having a standout year playing football for the Loggers. (Courtesy photo)
|
November 14, 2023 7:00 AM
Libby's Jace DeShazer received some national attention earlier this year for being one of the top tacklers in the country.
Sports Illustrated's SBLive (scorebooklive.com), listed DeShazer on a Top 20 list of the nation's most underrated high school tacklers.
DeShazer, already a two-time state wrestling champion, had 146 tackles in nine games in 2022. He also added 585 yards and five TDs.
Recently, DeShazer was written about in a story on the SBLive site for being one of the 20 best athletes in the nation during the 2023 season.
He joined players from across the country, including those who have committed to play at schools such as Nebraska, Florida State, Clemson, Penn State, Miami and Purdue.
"It's really awesome they found me out of all the players in the country, but I'd rather have made the playoffs," Jace said.
Jace's dad, Doug, who coached on the varsity, was more than proud.
"To see anyone in Montana, especially our little town, recognized was really something," Doug said. "He'd trade it to have made the playoffs, but injuries really took a toll on the team."
DeShazer's senior campaign, in which he was a captain, included him running for 449 yards while averaging 5.7 yards per carry and eight rushing touchdowns. He added three receiving touchdowns while catching nine passes for 82 yards. DeShazer totaled 68 points, first on the team and accounted for nearly 40% of the Loggers scoring.
In his four-year Loggers career, DeShazer piled up 1,351 yards rushing on just 226 carries with 21 touchdowns.
Defensively, DeShazer compiled 479 total tackles, including 127 solo stops, while averaging 13.3 per game. Of those, 41 tackles were for a loss. In 2023, he had 140 total tackles, 43 solo, with 16 stops for a loss, all while dealing with offensive game plans geared to slow him.
DeShazer, playing middle linebacker, still recorded eight career sacks and eight hurries. He had three sacks this season.
DeShazer also had the first two interceptions of his storied career in 2023 while knocking down two passes and causing a fumble.
Doug said Jace has received offers to play football at the next level by Montana Tech in Butte and the University of Montana Western in Dillon. Jace said Rocky Mountain College in Billings offered him a football scholarship recently.
Benedictine College in Kansas also offered Jace a scholarship to wrestle. He also made a recent trip to North Idaho College in Coeur d'Alene to check out their wrestling program.
"He's leaning toward football right now, but we'll see what happens," Doug said. "He tends to favor the sport he's playing at the time when it comes to what he may do in college."
Career opportunities will also play a big role in his choice of sport and college.
"He's looking at the medical field, physical therapy or nursing, but he has until early spring to make a decision, so we'll see," Doug said. "For us, the closer to home, the better for us."
Jace said an interest in anatomy sparked his interest in the medical field and he knows it's a profession that would keep him busy.
DeShazer and his Greenchain teammates are getting ready for wrestling season.
DeShazer capped his junior year with his second consecutive Class A state title and will be looking to make it three straight in the 2023-24 season.
And he did it while wrestling with a broken ankle he suffered in September 2022 during football season. He has surgery to repair it this spring. It was not information widely shared last year because of the concern of how mat opponents would approach him.
"I'm much healthier going into this year and that's a very good thing," Jace said.
DeShazer's state championship run at 205 pounds included four first-period falls at MetraPark in Billings. He was on the mat for less than four minutes and that dominating run led DeShazer to be named the Outstanding Wrestler.
DeShazer eclipsed the 100-win mark last season. He was 49-3 with 36 pins in 2022-23. For his career, DeShazer is 111-14 with 77 pins.
DeShazer was at a wrestling camp in the Flathead last weekend as part of the preparation for the season.
Libby opens the season at the Owen Invitational in Polson Dec. 2-3.
---