Libby's Andersen makes state tourney; Loggers lauded for hosting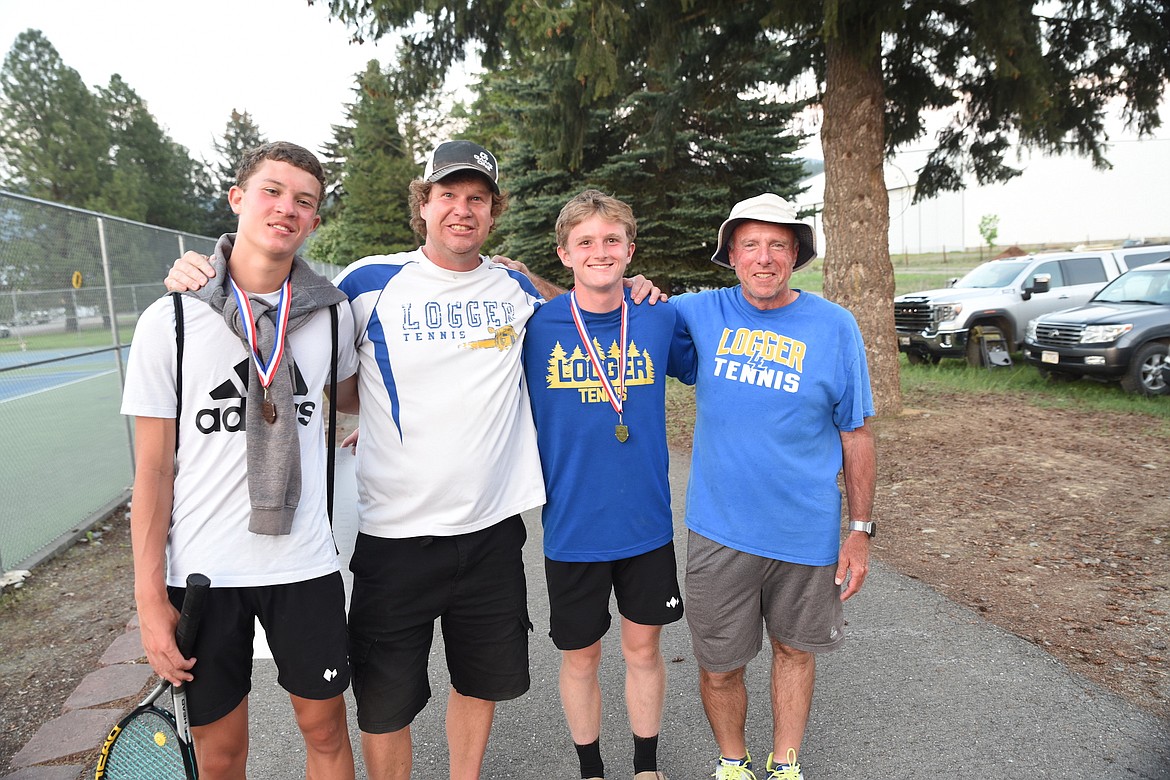 Libby tennis coaches Kyle Hannah and Terry Oedewaldt celebrate with players Ryan Beagle and Tyler Andersen after the completion of the Class A Northwest Divisional tournament on May 19. Beagle and Andersen each qualified for the state tournament. (Scott Shindledecker/The Western News)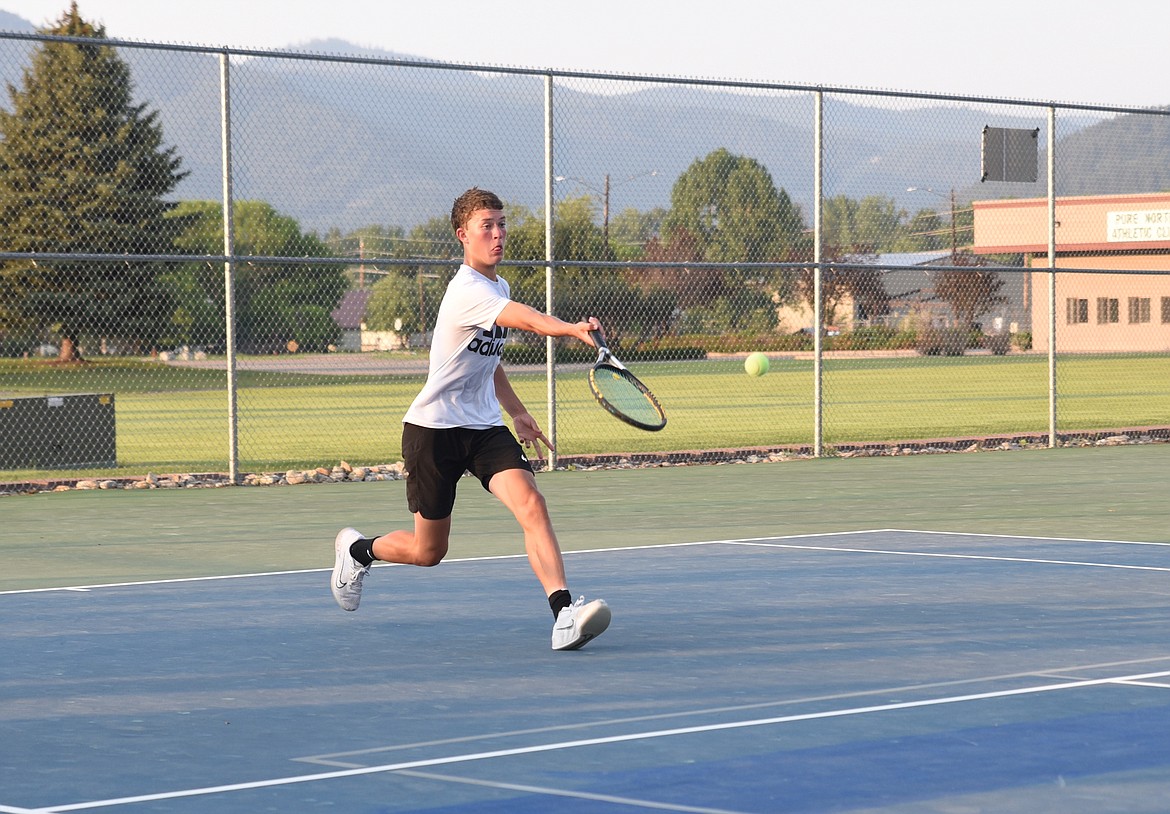 Libby's Tyler Andersen competes in the Class A Northwest Divisional tournament on May 19. (Scott Shindledecker/The Western News)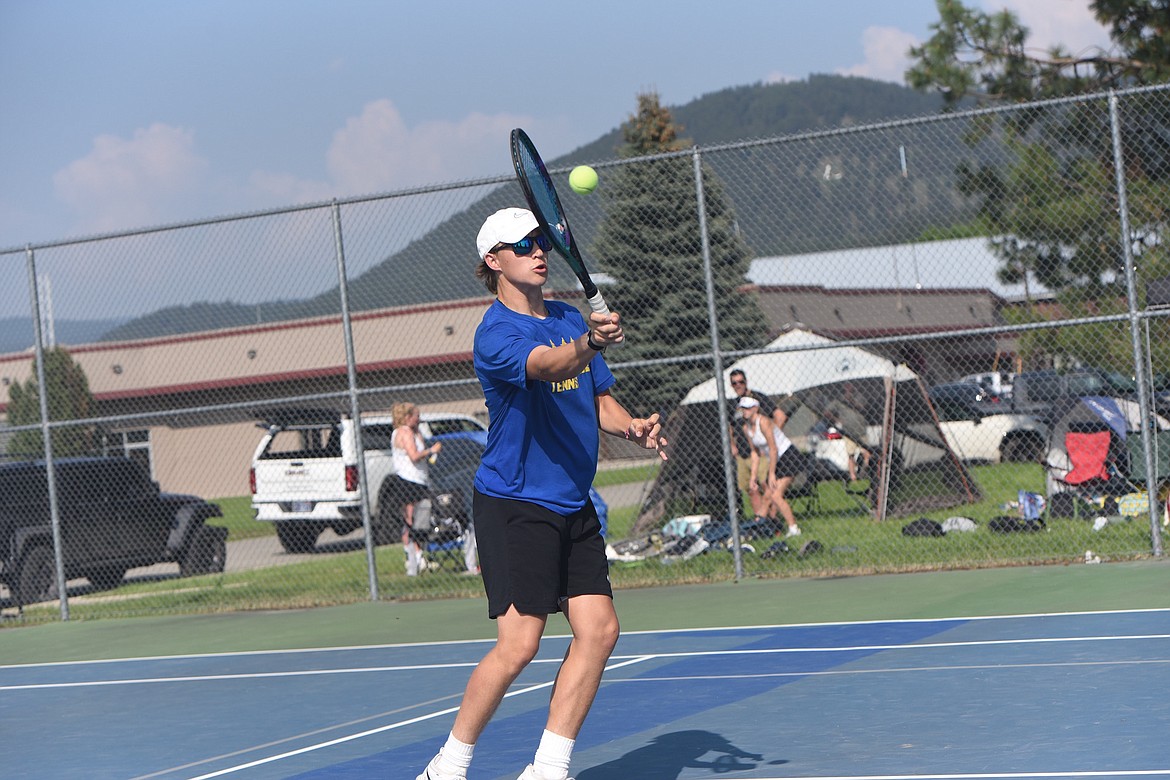 Libby tennis player Alderic Martineau competes in the Class A Northwest Divisional tournament on May 19. (Scott Shindledecker/The Western News)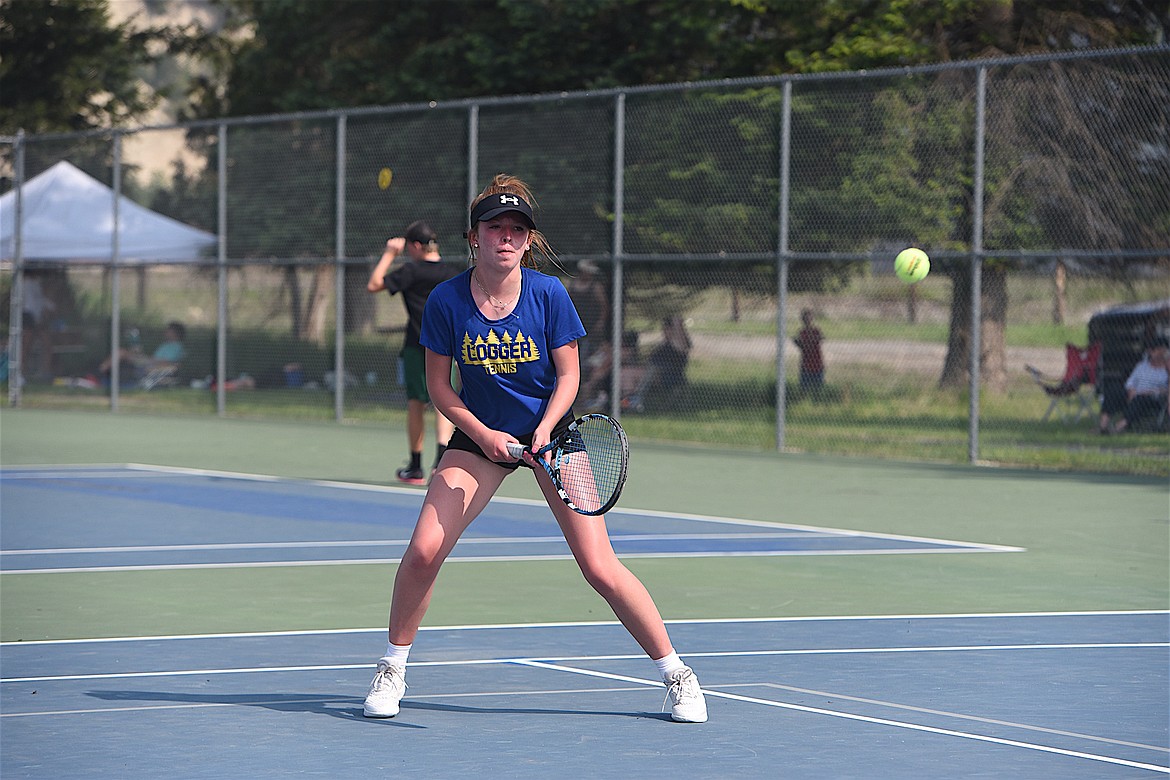 Libby tennis player Ellie Andreessen competes at the Class A Northwest Divisional Tournament in Libby on May 19. (Scott Shindledecker/The Western News)
Libby tennis player Allie Thorstenson competes at the Class A Northwest Divisional Tournament in Libby on May 19. (Scott Shindledecker/The Western News)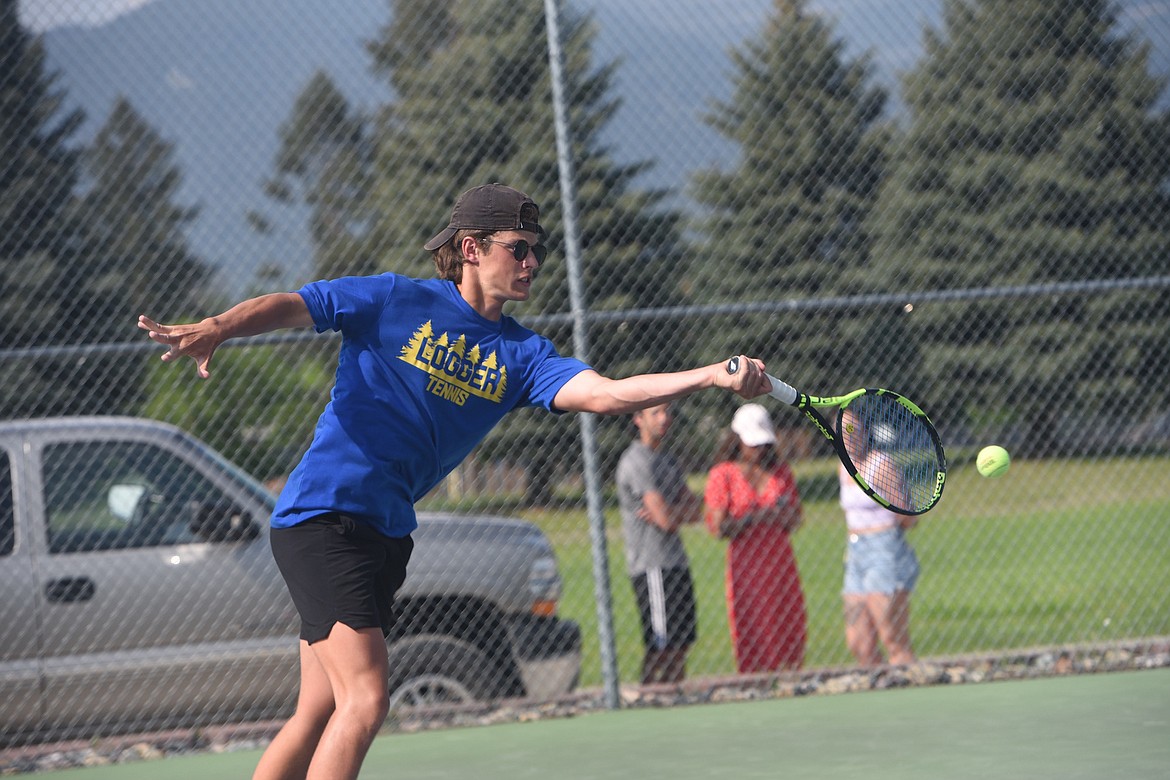 Libby tennis player Trevor Collins competes in the Class A Northwest Divisional tournament on May 19. (Scott Shindledecker/The Western News)
Previous
Next
by
SCOTT SHINDLEDECKER
The Western News
|
May 23, 2023 7:00 AM
Libby Loggers tennis fans will have fond memories of hosting the 2023 Class A Northwest Divisional tournament.
They got to see sophomore Ryan Beagle win his second straight divisional singles crown and junior teammate Tyler Andersen qualify for the state tournament after placing fourth in singles.
They also received praise from out-of-town visitors who appreciated the friendly welcome they received from the Loggers and area businesses.
"It was a well-run tourney and we heard repeatedly how welcoming our community was," said Loggers head coach Kyle Hannah. "Coach (Terry Oedewaldt) and I thank the community for their support and hospitality."
Hannah, in his 18th year at the helm of the Loggers, has led the Loggers to multiple state titles and been named coach of the year multiple times.
He had an interesting way to describe how class the team had several more players headed to state.
"We were a butt hair away from sending a few more to Missoula and for a team without a feeder program our size, we're pleased with our showing," Hannah said. "I'm really happy for Tyler to make it. He put in a lot of time. I think he and Ryan should perform well and represent Libby well."
Andersen had a first-round bye before claiming two straight set wins over Ronan's Rowan Parks and Whitefish's Buren Brust. He fell to eventual divisional runner-up Torrin Ellis before bouncing back with a two-set win over Polson's Ruger Ellis to clinch a berth to state.
He fell to Ronan's Beau Decker in the third-place match.
His first state tournament begins Thursday in Missoula.
There were three doubles teams that lost in the consolation semifinals and saw their dreams of state falter. Two of the three were three-set matches.
Trevor Collins and Alderic Martineau were 3-2 while Allie Thorstenson and Ellie Andreessen were 2-2. The team of Bella Covington and Macey Halvorson was also 2-2.
"The kids that put their heart and soul into tennis put themselves in a position to go to state," Hannah said. "Trevor was a true leader for us and my heart is heavy for our players who are done."
Hannah also had strong words of support for Oedewaldt who came into the program 14 years ago when his daughter Chelsey was learning the game.
"None of this happens without coach Oedewalt," Hannah said. "He's been with me 14 years and he hits a ton of balls with the kids. We're very fortunate to have him involved with the program."
---