North Idaho's Silverwood Theme Park celebrates 35 years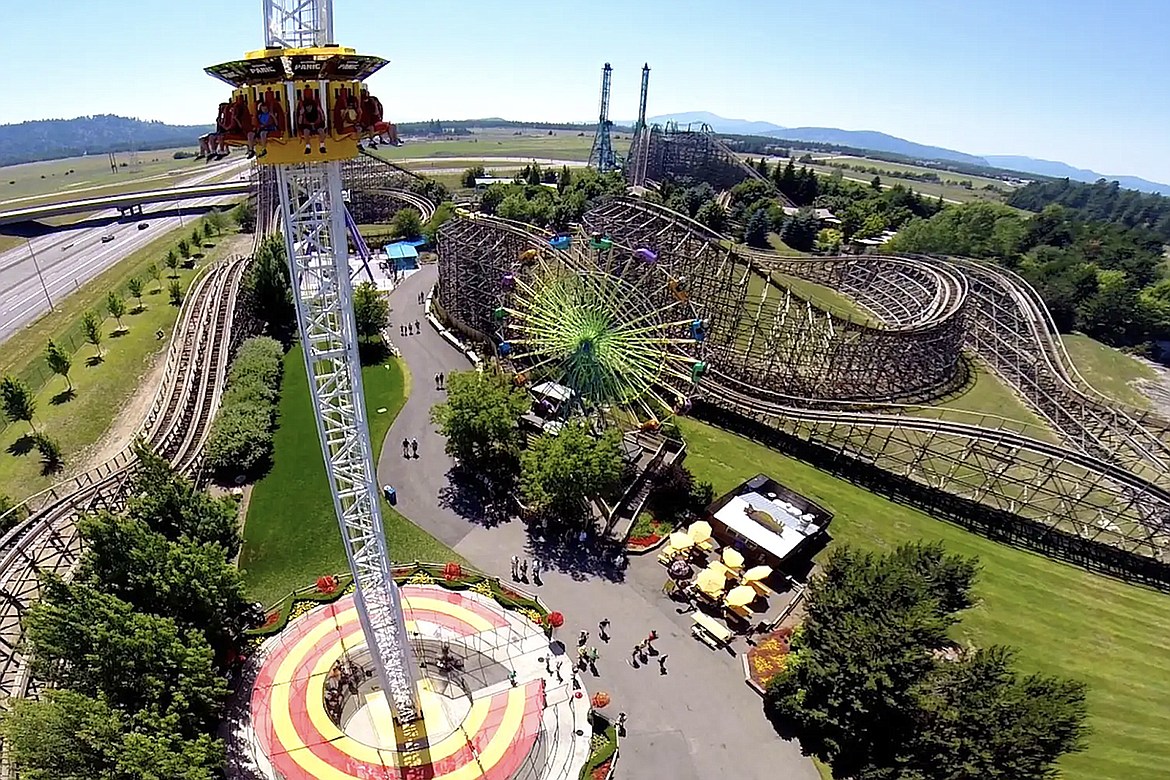 The panic plunge attraction is seen at Silverwood Theme Park in Athol, Idaho. (Silverwood photo)
by
BILL BULEY Hagadone News Network
|
May 19, 2023 7:00 AM
COEUR d'ALENE — Vicky Richardson is going to be up this morning.
And down.
And then back up.
"Life is too short not to have fun," the 70-year-old Bayview, Idaho woman said.
Richardson planned to be among the first into Silverwood Theme Park on opening day May 6 and ride Panic Plunge 50 consecutive times.
Not even a forecast of heavy rain would deter her.
"I will bring rain gear," Richardson said.
The opening day marked the amusement park's 35th anniversary season. The park, about 20 miles north of Coeur d'Alene, Idaho, just off U.S. 95, has more than 70 rides, slides, shows and attractions.
This summer, it will offer about 1,500 jobs paying in the range of about $16 an hour to $21.
To fill that many posts, Silverwood gets creative with incentives, such as bus rides to and from work, bonuses and pizza days.
While most of the staff are teens and young adults, Silverwood also hires retired folks looking to supplement their income.
"We have a nice balance," Sampson said.
Silverwood annually attracts more than 600,000 visitors with Seattle a top market, and Canada a growing one.
Boulder Beach is scheduled to open Memorial Day weekend. There will be some construction going on in the water park and Silverwood is planning "a very important announcement in August."
The magic and variety shows and train ride will have additions and new twists this year. Steel track was added to both Timber Terror and Tremors in efforts to create a smoother ride for guests.
Silverwood partnered with Idaho's Family and Children Services to provide children in foster care the opportunity to receive free admission once a year.
"Year after year, we get to see returning faces at the park, and it is one of the highlights for our cast members," Sampson wrote.
Count Richardson among those who wants to have fun at Silverwood.
The 70-year-old wants to break her record of riding Panic Plunge 40 straight times that she set in 2021.
The circular Panic Plunge, with 12 passengers on board, slowly ascends 140 feet, pauses at the top, then drops 120 feet at 47.
"It was a blast," she said.
Her record run on the ride last time took about five-and-a-half hours. This year, she's figuring about seven hours.
Richardson said she is feeling great and is ready for the physical and mental demands of riding Panic Plunge over and over.
She promises not to let anything keep her down.
"Physically, I'm fit as a fiddle," Richardson said.
---