County gets money to continue treatment court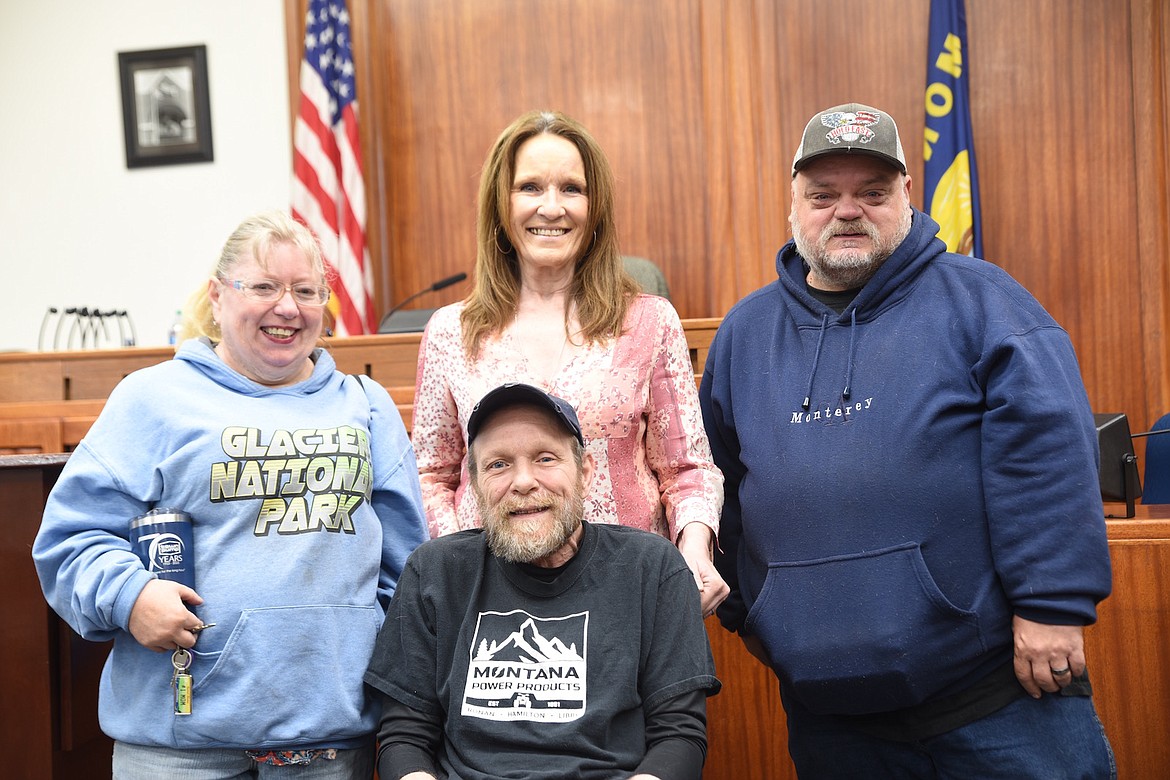 Marsha Westphal, Dale Ginger and Shawna Dillard joined Michael Ueland to celebrate his graduation from the Lincoln County Treatment Court during a recent ceremony at the county courthouse. (Scott Shindledecker/The Western News)
Joined by treatment court advocates, Gov. Greg Gianforte recently announced permanent funding for eight treatment courts across Montana which are losing federal funding.
There are many thankful for the news. One of them is Michael Ueland.
He is one of the most recent graduates of Lincoln County's Treatment Court. Ueland, 61, had his first DUI conviction in 1992 and others followed. But Ueland eventually overcame his addiction to alcohol and stayed sober for 16 years.
But in February 2020, his father, Finny Ueland, died.
"That was hard for me and I started drinking again," Michael said.
His drinking culminated in an incident on Iron Creek Road on May 2, 2021, when he was arrested for DUI. In December 2021, Ueland received a 5-year suspended sentence and was admitted to the treatment program.
He had to move to Libby after living most of his life in Sanders County.
"I had to find rides to all these meetings, but I saw how the system had changed," Ueland said. "They've come a long way in keeping track of you. I had a great sponsor in Alcoholics Anonymous. I didn't want to do AA at first, but the AA people were a good support system and I had all these other good people around me."
Those people included his twin sister, Marsha Westphal, friends Dale Ginger and Shauna Dillard and the county's treatment court team.
Without all those people backing him, there's a chance Ueland may have relapsed after falling and breaking his hip a little more than eight months ago.
"That was a huge setback, but with all the support I had, I didn't go back to bad habits," Ueland said. "I'm just so thankful for everyone's support and for them letting me into the program. I was really sweating whether I'd get into treatment or go to Deer Lodge."
"Mike pushed his lawyer and me to be in this program," Lincoln County Deputy Attorney Jeffrey Zwang said at the ceremony. "It's a tough and intensive program. We get deep into people's lives. Mike's commitment has been second to none.
"And now with some of your health issues, it's so great to see you here and it'll be tough to not see you."
Gianforte spoke of the importance of treatment courts.
"Together, we share a common goal: to get more Montanans clean, sober, healthy and on the path to reaching their full potential," Gov. Gianforte said. "That's why I'm proud to announce we're funding another eight drug treatment courts in Montana to serve those struggling and make our communities and state stronger."
Costing a fraction of incarceration, treatment courts help non-violent offenders rebuild their lives through treatment, recovery, counseling, education and job placement services.
The governor proposed in his Budget for Montana Families and secured from the legislature funding for eight treatment courts losing federal funding.
These courts are the Veterans Treatment Court in Missoula County, the Fourth Judicial District Treatment Court in Missoula County, the Sixth Judicial District Adult Treatment Court in Park County, the 12th Judicial District Drug Court in Hill County, the 19th Adult Drug Treatment Court in Lincoln County, the Ravalli County Adult Drug Treatment Court, the 13th Judicial District Indian Child Welfare Act Family Drug Court in Yellowstone County, and the 13th Judicial District SOAR Court Pre-Plea in Yellowstone County.
"Clearly we are pleased the state sees our program as worthy of permanent funding," Lincoln County Treatment Court Coordinator Zach Sherbo said. "Governor Gianforte's support is greatly appreciated. We are excited to continue to serve the citizens of Lincoln County in administering these services."
The governor made the announcement at a recognition ceremony on May 10 for the STEER (Sobriety, Treatment, Education, Excellence, Rehabilitation) DUI Court in Billings, over which District Court Judge Mary Jane Knisely presides. Seven state court teams and two tribal court teams were in attendance.
"Treatment courts provide Montanans struggling with addiction with hope and opportunity as they get clean, sober, and healthy. They reduce recidivism and create better outcomes for more Montanans," the governor said to the group. "But I know I don't need to tell you how important treatment courts are – you see the results every day through your work."
In 2021, the governor proposed and secured funding for five treatment courts across the state.
In Lincoln County, Ueland became the 13th graduate of the program.
---