Canada wildfire smoke generating unhealthy local conditions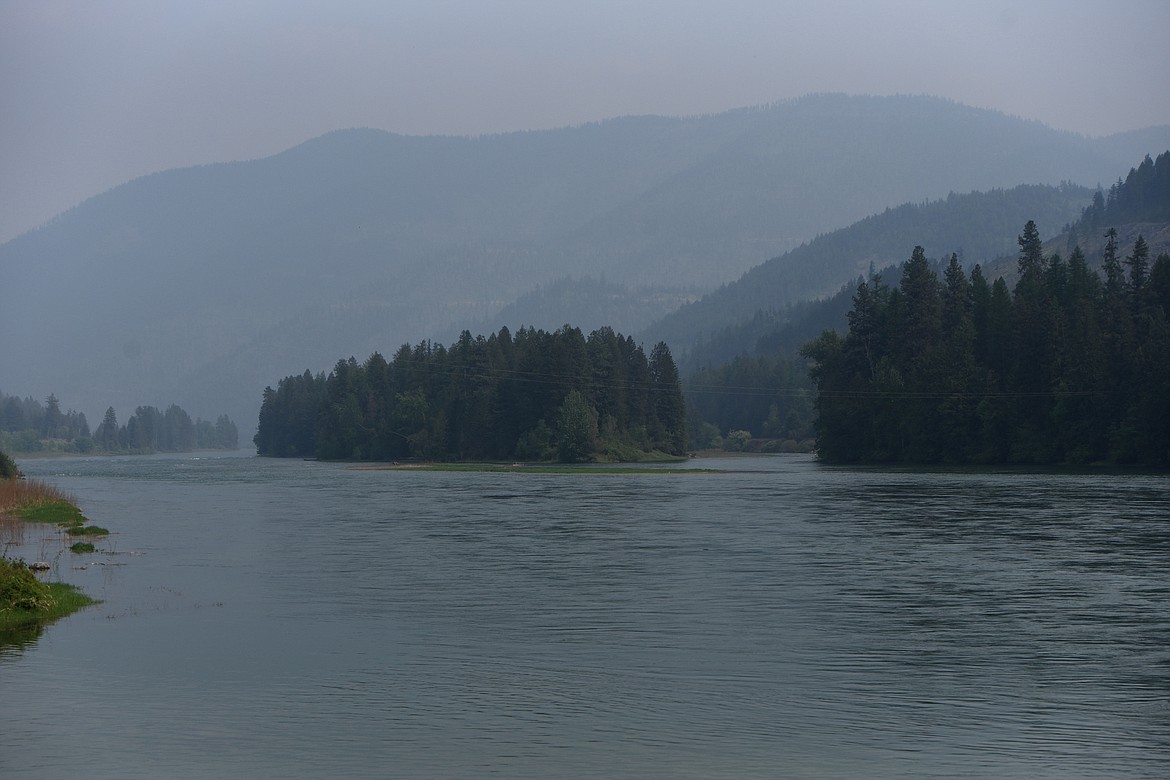 Smoke from wild fires burning in Alberta and British Columbia hangs thick above the Kootenai River on Wednesday afternoon. (Scott Shindledecker/The Western News)
by
SCOTT SHINDLEDECKER
The Western News
|
May 19, 2023 3:30 PM
If it's not smoke from wildfires in Montana, Idaho, California, Oregon or Washington, then there are plenty of fires burning in Canada that can create undesirable conditions in northwest Montana.
Dozens of wildfires in Alberta are generating the stinky smoke that has drifted into the area. Kootenai National Forest officials confirmed on Wednesday there are no active wildfires on its lands.
It has created air quality ratings from unhealthy to unhealthy for sensitive groups across the region.
According to airnow.gov, as of Wednesday afternoon in Libby, the rating was unhealthy for sensitive groups.
Recommendations for people with heart or lung disease, older adults, children and teens, include taking the following steps to reduce exposure:
Choose less strenuous activities (like walking instead of running) so you don't breathe as hard;
Shorten the amount of time you are active outdoors;
Be active outdoors when air quality is better.
In Eureka, Trego and Thompson Falls, the rating was unhealthy. The recommendations are the same for people in sensitive groups while added suggestions include choosing less strenuous activities, such as walking instead of running, so you don't breathe as hard and shorten the amount of time you are active outdoors.
The Montana Department of Environmental Quality issued an air quality alert for 43 Montana counties, including the Flathead Valley. The smoke is expected to blanket the region through at least Friday, warned Jeff Kitsmiller, a meteorologist at the National Weather Service in Missoula.
Kitsmiller said a shift in the winds pushed the smoke into the U.S. on Wednesday.
"There are a lot of fires up in Canada and that smoke had been building up," he said. "Then our flow shifted to the north and grabbed all that smoke and sent it right into the Flathead Valley and more."
The smoke affected a swath from the Washington coast to North Dakota.
"It's a big wall of smoke coming straight down," Kitsmiller said.
Air quality in Kalispell was rated as unhealthy early Wednesday morning after smoke concentration levels spiked at around 1 a.m. The worst air quality in the state was reported in the Miles City area, while much of west central Montana escaped the thick haze.
National Weather Service predictions for Troy and Libby say haze and hot weather through Sunday afternoon. Areas of smoke will persist on Thursday and Friday with high temperatures in the upper 80s and low 90s from Friday through Sunday.
Kitsmiller said a high pressure system is expected to build over the Northern Rockies by Friday afternoon, which should cut off the smoke and usher in clean air.
In Alberta, the government has declared a provincial state of emergency due to the hot, dry conditions that have gave life to the dozens of fires, some in the hundreds of thousands of acres.
The O'Chiese Fire was listed at 165,600 acres as of Wednesday. Another unnamed fire was listed at 204,267 acres.
Alberta wildfire officials on Wednesday reported 91 active fires across the province. All of the fires were burning north of Calgary and east of the Canadian Rockies.
According to a Canadian Broadcasting Corporation report, around 19,500 Alberta residents had been evacuated from their homes due to the fires.
The National Interagency Fire Center confirmed Wednesday that 10 Hotshot crews and a Northern Rockies IMT had been deployed to Alberta to support the firefighting effort.
---