Libby man sentenced for stealing from family member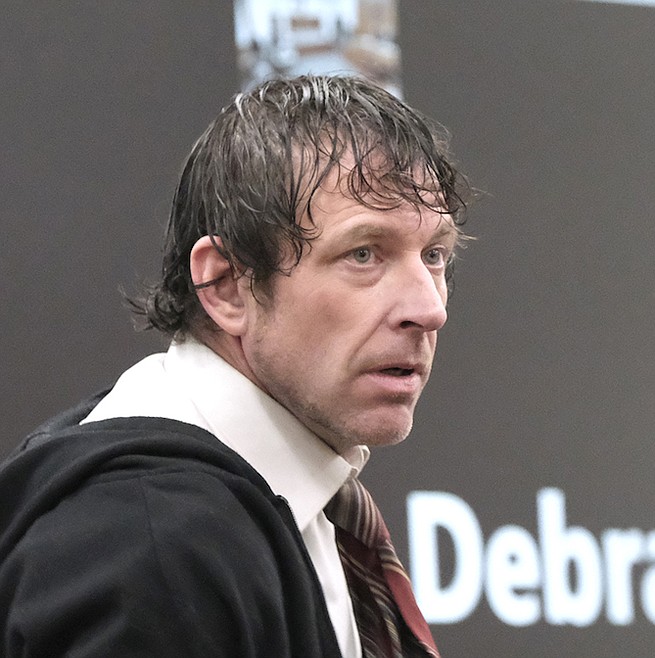 by
SCOTT SHINDLEDECKER
The Western News
|
March 31, 2023 7:00 AM
A Libby man accused of burglarizing his sister-in-law's home last year was sentenced Monday.
According to court documents, Kevin Paul Burke, 45, pleaded guilty to one felony count of theft. In exchange for his plea, the Lincoln County Attorney's Office agreed to dismiss one felony count of burglary.
Burke received a 3-year suspended sentence by District Judge Matt Cuffe. Burke received credit for serving four days. He also must pay $2,750 in restitution to the victim.
Burke appeared in person with his attorney, S. Charles Sprinkle, on Jan. 30. Sprinkle said an agreement had been reached.
According to the charging document filed by county Attorney Marcia Boris, Lincoln County Sheriff's Office Deputy Kirk Kraft wrote in his report that he received a call on July 1 about a theft at a Collins Avenue residence.
The alleged victim, who had moved to Nebraska, said Burke had broke into her house, stole items and damaged other items before leaving. She said she and her "significant other" had lived in the home until their move. She said Burke had lived temporarily on the property in a camper until January 2022 when he became homeless.
The alleged victim said there were still personal items in the home as well as items they planned to sell. She said before Burke's sister headed to Nebraska, he showed up. He spoke with his sister and knew the house would be vacant, according to court documents.
When the alleged victim's daughter went to the house on June 23 to clean it she found that the home had been entered, items stolen and destroyed.
Then, on July 1, a Kalispell woman went to the home to clean it and prepare it to be sold, she found the front door open and the back door unlocked, according to Kraft's report. She reported finding items stolen and damaged. When the alleged victim spoke with her former neighbor, she said she saw Burke at the house with several friends. She said Burke was selling items from the house and she bought some of them.
Then, on July 7, Kraft spoke with the neighbor who said Burke was at the house after the alleged victim's partner had left. The neighbor said a woman driving a white convertible pulled up to the house and spent the night. She said other people were at the house from Thursday to Saturday.
When the neighbor spoke to Burke, he allegedly told her that his sister told him there was stuff in the home that he needed to get rid of. The neighbor said Burke allegedly sold her a china hutch and a freezer. The neighbor said someone in a black car picked up Burke. Later she found out he went to the airport and flew to Arizona.
Kraft then spoke to another neighbor of the alleged victim on July 12 who told him Burke was there with multiple people who allegedly removed items from the home. She assumed it was OK that Burke was there.
Kraft said when he spoke to Burke on July 12, the accused man said he believed everything was "free game." According to Kraft, Burke said the other people told him he could take anything he wanted. He also said he didn't know who the people were. Burke allegedly told Kraft that he didn't know why she got the cops involved and that he was helping her move.
Later on July 12, Kraft spoke with Burke's sister. She said she told her brother the items left behind were for the alleged victim's daughter or were being sold with the house. She said the house was locked and that Burke didn't have permission to stay the night and that he had stolen from her before, according to the charging documents.
Burke's sister also told Kraft that Burke had a long history of stealing and that he had been to prison for burglary and stealing.
The alleged victims provided a list of stolen and damaged items and the value was $3,554, according to Kraft's report.
---