Lincoln County election officials, clerk and recorder resign posts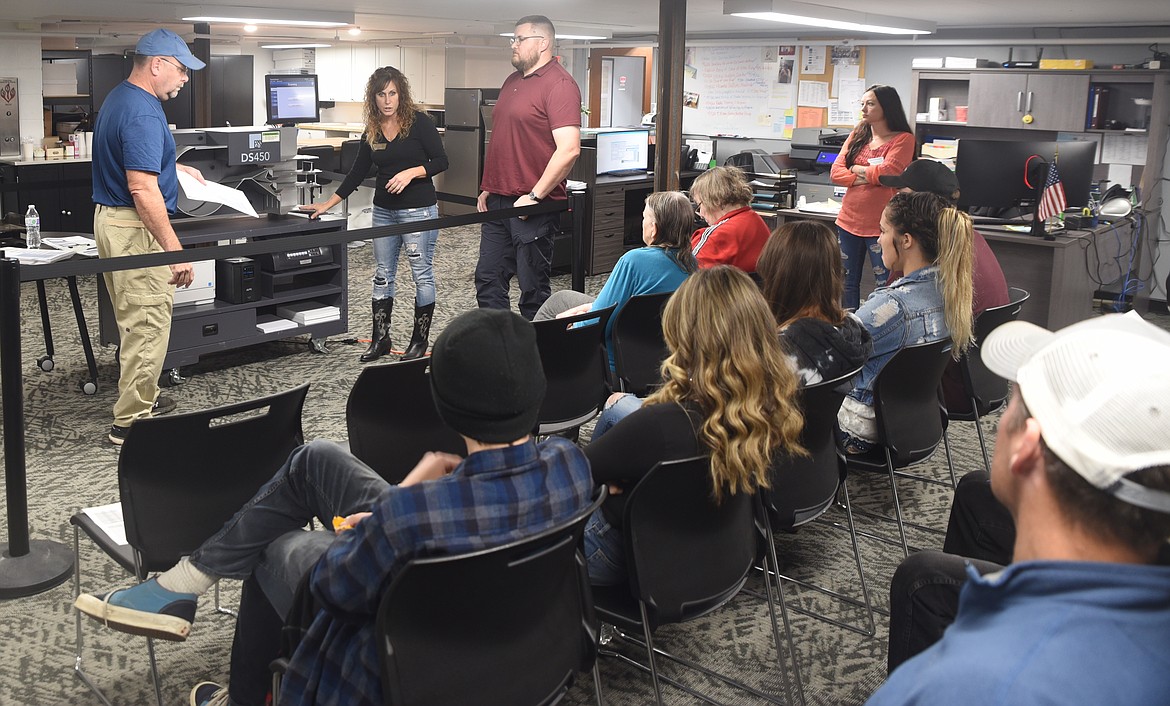 Lincoln County Election Administrator Paula Buff, center, and volunteers Brett McCully, left, and Noah Pyle, give a presentation on Friday, Oct. 14, to Troy High School students about how the scanning and tabulating machine counts votes. (Scott Shindledecker/The Western News)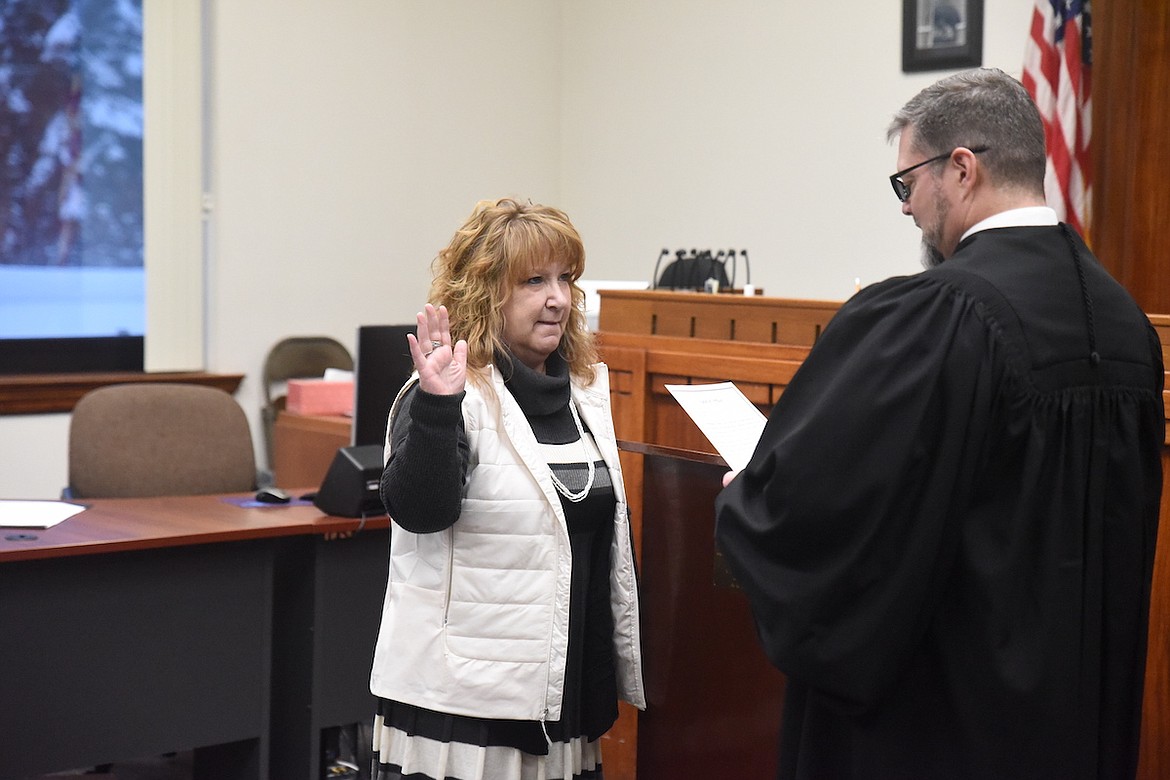 Previous
Next
by
SCOTT SHINDLEDECKER
The Western News
|
March 28, 2023 7:00 AM
The Libby City Police Department is not the only government agency in disarray in Lincoln County.
With a handful of school board trustee elections right around the corner, the county's Elections Department has no one working in it and the clerk and recorder has also resigned.
According to County Human Resources Director Dallas Bowe, she has received letters of resignation from Clerk and Recorder Robin Benson and both employees in the Elections Office, including Administrator Paula Buff and her assistant, Amanda Eckart.
Bowe said the letters were confidential and she would not be releasing any information from them.
In a letter to media outlets on Friday, March 24, sharing a list of candidates for school board trustee candidates, Election Administrator Paula Buff also announced her resignation.
Buff took over the position a little more than two years ago following the resignation of Chris Nelson less than a week after the 2020 general election. According to a previous story in The Western News, Nelson didn't respond to requests for comment. Then-County Administrator Patrick McFadden said Nelson left the job for personal reasons.
Nelson only served in the position from August 2020 to November 2020. He was appointed following the resignation of previous election administrator Leigh Riggleman.
At the time, county officials gave no reason for Riggleman's resignation. She departed after county commissioners switched from her proposed all mail-in election, meant to avoid the spread of the coronavirus on Election Day, to a traditional poll election. After her resignation, commissioners changed course again, favoring a mail-in voting process.
Benson wore many hats for the county over the years, also serving as auditor and assessor surveyor. Benson first won the clerk and recorder post in 2014.
She won re-election for the Clerk and Recorder post in November with 100% of the votes, a total of 7,791. Her vote total was more than all but two of the 13 local races on the 2022 general election in November. Only Sheriff Darren Short and Coroner Steve Schnackenberg received more votes.
Two of those local races included county commissioner seats, which were claimed by Brent Teske and Jim Hammons.
The commissioners are unsure of how the May 2 elections will be conducted.
District 1 Commissioner Brent Teske said he hadn't seen the resignation letters and that it was too soon to know how the elections will be handled.
"Ultimately, we'll have to fill those positions, but that will run through Human Resources," Teske said. "I haven't seen the letters so I am not sure why they resigned."
Teske cited Montana Code Annotated 7-4-2206 in terms of filling the vacant positions.
In part, it states, "Vacancies in all county offices, except that of county commissioner, must be filled by appointment by the board of county commissioners."
For Benson's job, which is elected, it couldn't be filled until the next election.
Hammons said he knew about the resignations, but didn't know any additional information.
Josh Letcher, first elected in 2018 and the current county Commissioner Chairperson, did not return phone calls by press time.
Tensions have been on the rise between Letcher, Benson and Buff over the last several months.
According to the minutes of the March 1 commissioners meeting, Benson sought the hiring of a new employee for the Clerk and Recorder Office because conditions have evolved to where sharing employees is no longer doable. Benson said that about 2-plus years ago her office absorbed the county addressing duties which she maintained has become a full-time position.
Benson also believed there was an immediate need for two full-time dedicated election staff focused solely on elections only. She cited the amount of work in the Election Department, including current duties, legislation, new cyber and physical security requirements, the mass mailing of National Voter Registration Act and 8,500 addresses are being verified and geo-enabled. Benson also said election staff attends daily training with the Secretary of State's Office.
Letcher, according to the meeting minutes, asked if elections are so busy, why did Buff fire three election judges? Buff commented that she only removed one judge from serving in the elections.
Additionally, Letcher also referenced a meeting about the post-election audit and asked Benson if she was able to properly supervise her employees while stating that Buff had falsified election documents and he felt he was ridiculed questioning this at a prior meeting.
Following the November 2022 general election, Letcher said he wanted to see more local races added to the post-election audit in an effort to build confidence in the process. Letcher presented a letter dated Nov. 9 which detailed his recollection of what he termed "major human errors" from elections in 2016, 2020 and 2022.
In 2016, Letcher said a tabulator was not properly programmed for the different arrangements on the ballots from different precincts. He wrote in the letter that, "This oversite mistake could have been the difference in the winner in several local elections. Specifically, District Judge and Clerk of Court."
Letcher said there were two errors in 2020. One involved a bad fold in ballots was discovered that created a bad reading in the tabulator. Letcher said it resulted in having to hand count several races in the middle of the ballot.
Benson said the 2020 general election was 100% by mail because of COVID and that all of the ballots were folded. Benson said ballots that are not readable by the tabulator go to a duplication board. The board then determines the voter's intent so the ballot is counted.
The other incident in 2020 was detailed in a previous Western News story. In the account, it was reported that a ballot box was left temporarily unaccounted for in the days after the November election. Officials stressed that the votes it contained were tabulated within the timeframe allowed by the state and were never at risk of being tampered with.
Then-County Administrator Patrick McFadden allowed that a mistake occurred, but said he viewed the incident in a positive light considering it was caught and rectified in time.
Letcher's letter concluded with the ballot printing mistake that occurred in the June 2022 primary that resulted in county election officials hand counting all ballots for all races.
Incidentally, there are four elections that are planned.
Two are planned in Troy School District 1 and are listed as mail-in elections. Lori Damon and Blair Shupe are vying for a 3-year term for an elementary school board seat. For a 3-year term for the high school seat in the Yaak/McCormick area, Chelsea Franke and Jan Fontaine are on the ballot.
The second is for Eureka School District 13. There are four candidates vying for two open seats for 3-year terms for the elementary/high school. They include Amber Wyatt, Joan C. Moeller, Brianna Van Orden and Rodney Schmidt. It is also scheduled to be a mail-in election.
Trego School District 53 also has two open, 3-year seats with four candidates. They include Dave Scott, James W. Carlton, Henry Broers and Mark Sephar. The election is scheduled to be done at a polling place.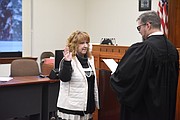 ---