Libby residents take plea deals in drug, child endangerment cases
by
SCOTT SHINDLEDECKER
The Western News
|
March 28, 2023 7:00 AM
Two of three people who were arrested earlier this year after a search of a mobile home in Libby turned up dangerous drugs where children were found living in squalid conditions have taken plea deals.
James William Deloach and Tonya Lynn Deloach each appeared in Lincoln County District Court earlier this month. They remain locked up in the county jail.
James Deloach, 53, was charged with four felonies, including two counts of distribution of dangerous drugs, one each for possession of dangerous drugs and child endangerment. He is also charged with one misdemeanor count of possession of drug paraphernalia.
On March 13, he pleaded guilty to one count of distribution of dangerous drugs. The other charges were dropped as part of the deal. The agreement calls for Deloach to receive a 10-year sentence, with five suspended, to a state Department of Corrections facility. His sentencing is scheduled for April 24.
Tonya Lynn Deloach, 47, was charged with two felonies, including possession of dangerous drugs and child endangerment, and a misdemeanor count of possession of drug paraphernalia.
On March 20, she pleaded guilty to endangering the welfare of children. The other two charges were dismissed. The deal calls for her to serve five years, with three suspended, in a state Department of Corrections facility. Her sentencing date is set for May 1.
An investigator in the current cases reported the Deloach couple had previous criminal histories in Pennsylvania.
According to court records, James Deloach had a marijuana possession charge in 1991, one for the manufacture with the intent to deliver illegal drugs in 2004 and another for writing bad checks in 2008.
Tonya Deloach had charges in 2004 for the manufacture with the intent to deliver illegal drugs, burglary, theft and corruption of minors.
The third defendant in the current case, Matthew Manfred Priebe, 32, is charged with one felony count of possession of dangerous drugs and one misdemeanor count of drug paraphernalia. He is also in the county jail. He was scheduled to appear in court on March 27.
The trio appeared in court on Jan. 30 and pleaded not guilty to all charges.
The case began on Jan. 11 when an officer with the county conducted two controlled purchases of meth from James Deloach.
On Jan. 12, county and Northwest Montana Drug Task Force officers served a search warrant on the Deloach residence and found two children on the couch in the living room area. An officer then saw a person moving in the hallway. The person was later identified as Tonya Deloach.
According to the charging document filed by Deputy County Attorney Jeffrey Zwang, James and Tonya Deloach were suspected of distributing methamphetamine in Lincoln County for some time.
According to the affidavit of probable cause, Tonya Deloach yelled that she was in the bathroom. An officer told her she could finish in the bathroom, but instructed her to not flush the toilet. The officer reported she became hysterical and began yelling for her babies.
The officer brought her into the living room where the children were. The officer observed that one of the children was verbally belligerent and demanding with law officers, which is not typical for children of that age.
Priebe and Jessica Whittaker, both known drug users, were located in the back room of the home, according to the charging document. Priebe is on probation in Lincoln County after convictions for burglary and meth possession in 2019.
When officers searched Priebe's backpack, they reported finding his ID, a bag of meth, pills resembling fentanyl and 10 high-end watches. A search of Whittaker's fanny pack turned up drug paraphernalia, according to court records.
When officers searched the middle bedroom of the home, they reported finding a mirror with small crystals of meth on it. They also reported the bedroom did not have a wall or door and is open to the rest of the residence. They wrote that the room can be accessed by anyone in the residence, including the children.
Investigators also reported finding two pipes, both of which field tested positive for meth.
When county Det. Brandon Holzer interviewed Tonya Deloach, she allegedly told him one of the pipes belonged to a dead friend and it was special. He also reported that she provided information where her husband obtains meth. She allegedly admitted that she and her husband, James, both sell drugs, and that both of them used meth in the home the night before the search.
Officers reported the condition of the house was extremely poor. They said the floor was covered with cat urine and feces, rotten food, dirty clothes, other debris and none of the doors in the home could be closed, due to being blocked by debris. Officers used masks and regulated oxygen to complete the search of the home without endangering their health.
Fire Marshall Steve Lauer was called in and saw several safety issues. He ordered the home condemned and that no one should live there until the poor conditions are remedied.
While some officers searched the Deloach home, others stopped Deloach in his vehicle. They reported that George Bondurant was in the passenger seat. They described him as a known drug user and distributor.
Officers reported searching Deloach and finding two plastic bags with a crystal substance that field tested positive for meth. They also reported finding an electronic scale and a syringe in one of his coat pockets.
In addition, while booking James Deloach into the county jail, they reported they found in his sock six grams of a substance that also field tested positive for meth.
When officers searched a backpack that Priebe said belonged to him, they reported finding about 1.9 grams of suspected meth, pills that resembled fentanyl.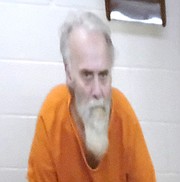 ---