Fisher River Valley Fire Rescue has a new ambulance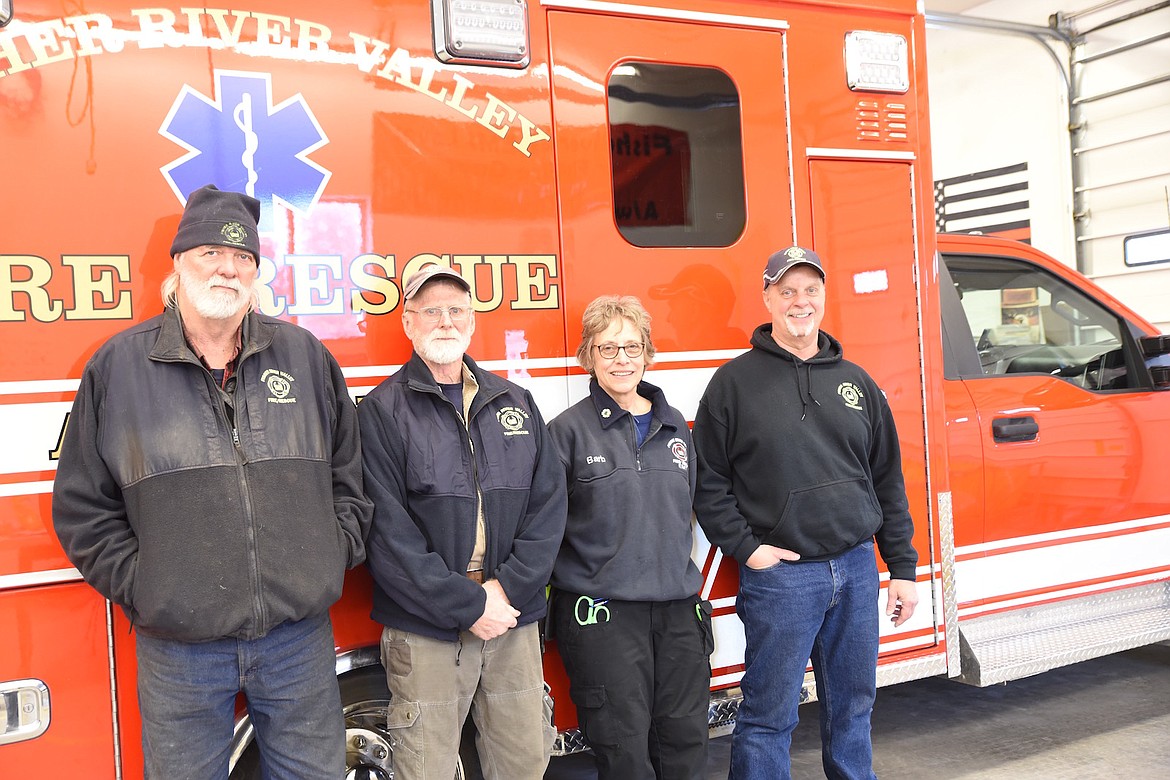 Fisher River Valley Fire Rescue members Bert Oxford, Pat Hanley, Barb Neumann and Kirk Kraft show off their new ambulance. (Scott Shindledecker/The Western News)
by
SCOTT SHINDLEDECKER
The Western News
|
March 24, 2023 7:00 AM
It may have been a few years in the waiting, but Fisher River Valley Fire Rescue finally got its new ambulance earlier this year.
Covid-19 and resulting supply chain problems delayed the delivery of the fully equipped ambulance, but the volunteers are more than happy to have the new unit.
"It's the newest ambulance we've had and we're pretty proud of it," said volunteer Stu Crismore.
The new rig, which went into service on Jan. 28, replaced a third-generation 1993 Chevy ambulance that was used at volunteer departments in Noxon and Troy.
Department Fire Chief Kirk Kraft said a grant from the Montana Department of Transportation for emergency services covered about 90% of the $200,000 cost.
But community support covered the rest of the cost, which included a new gurney system and a heart monitor ($30,000).
"Our ice fishing derby helps raise a lot of money and we've gotten a lot of support from the local folks, local homeowners associations and the Town Pump Foundation," Kraft said.
More than 500 adults and hundreds more kids participated in the fishing derby on the Lower Chain of Lakes. Fisher River's auxiliary runs the popular tournament that was held a month ago.
The department was able to donate its older gurney to Turner Mountain Ski Patrol medical personnel with moving injured skiers when needed.
The department also got new automated external defibrillators (AED) and a new LifePak15 heart monitor. The AEDs were placed on the first out structure engines and a third AED was given to Happy's Inn. The Lifepak15 heart monitor was placed on the new ambulance.
The department also honored several volunteer members for their respective contributions in 2022.
Nikki Crisp was recognized for responding on the most medical calls in 2022 while Pat Hanley was honored for responding on the most calls.
Bert Oxford, a member of the department for 21 years, was recognized for his outstanding service and Vikki Herreid was lauded for years of dedicated support behind the scenes. Barb Benson was recognized for years of dedicated service as EMS Captain.
"We're very thankful and fortunate for our volunteers and the generosity of the community in supporting our operations," Kraft said.
For more information on the department, call 406-293-3907 or go to their Facebook page at https://www.facebook.com/FisherRiverValleyFireRescue/
---