Trooper Lewis Johnson continues recovery in Colorado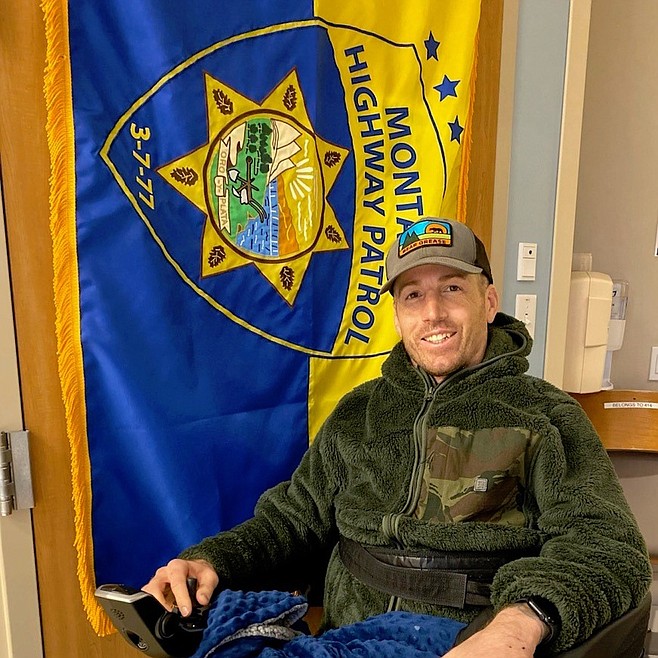 Montana Highway Patrol Trooper Lewis Johnson. (MHP courtesy)
by
SCOTT SHINDLEDECKER
The Western News
|
March 17, 2023 7:00 AM
The recovery of Montana Highway Patrol Trooper Lewis Johnson continues in Colorado.
Johnson, an 8-year MHP veteran, suffered life-threatening injuries when he was run over by a Rexford man sought by law enforcement on Feb. 16 in the Lake Koocanusa Bridge area.
Johnson was taken by air ambulance to Logan Health in Kalispell and he was recently moved to Craig Hospital in Englewood for more advanced treatment on Feb. 28 with his wife, Kate, and son, Ryder.
According to a March 10 Montana Highway Patrol Facebook post, Johnson completed his first week at the hospital in Englewood and has been getting up and dressed for physical and occupational therapy on a daily basis.
"He continues to battle with the injuries sustained to his chest by fluid buildup in the chest cavity, making it difficult to breathe. For now, he is in a powered mobility chair until his left shoulder heals more," according to the post. "The community support has been incredible and the family is truly grateful. His room is starting to fill with cards and beautiful drawings. Please, keep them coming! He still has a long road ahead, but he's in the right place for healing."
For those who wish to donate to a fund to help pay for expenses the Johnson family must pay that are beyond health insurance coverage, there are a number of ways to do so.
The GoFundMe page is located here: www.gofundme.com/support-for-trooper-lewis-johnson-family.
For those who prefer to donate to the 501c3 that has been set up, they can do so with this information:
Lewis and Kate Johnson Support fund, Lincoln County Sheriff's Reserve Fund 501(C)(3) First Montana Bank, 504 Mineral Ave, Libby, MT 59923.
Contacts are Sheriff Darren Short - 406-293-4112 ext. 1230 and Deputy Derek Breiland at 406-293-4112 ext. 1245.
Donations can also be made directly to the family by mail to Lewis and Kate Johnson to PO Box 356 Chester, MT 59522.
Also, in the state's second annual Montana Law Enforcement Appreciation Poster Contest for elementary school students in Montana to promote public safety and show appreciation for Montana's law enforcement officers, this year's contest is dedicated to Trooper Lewis Johnson for his bravery while apprehending a suspect on Feb. 16.
For more information or to enter the contest, go to https://dojmt.gov/leappreciation/?fbclid=IwAR3FrqBIOJwacR3cB8248tRM_BPpeHIg_B-4qWU52LMxA-6IC2zydJiZovc.
---