Community meeting on fentanyl set for March 30 in Libby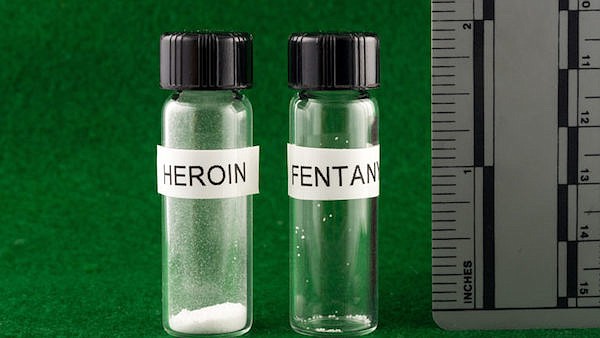 by
SCOTT SHINDLEDECKER
The Western News
|
March 17, 2023 7:00 AM
With fentanyl use and deaths rising across the country and Montana, the Lincoln County Sheriff's Office and Northwest Drug Task Force are hosting a community meeting March 30 to increase public awareness.
The two agencies are a part of a coalition of local groups putting the event on at 7 p.m. Thursday, March 30 at the Dome Theater in Libby. It is free and open to the public.
Lincoln County Sheriff Darren Short said there will be some video as well as local leaders presenting information and images related to current trends in the fentanyl crisis.
County Detective Brandon Holzer and Deputy John Hyslop are doing the feature presentation with narcotics K9 Bear. Short and Lincoln County Unite for Youth will also speak.
They'll talk about the impact of fentanyl use in the local community and potential for harm in the near future.
Participants will learn what fentanyl looks like, how to recognize if someone is using it and how to talk with youth and families about medicine safety and the risk of overdose and death.
Fentanyl is an extremely potent synthetic opioid drug that was approved by the U.S. Food and Drug Administration for use as a pain reliever and anesthetic.
According to the federal Drug Enforcement Agency, fentanyl is about 100 times more potent than morphine and 50 times more potent than heroin as a pain reliever.
A lethal dose can be as little as 2 milligrams which is equal to one grain of salt. It also has no color, odor or taste. It is difficult to detect and frequently mixed with other drugs which has resulted in more accidental overdoses.
According to Montana Attorney General Austin Knudsen, seizures of fentanyl have increased nearly 11,000% since 2019. Knudsen said another frightening fact is that the drug is turning up more in powder form.
"In powder form, if it's breathed in, that can quickly be fatal and that's very concerning for officers and first responders," Knudsen said.
According to a 2021 report from the Montana Department of Justice Division of Criminal Investigation, the number of fentanyl overdose deaths in the state increased 167% from 2016 to 2020. The cost has also decreased from $50 per dose in 2017 to $20 to $30 in 2020.
Earlier this year, state health officials reported 28 overdoses and eight deaths between Jan. 11 and Jan. 21. Overdoses were reported in 11 counties, including Flathead, Lake, Missoula and Ravalli in Western Montana.
Centers for Disease Control national figures show 107,375 people died of drug overdoses and drug poisonings in a 12-month period ending in January 2022 in the U.S.
Of those deaths, 67% involved synthetic opioids such as fentanyl. Some deaths were attributed to fentanyl mixed with other illicit drugs such as cocaine, methamphetamine and heroin. Many users were unaware they were actually taking fentanyl.
---