Youth wrestlers gear up for Kootenai Klassic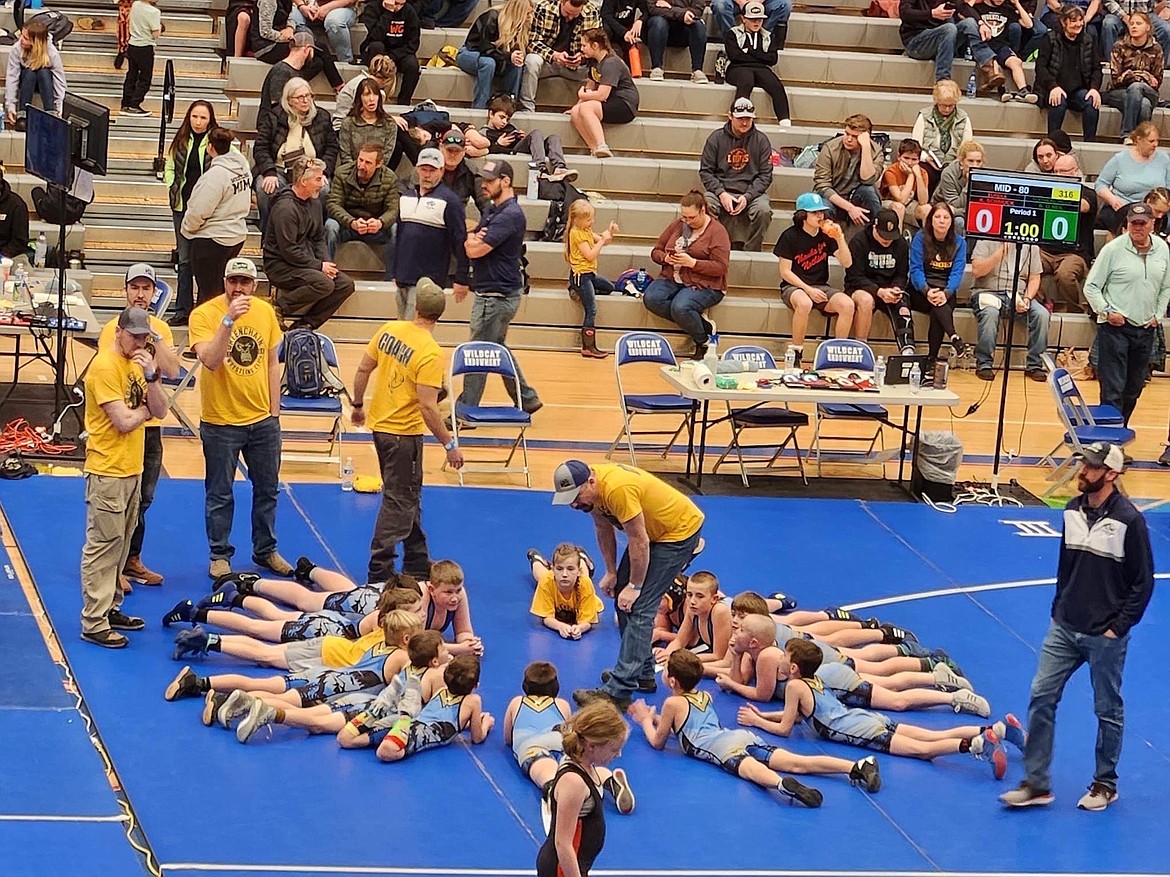 The Libby Wrestling Club's beginner-novice group circled up getting a pep talk before the competition starts.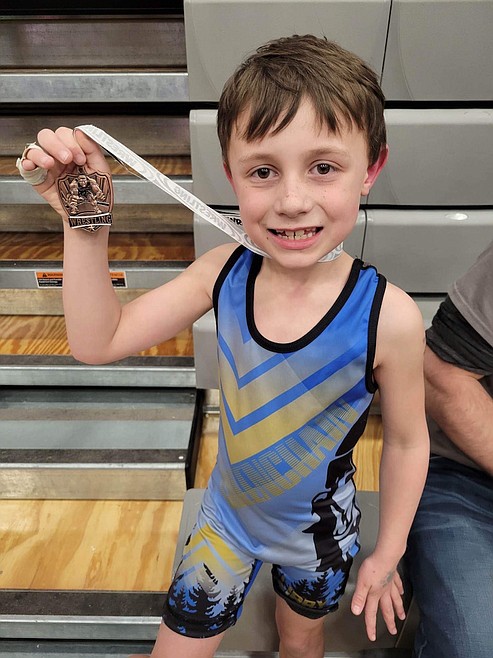 Libby Wrestling Club's Hudson Mugford shows off his medal at last week's tournament.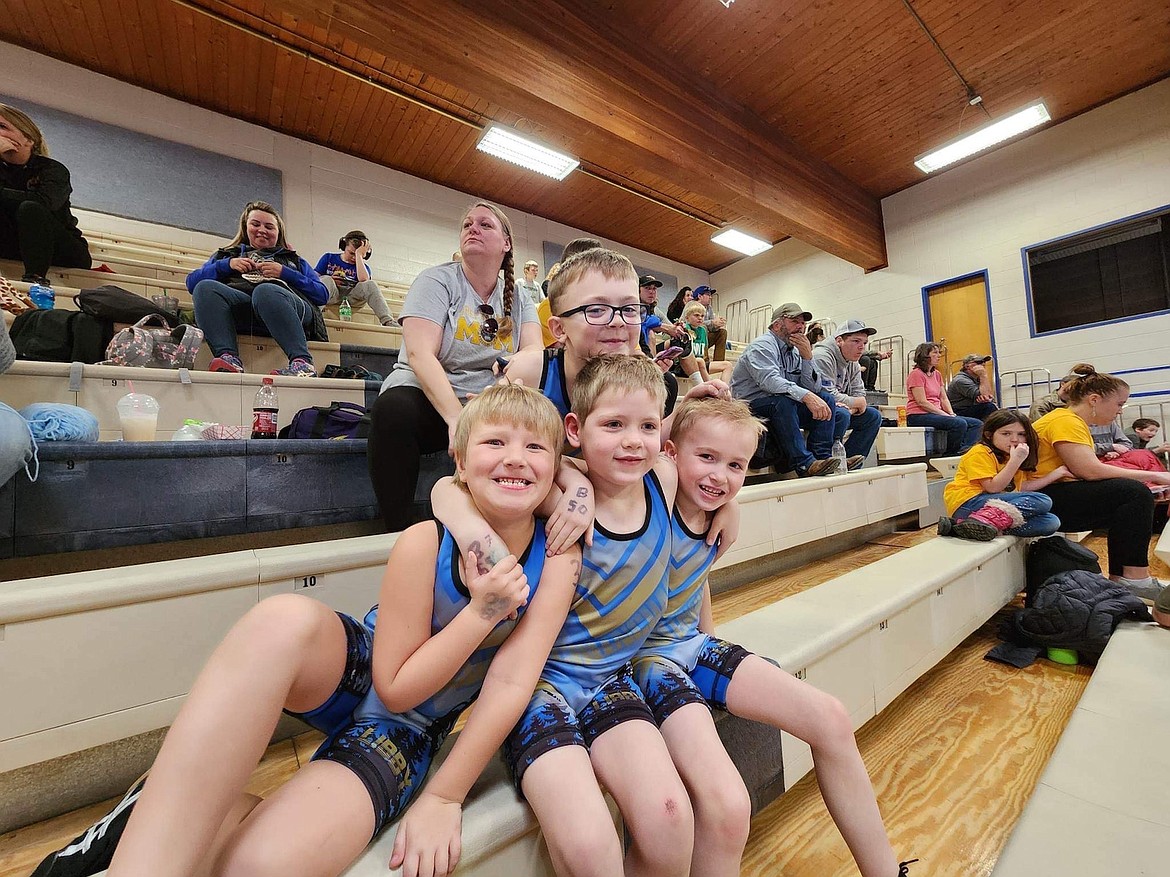 Libby Wrestling Club's Wesley Ebey, Ruban Covey, Jaxon Ames and Ryder Rebo enjoy a break in the action last weekend.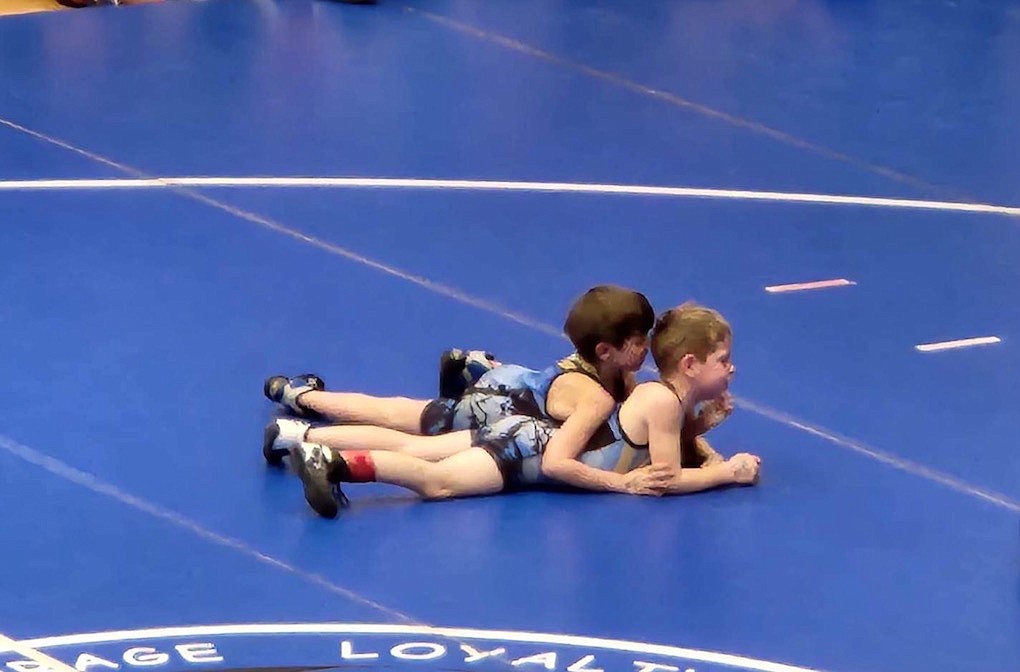 Libby Wrestling Club members Ruban Covey and Alexander Tsirigotis tangle during last week's tournament.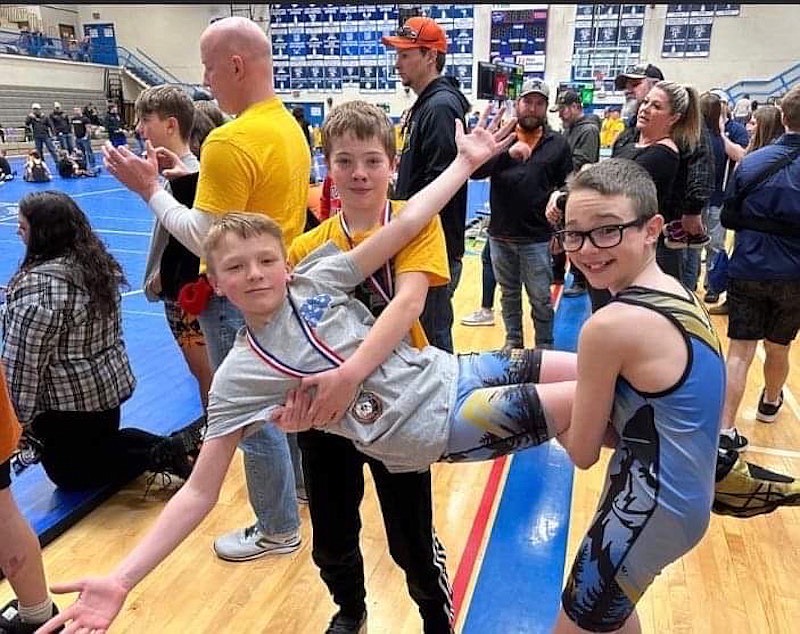 Libby Wrestling Club's Jackson Riddle, Diesel Hubble and Cody Katzer had plenty of fun at last weekend's tournament.
Previous
Next
The Libby Wrestling Club competed in the Western Montana Little Guy Unit 1 qualifier last Saturday and are ready to host the Kootenai Klassic this weekend.
According to coach Jason Harrington, athletes from nine clubs represented their teams last weekend. They included Cabinet Mountain Elite, Columbia Falls Junior High, Eureka, Flathead Valley Wrestling Club, Kalispell Wrestling Club, Ruis Wrestling, Whitefish Wrestling Club and Wolfpack Wrestling Club.
Coach Dean thompson said, "It's awesome watching the kids go home with hardware (placing metals) each week and I look forward to having this group contribute to a team trophy this weekend at home!"
Libby Wresting Cub is hosting the second qualifier event before the state tournament in Polson.
"It's our turn to show our community what Greenchain wrestling has been working so hard for," Libby Wrestling Club President Brian Barnes said. "We are gunning for the team trophy and that's within our ability."

Wrestling at the high school gym starts at 5:30 p.m. Friday with the junior division. Wrestling continues Saturday at 8:30 a.m. with the Peewee age group and trickling into the novice and middle divisions kicking off at 10 a.m.
Upon completion of this group, beginners will show off their talents with that round hopefully starting around 1:30 p.m. Saturday.
LWC is excited to host and wants to recognize all the help that make this possible.
"The Kootenai Klassic is a big, fun, well-run tournament in Libby, but in several ways this event is more difficult to organize. League bylaws, weigh-in criteria, and other variables make it less of our own," said coach Harrington. "That said, LWC is treating it like our historically run tournament and plan on having a great weekend and that can't happen without all the behind the scenes stuff with parents, friends and community all lending a hand."
---