Shirley Nelson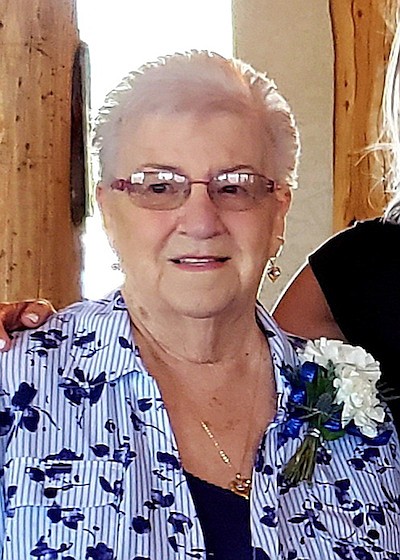 Shirley Nelson, 89, passed away peacefully at the Logan Health Center in Kalispell, Montana, on Monday, Feb. 27, 2023, with her husband and nearest son at her side.
She had suffered a stroke the day before and was flown to Kalispell for treatment.
Shirley was born to Leonard and Lucille Homann on Sept. 2, 1933, in Libby, and was the third of three girls in the family. Shirley was active in school activities and closed out her high school senior year as a cheerleader for the then Libby Terriers.
In the fall of 1951, while a senior, she met her husband to be, Everett Nelson. After graduation in 1952, she started work at the local bank in the booking department. Everett and Shirley married on July 21, 1953.
Shirley was proud of her children and a great supporter of anything they were interested in doing; like becoming a den mother for the boys as they went through the scouting program.  
As they approached high school age and early college, she took a part time position as the daily bookkeeper at the Torgison Husky Oil and Gas Station.
Early in her marriage, she took up and excelled in her knitting, crocheting, cross stitching and embroidering skills. Shirley was well known in the family for her dish cloths, scarves, afghans, tablecloths, napkins and tons of baby blankets.
Shirley was preceded in death by her parents, Leonard and Lucille Homann; her oldest sister Gloria (Bob Brinton) (Edward Peck); and middle sister Gweneth (Henry "Buck" Nelson).  
Shirley is survived by her husband Everett Nelson of 69 years; son Jon Nelson and wife Cheryl of Edmonds, Washington, son Jeffrey Nelson and wife Dhana of Libby, son James (Jim) Nelson and wife Grace of Missoula, Montana; and daughter Jeannette (Jan) Nelson and partner Julie McCurdy of Great Falls, Montana; nine grandchildren; and seven great-grandchildren.
Shirley has been cremated and will rest at their home until her husband joins her to continue their journey to the Libby Cemetery together.
If gifts or memorials are to be given in her name, please consider the Christ Lutheran Church Foundation Fund or a Charity of your choice.
Arrangements were made by the Schnackenberg Funeral Home of Libby. Online condolences and memories may be shared by visiting www.schnackenbergfh.com.
---