Beagle part of Griz runner-up 4x400 relay team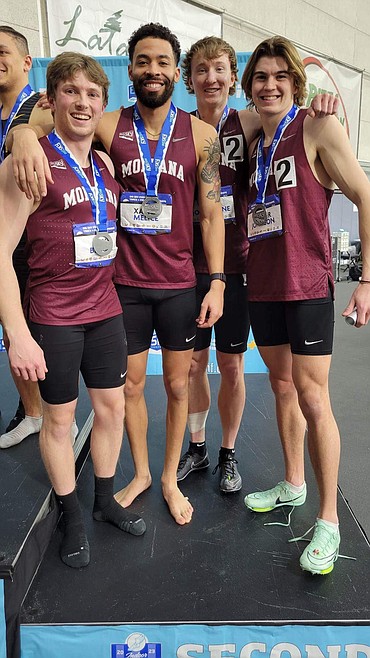 The University of Montana's indoor track team placed second at last weekend's Big Sky Indoor Championships in Moscow, Idaho. Libby graduate Jay Beagle was part of the quartet of Paul Johnstone, Xavier Melice and Taylor Johnson. (Photo courtesy Jerek Wolcott, University of Idaho)
by
The Western News
|
March 3, 2023 7:00 AM
The Montana Grizzlies' indoor track and field season came to an end Saturday in Moscow, Idaho, at the Big Sky Indoor Championships.
The most exciting event in almost any meet proved to be the highlight of the day for the Montana men's 4x400 relay team. They ran the best time of the season by over three seconds and got a couple of incredible performances on their way to a second-place finish.
The Grizzlies started with Jay Beagle who kept up with the pack to hand off to Paul Johnstone. The veteran brought Montana back into the thick of it with a great leg, but on the handoff with Xavier Melice the two stumbled slightly and Montana began the leg in fifth.
The distance was quickly closed down by Melice, who used his speed to race back into second. He started to run out of steam down the stretch, but had the Grizzlies right among the top three when he passed to Taylor Johnson.
Yesterday in the 400-meter preliminary, Johnson finished in ninth place, missing out on Saturday's final by just 0.17 seconds. The freshman didn't get discouraged. Instead, he rallied for an incredible run to overtake Northern Colorado and push Montana in the silver. It was a bit of a redemption story for the entire team.
 "That relay was so special to me as a coach. Paul has been hurt so often in the last couple of years, Xavier has been hurt and blew his Achilles," head coach Doug Fraley said. "Those guys hadn't really had any race background for quite a while. Those guys, to have the carries that they had, was just fantastic. That is a testament for how much those guys want to compete for the Griz. I was really proud of that.
"Taylor told me yesterday after he missed the final, he said 'don't you worry, I'm making up for this tomorrow coach,' and he sure did."
As a team, the Griz finished eighth with 34 points. Northern Arizona was first with 182.5 points.
The Griz return to action at the end of this month when they host the Al Manuel Invitational on Saturday, March 25. They host the Griz-Cat Dual the next weekend on April 1.
---