Michigan murder suspect captured in Plains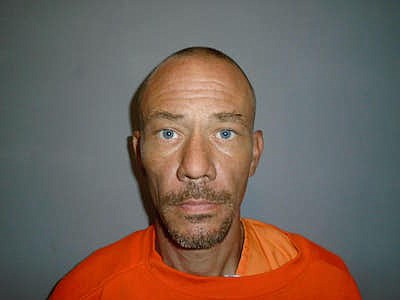 by
SCOTT SHINDLEDECKER
The Western News
|
July 10, 2023 6:25 PM
A Michigan man wanted on murder charges is no longer on the run.
According to the Sanders County Sheriff's Office, Chadwick Shane Mobley was arrested Monday evening after citizens saw him and called authorities. He was found on River Road West.
Sanders County Sheriff Shawn Fielders thanked his officers, including deputies Eric Pfleger, Lanny Hensley, and Detective Ethan Harvey, and new Plains Police Officer Rob Geenen.
Fielders also was appreciative of Sanders County dispatchers for their hard work taking tip calls.
"Great work by all, together we made a difference!" Fielders said in a social media post. "Not just for our community, but for the victims of the crimes he is suspected of and being charged with."
Fielders also wrote in a social media post that his office was working with Michigan authorities to make arrangments for Mobley's transport to there to face homicide charges from a 2011 case.
Mobley escaped custody Sunday morning in Plains at the Town Pump at about 9:58 a.m. Mobley was able to remove his handcuffs as well as ankle shackles and run.
Lincoln County Sheriff Darren Short said Mobley was being moved via a transport company contracted by the Michigan Attorney General's Office.
Mobley appeared in Lincoln County District Court June 29 for a hearing in front of Judge Matt Cuffe. Attorney Scott B. Johnson represented Mobley while Jeffrey Zwang represented the government.
Cuffe told Mobley he was not obligated to waive extradition, but the defendant had no qualms about his decision. He said he understood that he'll freely and willingly return to face the charges against him.
According to a June 28 press release from the Lincoln County Sheriff's Office, Mobley was the subject of a nationwide manhunt before his arrest by county officers after Sheriff's Office dispatch received a citizen report of a possible sighting of a man who was wanted for a homicide that occurred in Michigan.
The sighting followed a Sheriff's Office Facebook post that was published about four hours prior to the arrest.
Deputies and detectives from the Lincoln County Sheriff's Office and Libby Chief of Police Cody Ercanbrack responded to the area of Mac's Market, just north of Libby on Montana 37 where the fugitive had been seen.
Responding officers arrived and contacted Mobley. He is facing charges of first degree felony murder, first degree premeditated murder and one felony gun charge.
The Lincoln County Sheriff's Office thanked the citizens involved for their identification of the suspect.
According to a Utah Department of Public Safety Facebook post on June 21, Michigan State Police asked the Utah State Bureau of Investigation to assist in a homicide investigation for an incident that occurred in 2011 in the State of Michigan.
Before his arrest on June 28, Mobley was last seen in Corrine, Utah on the morning of June 7.
According to a story on http://www.sanilacbroadcasting.com/2023/06/22/michigan-state-police-identify-person-of-interest-in-2011-murder-in-lapeer-county/, Michigan State Police revealed to MLive that Mobley's DNA was matched to him via familial genealogy after the DNA found on the evidence from a November 2011 death of 20-year-old Andrea Eilber.
The broadcasting company reported that the woman had been found on Nov. 16, 2011, in her aunt and uncle's basement, having been bound and shot dead by a single gunshot to the head two days prior.
She had been alone in the Mayfield Township home while her relatives took a trip. Though she had originally planned to spend the day of the murder at the house with her boyfriend Kenneth Grondin III, she later canceled on him.
The boyfriend, nicknamed KC and 19-years-old at the time of the murder, was charged and convicted of the crime, with the 2015 conviction later overturned in 2018.
---