New wrestling club hopes to add opportunity for youth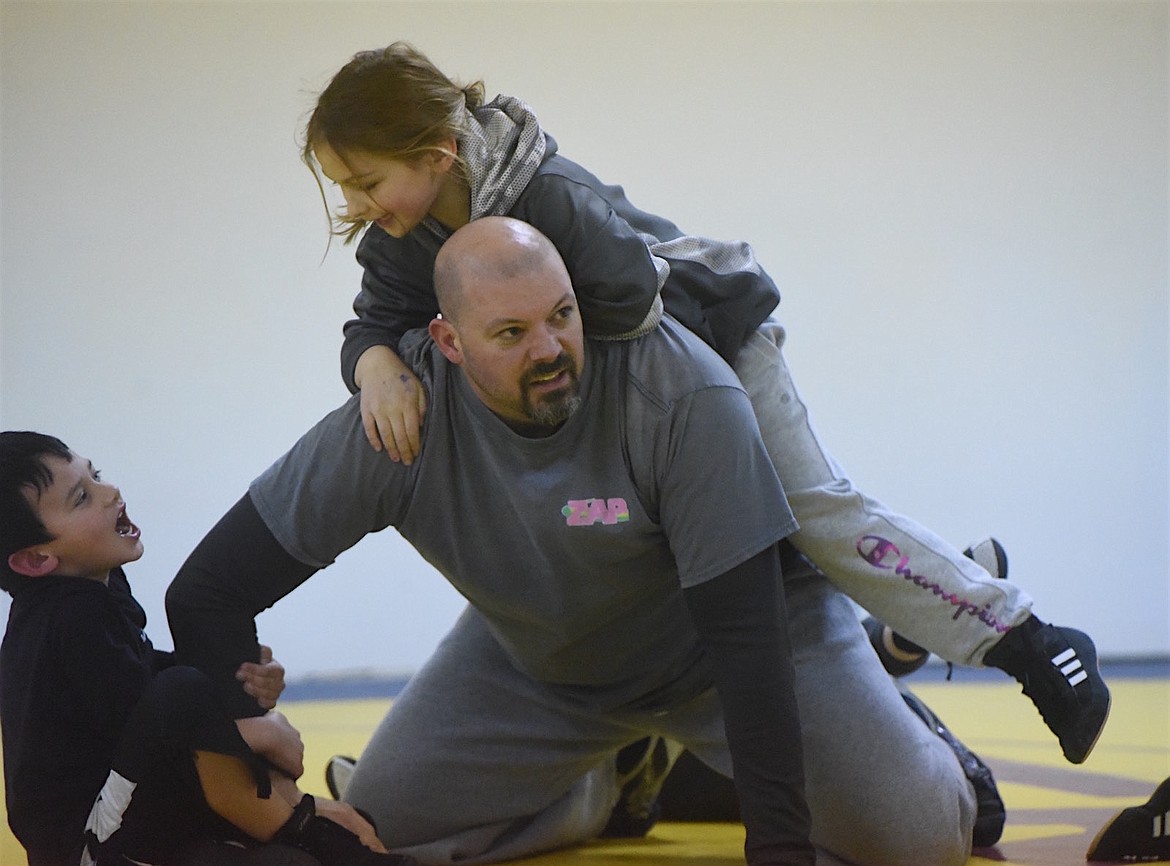 Jaxton Shumate, left, and Khori Skeers, warm up with Cabinet Mountain Elite Wrestling Club coach Kirby Couvillion. (Scott Shindledecker/The Western News)
by
SCOTT SHINDLEDECKER
The Western News
|
January 24, 2023 7:00 AM
Young wrestlers in south Lincoln County seeking more mat time have a new option in Libby.
The Cabinet Mountain Elite Wrestling Club started last summer and according to its organizers, RJ Masters and Kirby Couvillion, is meant to give area youth the chance to wrestle year-round.
"The goal is be a feeder program to the high school," coach RJ Masters said. "The Little Guy program is good, but it only runs for six weeks and this gives them more opportunity to be on the mat."
Masters said another reason for launching the club is the increased interest in wrestling.
"They had so many kids in the Libby High School Little Guy program there wasn't enough room for everyone, so it raised our interest in providing this," Masters said.
Couvillion echoed those sentiments.
"We don't have a problem with kids taking a few months off to play baseball or other things, but for kids who want more, this gives them a chance," Couvillion said.
In addition to preparing for an upcoming tournament, the club has held several fundraisers as it works to pay its bills.
The most recent was a bake goods live auction at the Libby VFW Harper Erdman Post 1548 on Jan. 13. Part of the novelty of the event was that club members did the baking of pies, cupcakes and other goodies. Including raffles, the event raised about $800.
"I'm pretty sure there were plenty of Moms helping out," coach Kirby Couvillion said with a laugh.
Couvillion explained the fundraisers are necessary to pay bills that include leasing their facility at 1218 Utah Ave. in Libby.
"We are looking to own it at some point," Couvillion said. "But we also need more mats, money to pay for scholarships for the kids as well as singlets, safety gear and many thing associated with running the program."
The club got a big assist this year when it received a $9,600 grant from the LOR Foundation to help pay for memberships.
The money went into a voucher program for kids in low-income families so they can participate in the club for up to a year.
"That is a very big help, but as it goes, the fund raising never ends," Masters said. "We're seeking sponsors for scholarships to keep it going."
Masters said the club is open to kids from 4 to 18 years of age and they are also seeking coaches.
"We have 45 youths registered and there are 10 to 25 in the building wrestling on any given day," Masters said. "Kids can come in to practice or compete. It's open to boys and girls and we welcome those who want to get better."
Those interested in coaching must have a background check done and be certified, Masters said.
For more information on the club, message it on Facebook at https://www.facebook.com/CabinetMountainEliteWrestlingClub/ or call Masters at 406-300-9768.
---