Libby speech and debate team prepares for divisional competition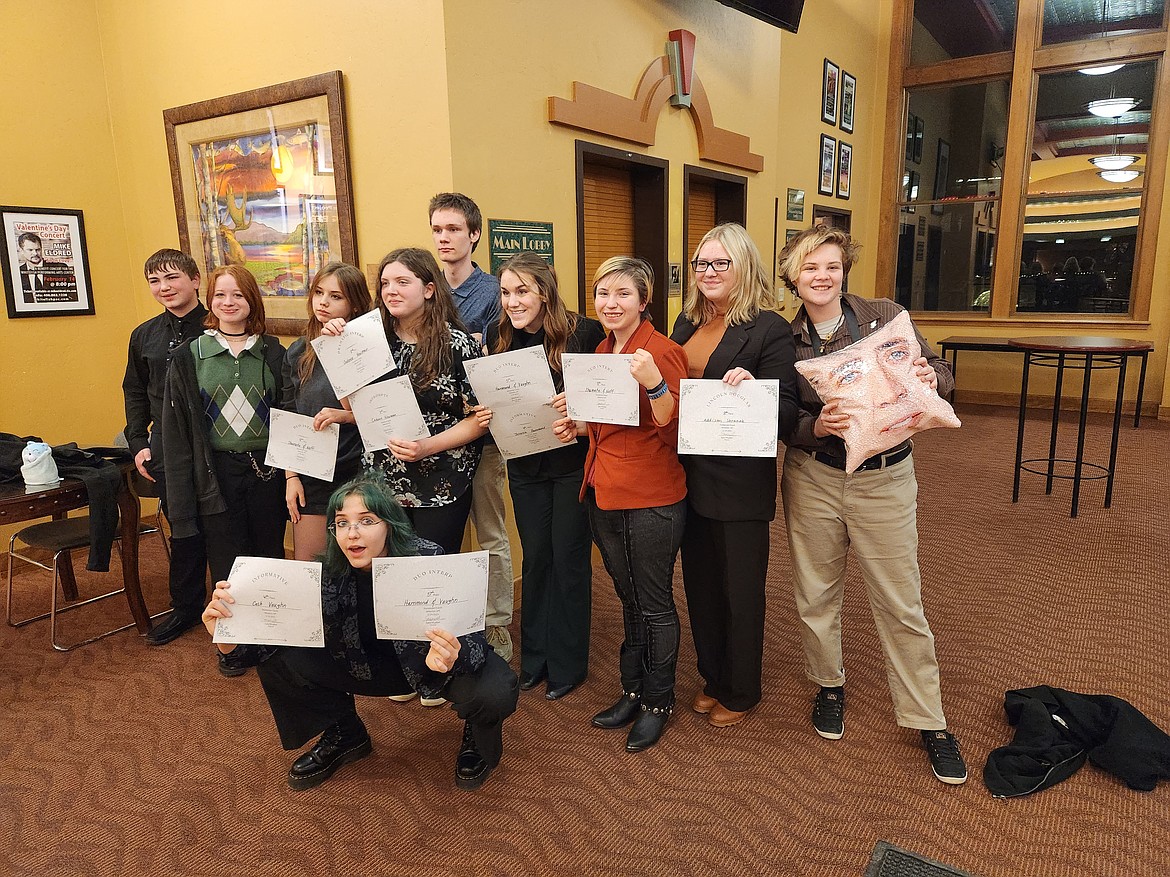 The Libby Loggers pose after the Jan. 14 meet in Whitefish. (Photo courtesy Baylie Ames)
by
HAYDEN BLACKFORD
Daily Inter Lake
|
January 20, 2023 7:00 AM
The Libby Loggers were in Whitefish on Jan. 14 for the last regular speech and debate meet of the season and every competing student placed in the top 10 in at least one event.
Next week the team will be competing in the divisional tournament in Columbia Falls. The state competition will be held in Sydney at the end of the month.
Libby High School has about 10 kids in the program now, according to coach Kim Lee.
"It's a really interesting mix this year," Lee said. "The team has great kids this year."
There are only two seniors, one who's been competing for four years, and one who recently moved to Libby.
"Cadence Newman is our new senior. She competed in dramatic interpretation and impromptu speaking this past weekend and placed second in both," Lee wrote in an email.
The seasoned speech and debate senior, Jenavie Hammond, placed fourth at state last year. This year her focus is informative speaking, according to Lee.
"I don't really have a team captain so that's what I call her," Lee said.
The team's composition ranges through all grades of high school and Lee noted that there are a few events that require a partner, but for the most part students compete alone. This means that students can be competitive despite having a small team for a class A school.
Lee said her students are multi-faceted and some are athletes or musicians, but speech and drama is another realm the school can offer to students.
"Kids find a home they may not find somewhere else," Lee said. "Also, surprisingly it can be a really different way to get a (college) scholarship."
Lee said students are competing in a variety of categories such as Informative Speaking, Original Oratory, Oral Interpretation of Literature and Lincoln Douglas Debate. There are about 10 different events that students can participate in, Lee said.
Baylie Ames competes in original oratory. In this event students create their own speech, she said. Ames' speech was about disabilities and she is considering signing up for improv events as well.
It is standard for students to participate in two events in each meet. Lee said that students choose what they participate in, but she will sometimes help them branch out. It's good for students to try new things, Lee said.
Addison Skranak is a freshman this year who was at the meet in Whitefish competing for the Loggers in Lincoln Douglas debate.
"I do it seriously, but I make a lot of jokes," Skranak said.
In Lincoln Douglas, students need to be ready to argue for the affirmative or the negative side, Lee said. Often the affirmative side argues that there should be a policy change and the negative side will argue to uphold the status quo, Lee said.
For Skranak, the negative can be a more difficult side to argue since there is not always as much information available.
"If you say something and you don't have evidence to support it is ignored," Skranak said.
"Logger Speech and Debate had a great meet in Whitefish this weekend," Lee wrote in an email. "In an invitational meet with 10 schools attending, every member of our team placed in the top 10 in at least one event!"
Here are the Libby results from the Whitefish meet:
Skranak was eighth in varsity Lincoln Douglas debate while
two Libby teams placed in Duo Interpretation of Literature.
Jenna Hammond and Cash Vaughn were fifth with Juliana Schumate and Neveaeh Neff were eighth in the discipline.
In Informative Speaking, Hammond was fourth and Vaughn was sixth.
In Impromptu Speaking, Cadence Newman was second.
In Dramatic Interpretation of Literature, Newman was second.
---