Greenchain wrestling falls to Columbia Falls
by
SCOTT SHINDLEDECKER
The Western News
|
January 20, 2023 7:00 AM
The Libby High School wrestling team hosted the No. 2 Class A team in the state, Columbia Falls, Tuesday night and the MatCats rolled to a 51-18 win.
The MatCats have eight grapplers ranked in the Jan. 17 Class A coaches poll. They won the first six matches before Jace DeShazer pinned Tucker Gonzalez at 205 pounds.
Tyler Smith claimed a forfeit win at 285 for the Greenchain. Their only other win was also a forfeit, claimed by 126-pounder Uriah Bache.
Libby's Zekiah Meyers didn't wrestle Tuesday. He was injured in last weekend's Jug Beck Tournament in Missoula. Meyers had to default from the seventh-place match and ended up eighth.
Meyers, who is ranked No. 6 in the coaches poll, gave way for junior Xavier Reatz who faced Columbia Falls' Chris Rathjen at 138 pounds. The match was tied at 2 after one period, but Rathjen, ranked No. 5, got the pin at the 3:36 mark.
At 145 pounds, Billy Gustafson pinned Libby's Cael Schwindt in the first period to give the MatCats a 12-0 lead. Blaise Cronk, ranked No. 2 at 160, dropped down to 152 and pinned Joey Wise in the third period.
At 160, Justin Windauer, ranked first at 152, bumped up to take on Coby Booker. The defending state champ scored a pin in 40 seconds to give the visitors a 24-0 lead.
The 170-pound match featured two ranked wrestlers. MatCats' Rowdy Crump was No. 3 while Libby's James Warner. Crump got a pin just before the first period ended to make it 30-0.
The match at 182 was the same with a pair of ranked grapplers tangling. Brandon Role, No. 3, led 4-2 after the first period over No. 4 Matthew Niemi. Niemi's reversal with 59 seconds left tied it at 4-4, but a Role escape gave him the lead heading to the third period.
Role's takedown and near fall was more than enough to secure the win, 10-4.
DeShazer, ranked No. 1 at 205, didn't take long to pin Gonzalez, to get the Greenchain on the scoreboard.
After Smith's forfeit win at 285, 103-pounder Riley Orsborn grabbed a 2-0 lead after the first period in his match against No. 6 Jaxon Sterling.
But the MatCat roared back to lead 5-2 after the second period. Sterling scored an escape and a takedown to set the final at 8-2.
In the 113-pound match, Columbia Falls' Traic Fainter pinned Bridger Bache. At 120, Cash Byrd outscored Libby's Sami Jocks, 13-8. The dual wrapped up at 132 pounds when Blake Hoerner pinned Gabe Kosters in 4:22.
Libby is back in action Friday and Saturday at the Lewistown Duals.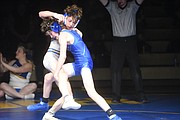 ---