Greenchain celebrate first home meet with win over Eureka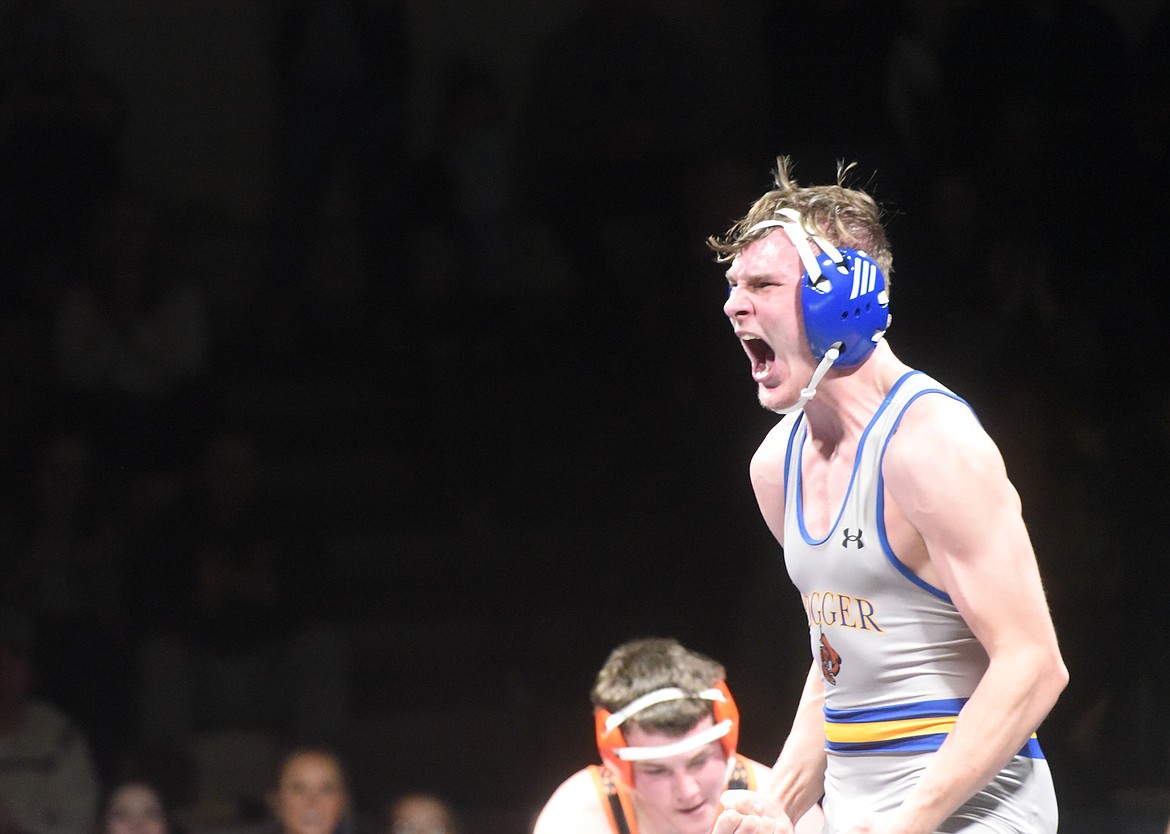 Libby's Coby Booker celebrates pinning Eureka's Peter Goodrich in Tuesday's match at 160 pounds. (Scott Shindledecker/The Western News)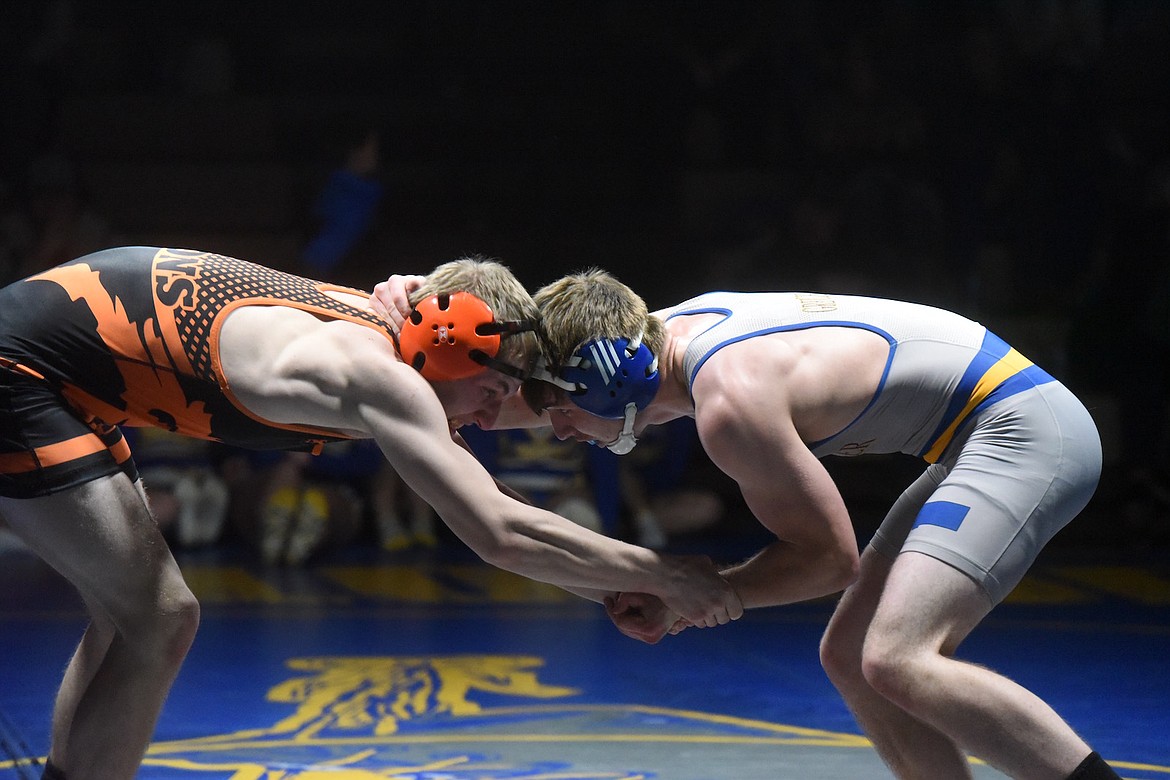 Libby's Zekiah Meyers pinned Eureka's Riley Atchinson in Tuesday's match at 138 pounds. (Scott Shindledecker/The Western News)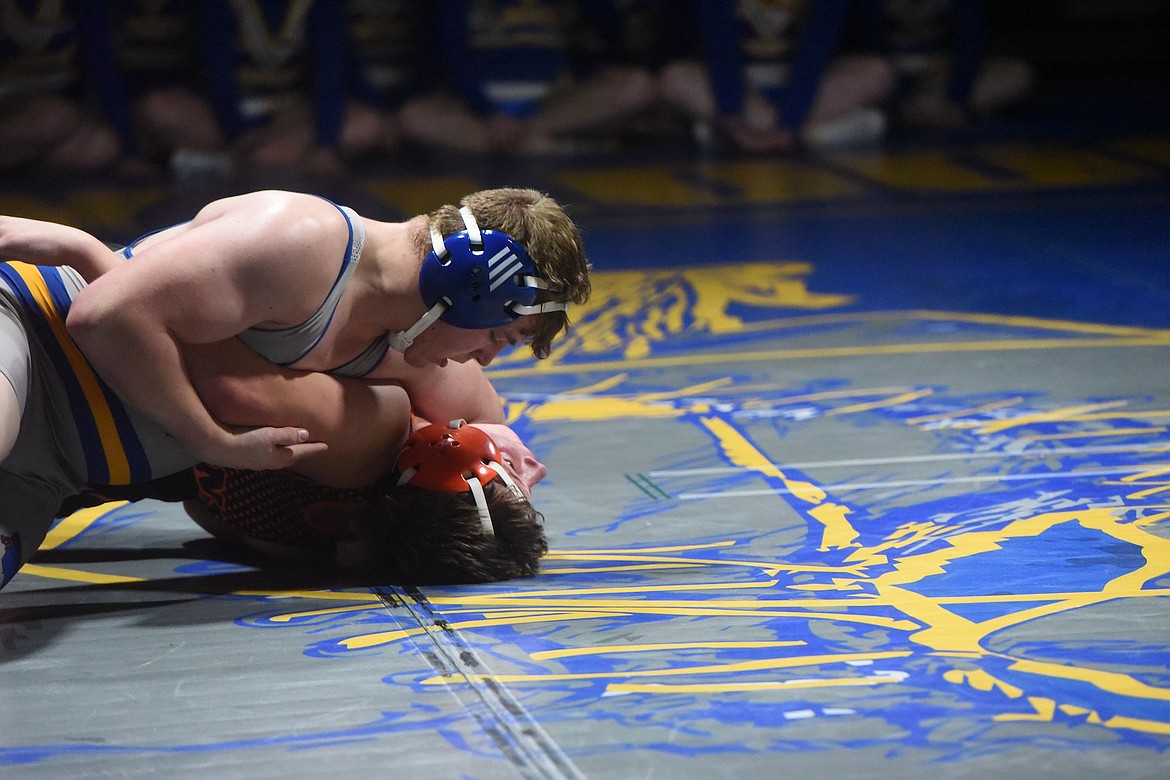 Libby's Matthew Niemi pinned Eureka's Wiatt Hume in Tuesday's match at 182 pounds. (Scott Shindledecker/The Western News)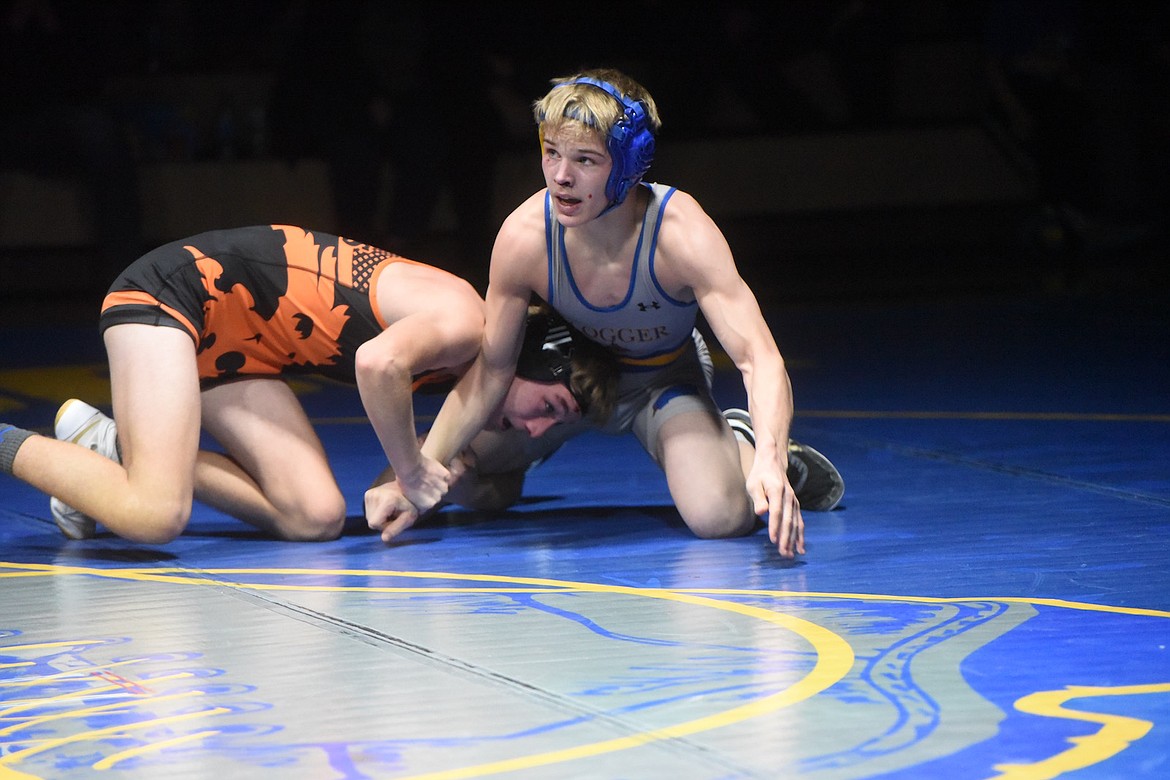 Libby's Marley Erickson beat Eureka's Josh Lamberton in Tuesday's match at 132 pounds. (Scott Shindledecker/The Western News)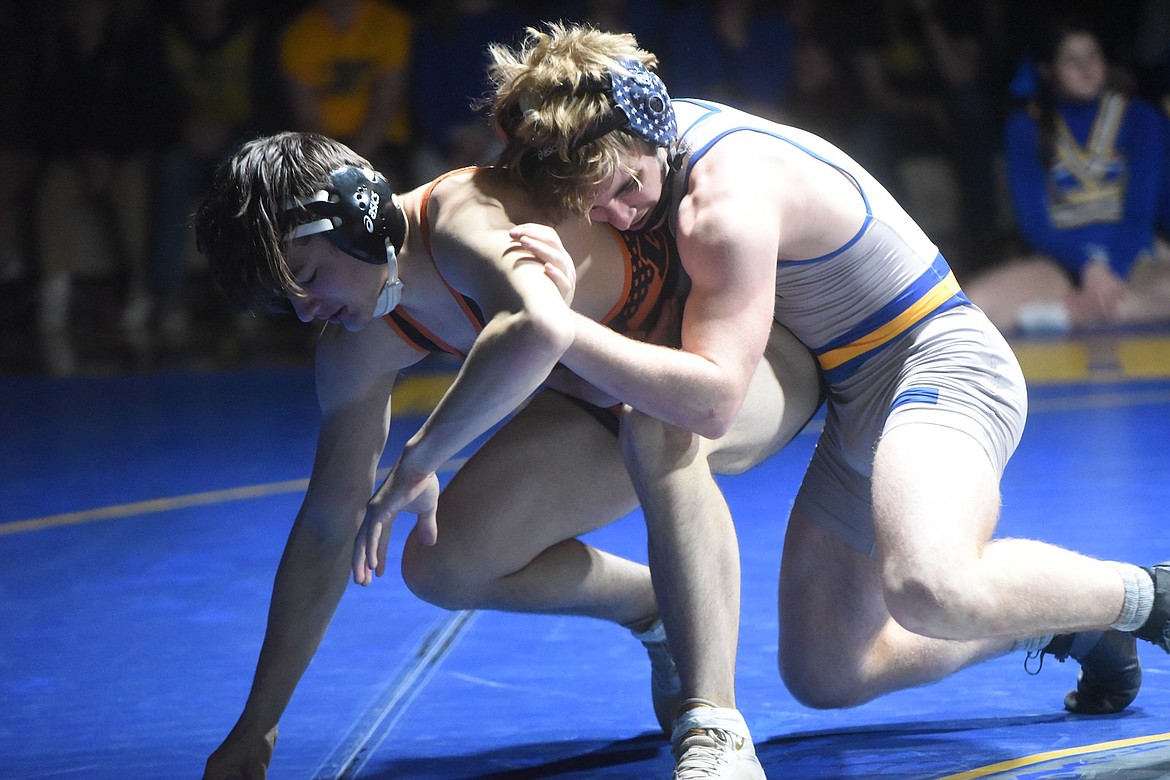 Libby's Joey Wise controls Eureka's Michael Watters in Tuesday's match at 152 pounds. (Scott Shindledecker/The Western News)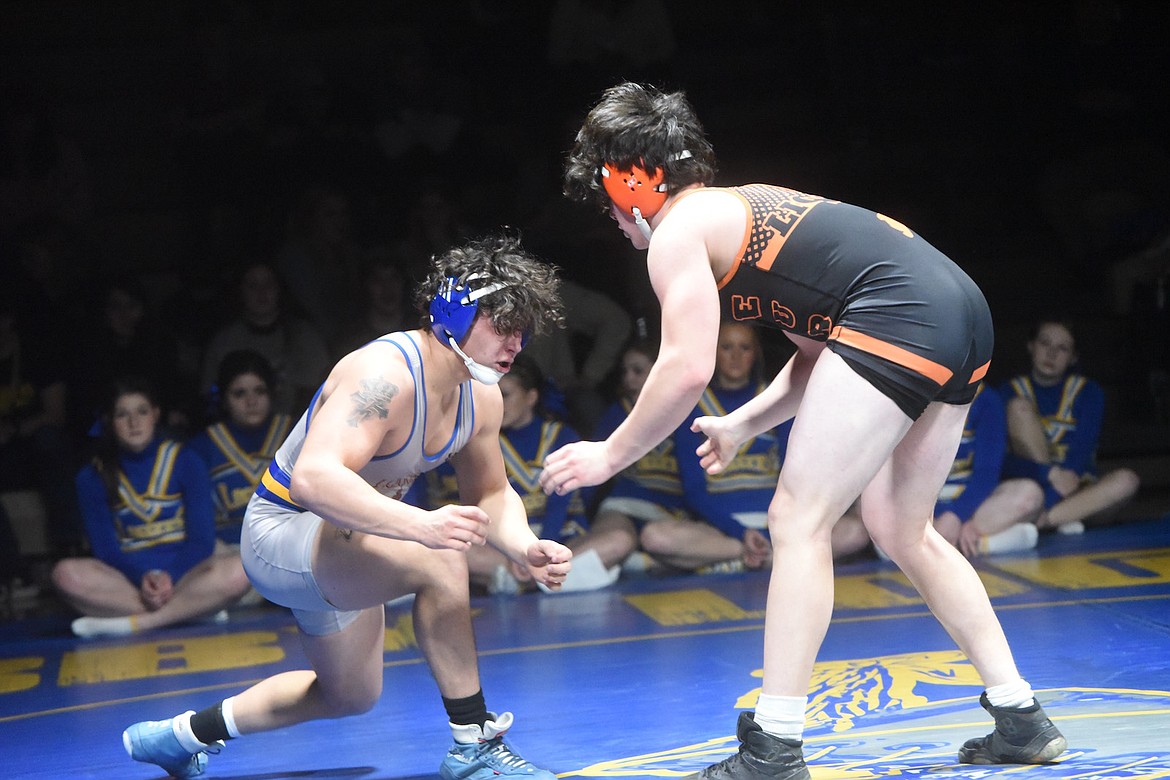 Libby's Jace DeShazer tangles with Eureka's Colyn Johnson in Tuesday's match at 205 pounds. (Scott Shindledecker/The Western News)
Previous
Next
by
SCOTT SHINDLEDECKER
The Western News
|
January 13, 2023 7:00 AM
More than a month into the winter sports season, the Libby Greenchain finally hosted its first match Tuesday in the Battle of the Kootenai event at Ralph Tate Gymnasium.
The Greenchain didn't disappoint the home faithful, beating the Eureka Lions, 46-21, to secure the Highway 37 Battle of the Kootenai trophy.
Libby trailed the Lions 15-0 before collecting nine straight wins to make it a runaway win.
"It was great to finally have a home match," Greenchain head coach Dean Thompson said. "Each week, we get better and that's what you want to see. Bringing the trophy home was definitely a motivation, too."
The Greenchain have enjoyed finishes of top six or better at four different invitational tournaments. Their sixth-place finish at the Buzz Lucey in Eureka would have been better if not for some of their wrestlers competing at the prestigious Tri-State Invite in Idaho.
Junior 205-pounder Jace DeShazer leads the Greenchain. He's ranked No. 1 in Class A and is seeking his second straight state title.
DeShazer got a workout from Eureka's Colyn Johnson Tuesday before winning a 9-3 decision to cap Libby's scoring. Johnson is ranked No. 4 in the latest Class B/C rankings.
At 160 pounds, Libby senior Coby Booker had the match's most exciting win. He trailed Eureka's Peter Goodrich 5-2 after one period. The Lion was still ahead 7-4 in the second when Booker turned his opponent and pinned him as the crowd erupted and Booker yelled in triumph. The win gave the Greenchain a 31-15 lead and all but clinched the victory.
After James Warner picked up a forfeit win at 170, senior Matthew Niemi decked Eureka's Wiatt Hume in 4:54 at 182 pounds.
After Libby dropped the first three matches, 126-pounder Uriah Bache claimed a forfeit win to begin the Greenchain's win streak.
Troy's Marley Erickson rolled to a 14-2 triumph over Josh Lamberton at 132 to pull the hosts to within five points, 15-10. Zekiah Meyers, also from Troy, put the Greenchain on top for good at 138 when he pinned Riley Atchinson in 3:43.
Sophomore Connor Benson won a forfeit at 145, then junior Joey Wise decisioned Eureka's Michael Watters, 7-1, to give Libby a 25-15 lead.
Thompson has great enthusiasm for the remainder of the season.
"We had 29 kids out for the teams and there are still 29 competing," Thompson said. "We have 129 kids out for our Little Guy programs and we have a great coaching staff with Garret Chapel and Justin Graham."
Chapel, from Troy, is a two-time state champ (2014-15) with the Greenchain and Justin Graham stood atop the medal stand at state for Libby in 2009.
Libby will be in Missoula today and Saturday for the prestigious Rocky Mountain Classic. It hosts a tri-meet next Tuesday with Columbia Falls and Ronan.
---