Libby basketball teams swept by CFalls, Browning
by
SCOTT SHINDLEDECKER
The Western News
|
January 10, 2023 7:00 AM
The Libby boys and girls basketball teams each dropped a pair of games last week in Western A action as they returned from holiday break.
The boys team fell to Columbia Falls, 77-46, on Thursday, Jan. 5, and to Browning, 83-66, on Friday, Jan. 6.
Tyler Andersen led the Loggers in scoring in both contests, totaling 48 points. Against the Wildcats, Andersen hit six 3-pointers and scored 30 points.
Against Browning, the Loggers were in the game at halftime, trailing by just four points, 39-35. But the Indians took control in the third quarter, outscoring Libby 23-11 to take a 16-point lead to the fourth.
The Indians scored eight of the first 10 points of the fourth quarter to blow it open at 70-48.
While Tyler Andersen was the only Logger player in double digits, Ryan Beagle and JR Delmas each scored nine points. Cy Williams scored eight and Trevor Collins had seven.
Libby played both games without Cy Stevenson.
For the Lady Loggers, their scoring struggles continued in Western A action.
On Thursday, Columbia Falls rolled to a 65-26 win and on Friday, Browning claimed a 65-13 triumph
Ellie Andreessen led the Lady Loggers with 11 points against the Wildkats. Ashley Freese added six points.
Against Browning, Libby trailed 14-5 after one quarter. The Lady Indians outscored Libby 17-4 in the second quarter and led 31-9 at halftime. The Lady Loggers didn't score in the fourth quarter.
Kinzee Boehmler and Rachel Kosters each scored three points for Libby.
Libby returns to action today hosting Eureka in the Battle of the Kootenai.
The boys game tips off at 1:45 p.m., followed by wrestling, then girls basketball.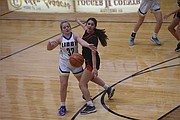 ---