DeShazer leads five ranked Greenchain wrestlers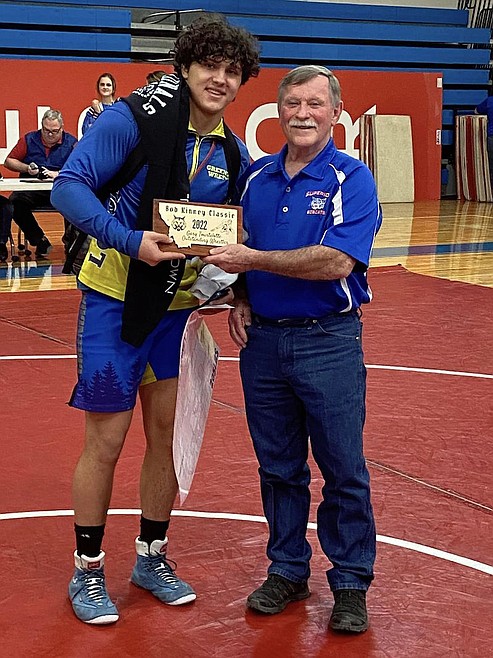 Libby's Jace DeShazer, shown here at the Bob Kinney Tournament last month, is ranked first at 205 pounds in Class A. (Photo courtesy Libby High School)
by
The Western News
|
January 6, 2023 7:00 AM
Libby has five wrestlers ranked in the most recent Class A Wrestling Coaches Poll.
Jace DeShazer leads the way with a No. 1 ranking at 205 pounds.
Riley Orsborne is No. 6 at 103 and Cael Schwindt is also No. 6 at 145. Matt Niemi is fifth at 182 while heavyweight Tyler Smith is No. 4.
The Greenchain, ranked fourth as a team, wrestle this weekend in the Ronan Tournament. Tuesday, they host Eureka.
Here are the complete rankings:
103: 1. Gordan Knapp- Sidney; 2.Caleb Smith- Miles City; 3.August Courville- Ronan; 4.Kona Fardrich-Lockwood; 5.Colt McCord- Lewistown; 6.Riley Orsborne-Libby.
113: 1. Elizah Nose-Laurel; 2.Isaac Stewart-Frenchtown; 3.Matt Lemer-Havre; 4.Logan Barnes-Dillon; 5.Cale Nedens-Hardin; 6.Travis Nagard-Frenchtown.
120: 1.Cole Krutzfield-Lockwood; 2.Ridge Cote-Ronan; 3.Corbin Long-Frenchtown; 4.Brody Keysor-Sidney; 5.Pita Fish-Browning; 6.Payton Gaskins-Miles City.
126: 1.Austin Berry-Glendive; 2.Hunter Barnes-Dillon; 3.Damon McCord-Lewistown; 4.Tyler Gilfrey-Columbia Falls; 5.Landrey Aurand-Whitefish; 6.Dalton Hinbaugh-Lockwood.
132: 1.Trae DeSaveur-Livingston; 2.Isaac Beardsley-Miles City; 3.Reece Graves-Sidney; 4.Blake Hoerner-Columbia Falls; 5.Seth Allen-Corvallis; 6.Carson Harris-Havre.
138: 1.Owen Lonski-Sidney; 2.Tristan Stygles-Havre; 3.Chris Rathjen-Columbia Falls; 4.Jesse Anson- Hamilton; 5.Luke Knaub-Laurel; 6.Gage McGilvery-Livingston.
145: 1.Sean Mehling-Hardin; 2.Currey Brown-Miles City; 3.Aden Winder -Laurel; 4.Reinhard Bold-Havre; 5.Kada King-Ronan; 6.Cael Schwindt-Libby.
152: 1.Zander Dean-Sidney; 2.Justin Windauer-Columbia Falls; 3.Danyk Jacobsen-Livingston; 4.Brody Hardy-Frenchtown; 5.Owen Younger-Laurel; 6.Hank Hagenbarth-Dillon.
160: 1.Espyn Hostetler-Glendive; 2.Henry Bennetts-Whitefish; 3.Landon Bishop-Ronan; 4.Kaden Wise-Sidney; 5.Beau Mares-Laurel; 6.Brady Schmill-Corvallis.
170: 1.Camden Johnson-Laurel; 2.Wyatt Elam-Lewistown; 3.Kale VanCampen-Havre; 4.Andrew Frederick-Hamilton; 5.Rowdy Crump-Columbia Falls; 6.Jaren Keene -Polson.
182: 1.Noah Raush-Frenchtown; 2.Quinn Boogman-Lewistown; 3.Nathan Hansen-Frenchtown; 4.Easton Dejong-Miles City; 5.Mathew Niemi-Libby; 6.Cole Dalke-Ronan.
205: 1.Jace Deshazer-Libby; 2.Kai Nash-Whitefish; 3.Jett Boyce-Lewistown; 4.Derrick Saltzman-Hamilton; 5.Brandon Role- Columbia Falls; 6.Jaiden Gibson-Miles City.
285: 1.Holden Meged-Miles City; 2.Philip Herald-Frenchtown; 3.Brendyn Whiteman-Browning; 4.Tyler Smith-Libby; 5.Seth Benge-Billings Central; 6 Tye Brown- Laurel.
---