Tpr. Johnson support rally set for Sunday at Logan Health
by
SCOTT SHINDLEDECKER
The Western News
|
February 25, 2023 7:00 AM
The Montana Highway Patrol and MHP Trooper Kate Johnson, wife of injured Trooper Lewis Johnson, thanked medical staff, law enforcement and the community for their support Friday.
Also, MHP, Attorney General Austin Knudsen and local law enforcement officials will hold a support rally at 1 p.m. Sunday at Logan Health for Johnson and his family.
Trooper Johnson was severely injured near Eureka while trying to apprehend a suspect following a pursuit on Thursday, Feb. 16. Suspect Jason Allen Miller, 41, of Rexford, faces three charges from the incident, including attempted deliberate homicide. Miller is being held in the Lincoln County Detention Center on $1.5 million bail.
The event will recognize Trooper Johnson's care team at Logan Health, the life-saving actions of other law enforcement personnel the day he was injured and Montana's law enforcement community.
Additionally, the Johnson family and Logan Health staff will provide an update on his future medical care and recovery.
MHP shared some new information on its Facebook page on the incident as well as photos of Kate Johnson with Lewis and Lincoln County Sheriff's Office Deputy Clint Heintz shaking hands.
"The community continues to send love in all forms, and we truly feel it," Trooper Kate Johnson said. "Our long term has many unknowns but I'm confident our family will come out of this stronger. Team Johnson forever and always!"
"The team at Logan Health in Kalispell continues to provide excellent care to Trooper Lewis Johnson. His nursing team of BJ, Makayla, Kendra and Nick keep him mentally focused," Kate said. "Doctors Krass, Gavagan, Craig, Cromie, Schmidt, Sramak and Hill go out of their way to treat him and help the family fully understand what has happened to his body and the physical and occupational therapy teams help Trooper Johnson set and shatter daily goals."
Trooper Kate Lewis also thanked Lincoln County Deputy Clint Heintz who helped save her husband's life during the incident on February 16.
"Deputy Clint Heintz, of the Lincoln County Sheriff's Office, served with Lewis in the Army National Guard and was the primary unit in Thursday's pursuit of the suspect. Deputy Heintz ultimately saved my husband's life last Thursday utilizing his combat medic skills. For his brave actions, I am forever grateful," she said.
Trooper Lewis Johnson and his family have a long road to recovery ahead. Montanans and others from across the country have continued to show their support through prayers and donations that will help with expenses related to his recovery. As of Feb. 23, over $170,000 had been raised in support of Trooper Lewis Johnson and his family.
Anyone interested in sending a monetary donation to support the Johnson family can do so through GoFundMe or send checks payable to Lewis and Kate Johnson to PO Box 356 Chester, MT 59522.
Anyone interested in fundraising opportunities can email johnsonfamilystrong2023@outlook.com.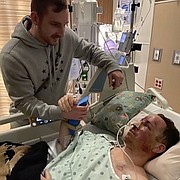 ---