Seasons end for south Lincoln Co. basketball teams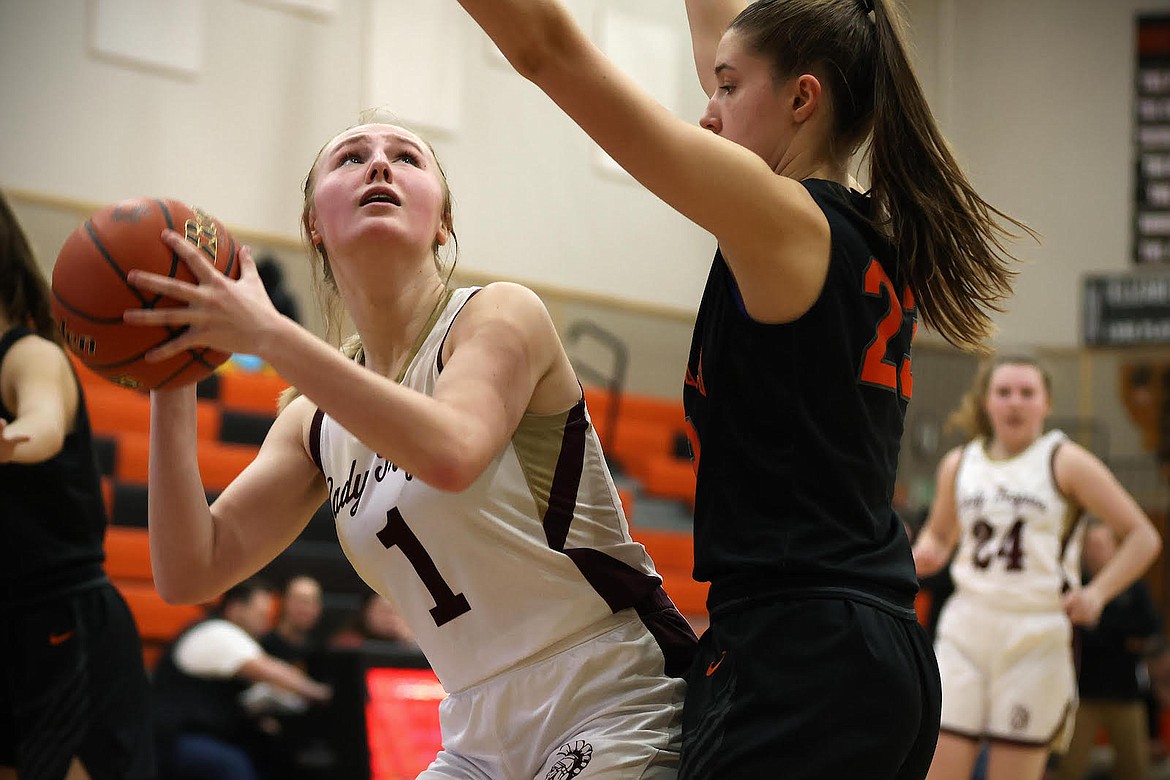 Troy's Autumn Fisher looks to go up for a shot against Eureka's Remmi Stanger during consolation bracket action at the District 7B basketball tournament in Eureka on Feb. 18. (Jeremy Weber/Daily Inter Lake)
by
The Western News
|
February 24, 2023 7:00 AM
The varsity winter sports season wrapped up last week for the south Lincoln County's basketball teams.
Both of Libby's teams were in play-in games. The boys won at Ronan on Feb. 16, 59-48. Saturday, the Loggers fell at Whitefish, 67-34.
Libby (6-13) got 13 points from Ryan Beagle. Trevor Collins and Tyler Andersen each scored seven points.
The Lady Loggers (2-16) lost at Whitefish, 39-30, on Feb. 16, and were eliminated. Rylee Boltz led Libby with 16 points and Peyton Waggoner scored six.
Both teams from Troy played at Eureka High School in the 7-B tournaments last week.
In the boys bracket, the Troy Trojans fell in the quarterfinals to Thompson Falls, 76-40, and were eliminated Saturday with a 74-35 loss to Mission.
Against Mission, Troy got nine points from Trevor Grant and eight from Paxton Fisher.
Troy finished the season at 4-16.
In the girls bracket, Mission beat Troy, 91-21, on Tuesday.
The Lady Trojans (1-19) saw their season end Saturday to Eureka, 51-11. Zeeannah Reid led Troy with four points while Autumn Fisher had three points.
---